Tekashi 6ix9ine: Everything We Know About the Robbery and Kidnapping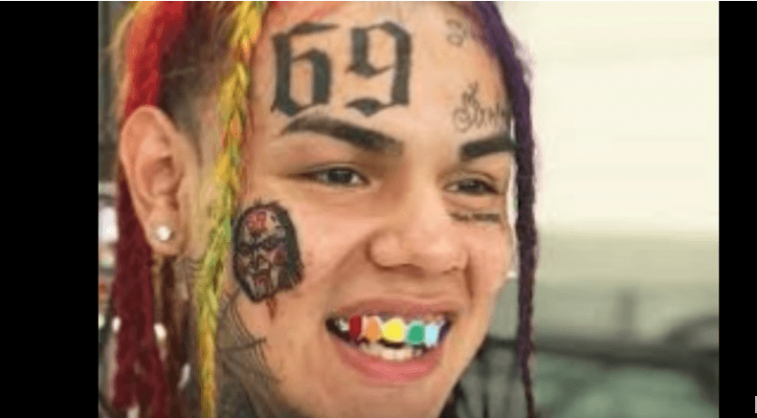 There have been conflicting stories about what really happened to Tekashi 6ix9ine over the weekend that landed him in the hospital. Here's what we know and what the rapper is saying about the situation now.
TMZ originally reported that 6ix9ine, whose real name is Daniel Hernandez, was kidnapped, pistol-whipped, and robbed in New York City early Sunday morning. Sources told the media outlet that the "Gummo" artist was shooting a music video in Brooklyn and after the shoot was finished he headed home around 4 a.m.
When he arrived at his house, another car pulled up and blocked the entrance to his driveway. According to the report, that's when three armed men exited the vehicle, grabbed him, and physically assaulted him with a firearm rendering him unconscious. The assailants then carried Hernandez to their car, placed him inside, and drove off.
The report further stated that when the rapper came to, the gunmen were threatening to kill him if he didn't give them what they wanted. They allegedly returned to his home, went inside and stole $750,000 in jewelry and about $20,000 in cash. After the robbery, the gunman drove off again with Hernandez still in the back seat but he was able to escape and call for help. The hip-hop artist was transported to Kings County Hospital where he received a CT scan, along with several other tests.
Following his release from the hospital, the Associated Press noted that he went to the police department to notify authorities about what allegedly happened. However, he told cops a different story.
In the latest version, Hernandez told law enforcement officials that he was on his way home around 4:30 a.m. when another car bumped the Chevy Tahoe he was traveling in at an intersection. It was then that he claims two men got out, stole his driver's iPhone, and forced him into their car. He said that the unidentified males demanded money and cash from him so they drove to his home and took his property before he was able to escape.
After filing the report, Hernandez decided not to cooperate with police.
The 22-year-old took to social media to let his fans know that he loved them and was "happy to be alive."  He also spoke to DJ Akademiks during his live stream and called the incident an "inside job." He compared what happened to him to that of the late rapper XXXTentacion who was shot and killed in South Florida last month.
"I look at the X situation and I'm just like, 'That could have been me.'" he said, adding, "That would have been the same situation if I didn't give it up."
Many are wondering about why there are two different accounts of what happened though and just how he suffered the injuries he sustained as that has not yet been confirmed. Some of his followers have even questioned if the story was just a publicity stunt to promote his new video "FEFE" with Nicki Minaj, which he released via his YouTube channel just a few hours before the alleged robbery occurred.
The rapper rose to fame in 2017 and has been in trouble with the law multiple times since then. He was arrested in Texas earlier in the week on charges related to choking a 16-year-old boy in a Houston mall. He was also taken into custody in New York on July 11 while attempting to leave the country for a European tour and released on $150,000 bail.