Everything We Know About the Weird New Characters on 'The Walking Dead'
It's been a while since The Walking Dead introduced any new players. And given the size of its ensemble, that's not necessarily a bad thing. But in the eighth season's twelfth episode, AMC's long-running post-apocalyptic drama opened up its world once more. The Walking Dead introduced three new characters.
They seemingly came in peace and offered Maggie and the Hilltop a new chance at survival. Here's everything we know about them, and how they could change everything.
1.  Georgie, Mitch and Hilda are mysterious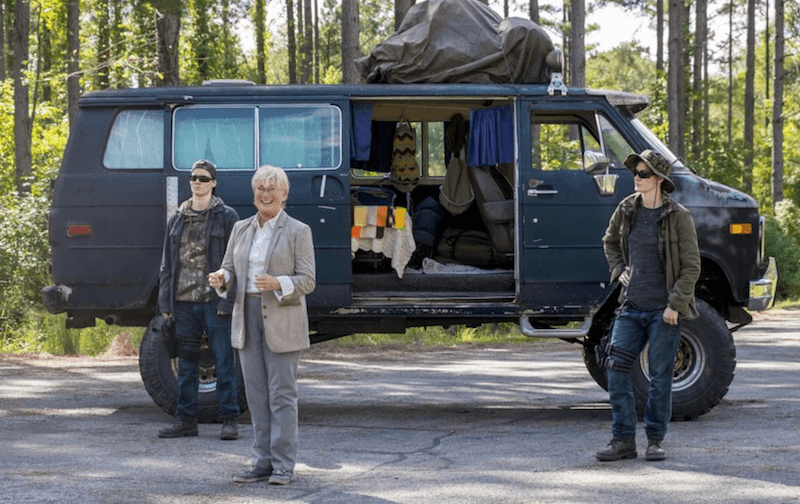 It's an ominous introduction — two armed women flank a van on the road. Maggie, Enid and Michonne approach carefully, and hold their breath as the door opens, and a well-dressed woman emerges. This is Georgie. Her friends, and her back up, are Mitch and Hilda. And though they may seem a bit mysterious, they also don't seem quite as dangerous as, say, the Saviors.
Georgie is quick to explain that she can tell Maggie and her friends have something strong going, and that she doesn't waste her time with the weak. She's a little less forthcoming about where she came from, but from the looks of it — and the fact that she's wearing a suit — she's managed to get a handle on keeping basic resources.
Despite their weapons, they don't seem hostile. And they want Hilltop to trade goods them, like records, for a pretty bizarre piece of collateral: knowledge. That's not the only reason that Georgie and her friends aren't like anyone else that we've met yet.
Next: There's something a little bit off about these new characters.
2. Georgie is also pretty weird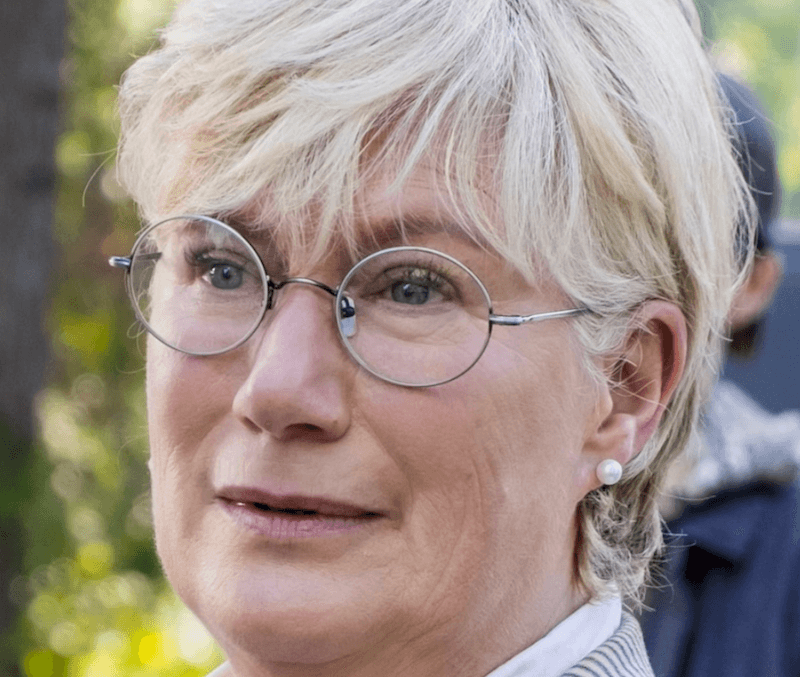 Living in an apocalyptic hell scape is liable to make just about anyone a little bit eccentric. But there's something especially strange about The Walking Dead's latest newcomers.
Georgie seems immaculately put together for someone who's living in the midst of an apocalypse. She feels like part politician, part self-help guru. And her personality is hard to pin down. She appears to be rational and articulate, but is also perfectly comfortable slipping words like "flibbershticky" into her diplomatic pitches.
And she's got a thing about spoken word albums (the thing is that she hates them). Her relentless optimism in the face of all the horror that she's undoubtedly faced is also a little unnerving.
But that might be on purpose.
Next: No one is sure what to make of Georgie.
3. Georgie's motives are supposed to seem questionable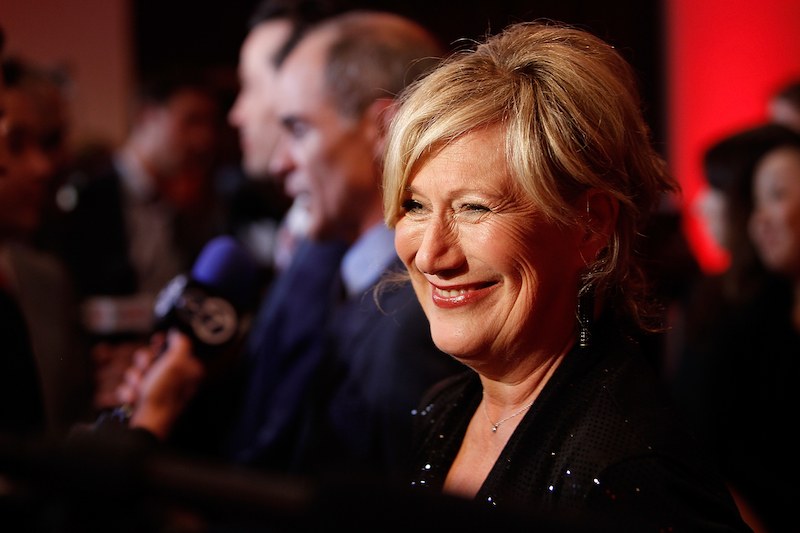 If you found yourself confused by Georgie's sudden appearance, and what her intentions are for our favorite Walking Dead survivors, you're not alone. And, it appears, that was the point of her bizarre introduction.
Jayne Atkinson, who plays the mysterious new leader, admitted to Talking Dead's Chris Hardwick that it's hard to know what to make of her character. "When you see Georgie, she's put together well… and she's not afraid. How is this person not afraid?"
It's always a little suspicious when someone in a zombie-filled world is so calm and collected. But it turns out that Georgie may have a reason to be so serene.
Next: Georgie offers something more than just plans to Maggie.
4. Georgie offers hope for the future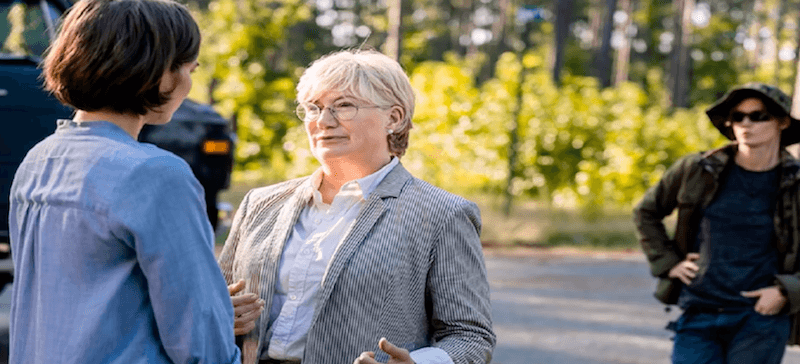 Georgie may be a little bit weird, but at the very least, she seems to come bearing a few good ideas. She tells Maggie that lately, the worst of people has been winning out over the best.
But she thinks that if "people can believe in people" again, then they may all have a chance. Before Georgie leaves the Hilltop (with the desired addition to her recollection), she leaves Maggie a "key to the future."
That key is, as it turns out, a book full of expertly drawn out plans for an agrarian civilization. Grain silos, aqueducts, windmills – everything they'd need to build, as Georgie promises, "a sustainable future."
Next: Georgie's got some big plans up her sleeves.
5. Georgie is like a post-apocalyptic Robin Hood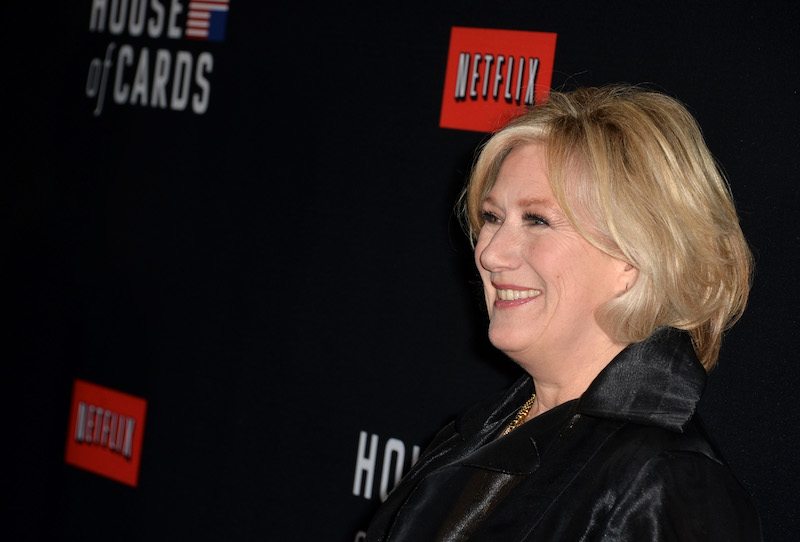 Atkinson won't reveal much about what will happen with Georgie, and whether her idealized future could come to pass. But she has offered some insight into what her character's mindset might be. The actress told Entertainment Weekly that she thinks of Georgie as an intellectual, and imagines she used to be a college professor. But these days, she's rebuilt her life as a bit of an everyday hero.
Atkinson said, "I believe that's why she is sort of Robin Hood. I don't know if she's stealing from the rich and giving to the poor. I don't know if she's actually doing that, but clearly, she's got resources, and I believe that's what she wants to be. She wants to be a bearer of good news and help regenerate and revive the planet into its possible glory."
Of course, fans are curious as to how Georgie will fit in. And they'll have to look at more than just The Walking Dead's source material to find out.
Next: Georgie's fate in The Walking Dead world is unclear.
6. Georgie doesn't appear in the comics (at least, not exactly)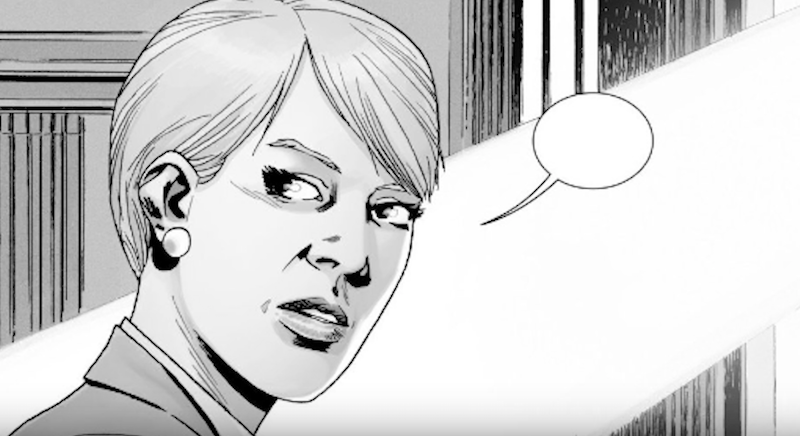 Usually, if fans want to get an idea for how a character's story might play out, they'll look to The Walking Dead comics. But in the case of Georgie, that won't work. The character hasn't appeared in Robert Kirkmans' comic series. But she does closely resemble Pamela Milton, a pivotal character that first appeared in Issue 176.
Atkinson herself has admitted she thinks Georgie may be modeled after Pamela, though she hasn't received official confirmation from The Walking Dead's creators. And if that's the case, then Georgie's arrival could signal huge changes for Maggie, Rick, and the rest of The Walking Dead crew.
Next: Could The Walking Dead be setting up its end game with Georgie
7. Georgie's arrival could put a Walking Dead end game in motion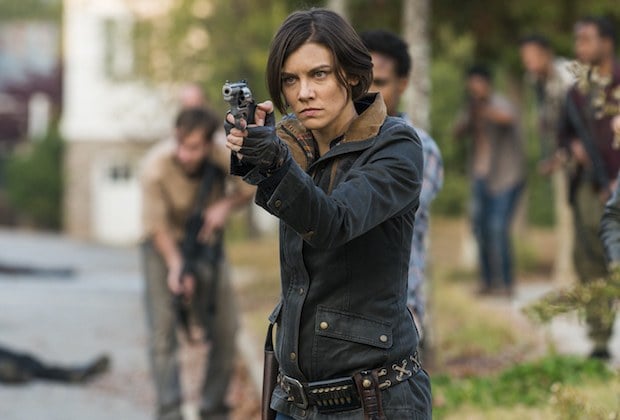 In The Walking Dead comics, Pamela is the governor of the Commonwealth. It's a shockingly advanced community with more than 50,000 survivors. What we know of Georgie's vision for the future seems to match up with what comic readers have seen from the Commonwealth. So her entrance into the series could mean that we'll soon see this new, advanced community.
Is Georgie trying to leverage the Hilltop to expand out her already thriving community? Could Maggie, Rick, and Georgie form an alliance that would help insure everyone's safety in the future? It's too early to tell, but Georgie offers the clearest signal yet that there could be a light at the end of all the darkness that our Walking Dead characters have faced.
In her last conversation with Maggie, Georgie promised to return. So, it doesn't look like we've seen the last of Georgie or her big plans for the future.
Follow Katherine Webb on Twitter @prufrox.
Check out The Cheat Sheet on Facebook!