Everything We Know About The CW's 4-Way Superhero Crossover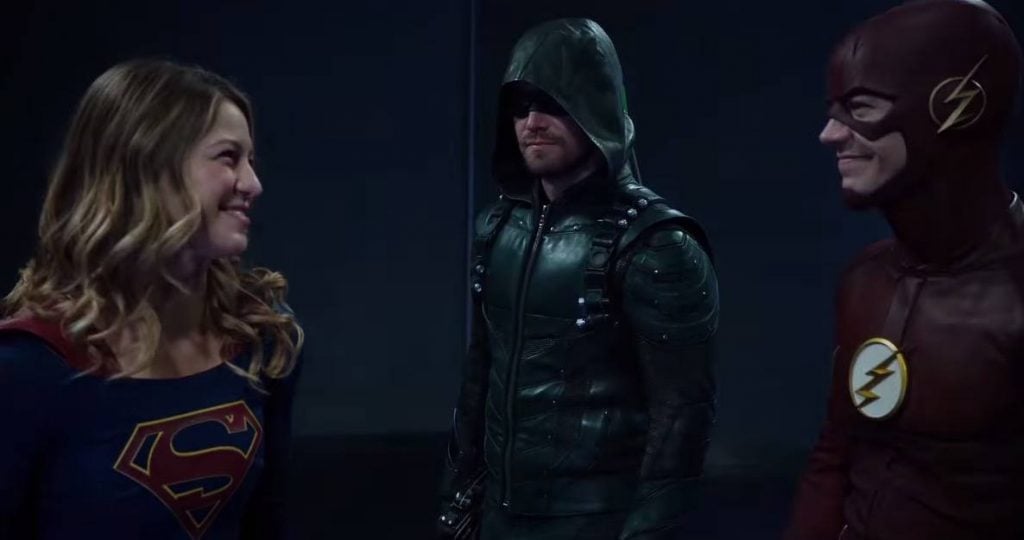 The CW has slowly been expanding their DC superhero universe a little bit every year. It all started with Arrow in 2012. Two years later, The Flash was added to the ranks, followed soon thereafter by Legends of Tomorrow. This season, Supergirl will join The CW after moving over from CBS, and the network is taking full advantage in the form of a four-way crossover event this November. It'll be the third time they've prominently featured a crossover. And this time, it'll be more expansive than ever.
[Update, 11/11/16: Added 'Supergirl' "Heroes Vs. Aliens" trailer, below.]
So what do we know about it so far? Believe it or not, quite a bit.
1. Superhero Fight Club 2.0
We've seen a handful of superhero combinations on The CW to date. What we haven't seen though is the whole team together in one place … before now. The network recently released the full video for Superhero Fight Club 2.0, the follow-up to the ad from last year that featured the then up-to-date roster of The CW's heroes. In it, we see Supergirl, Green Arrow, the Flash, Atom, White Canary, and Firestorm working together to defeat Cisco and Felicity's "Sphere of Fear," while Diggle and Martian Manhunter observe. Supergirl especially adds an intriguingly different attitude to the already complex group dynamic, giving us a preview of what's to come in November's crossover.
2. How it will play out across four separate shows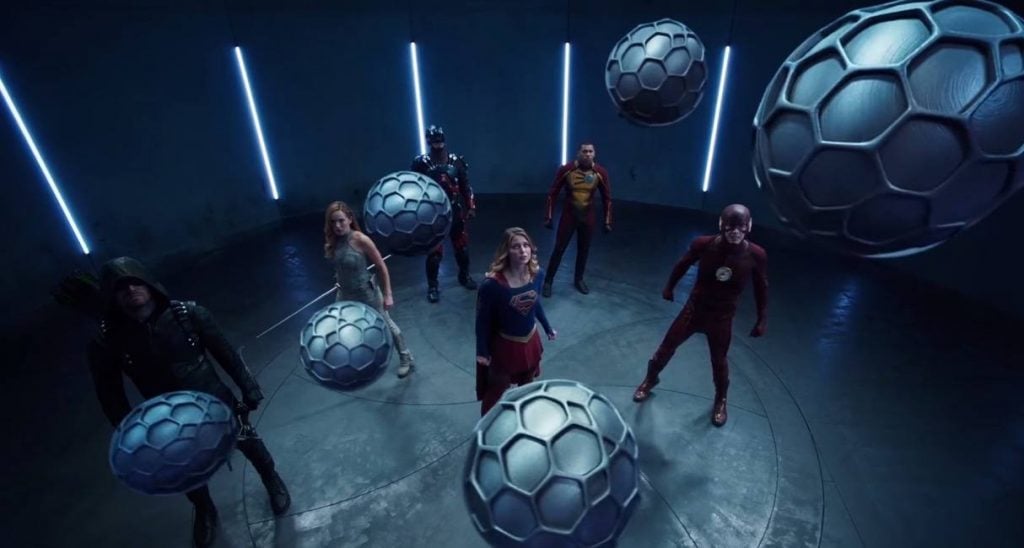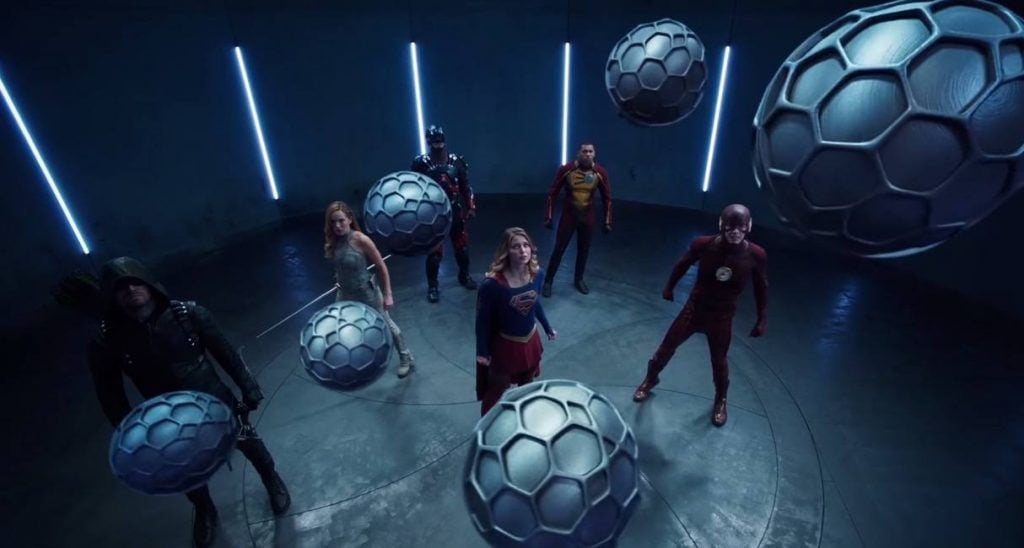 Logistically, mapping out a four-way crossover is something of a complicated task. In terms of the overarching story, things won't actually kick off with Supergirl, but Greg Berlanti did tell Indiewire that "here are some characters who show up in her episode" on Monday night. It kicks off in earnest on Tuesday with The Flash, "and goes to Arrow and Legends of Tomorrow" after that. Berlanti goes on to note that the combined scripts across all shows number upwards of 180 pages, so it'll definitely be expansive to say the very least.
3. The villain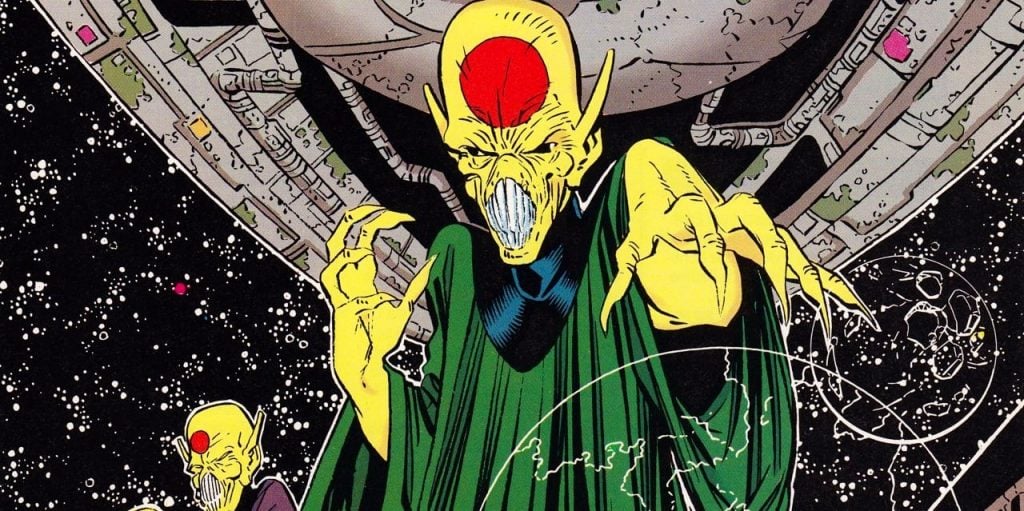 Every crossover needs a unifying villain, and The CW has officially chosen theirs: The Dominators. They'll draw inspiration from the three part 1989 Invasion! comic series, featuring the Dominators as alien invaders intent on conquering Earth. They're known in the comics for mastering genetic manipulation, with the end goal of studying Earth's metahumans so that they can breed their own. With Supergirl as our resident alien expert, it's an interesting way of bringing her into the fold. Combine that with the Legends of Tomorrow and their own intergalactic expertise, and it's easy to see how the Dominators are an ideal big bad for the crossover event.
Additionally, executive producer, Marc Guggenheim tells Deadline that they'll "make use of cutting-edge prosthetics and computer effects to achieve a feature film-quality look'" for the Dominators.
4. Arrow's 100th episode and Deathstroke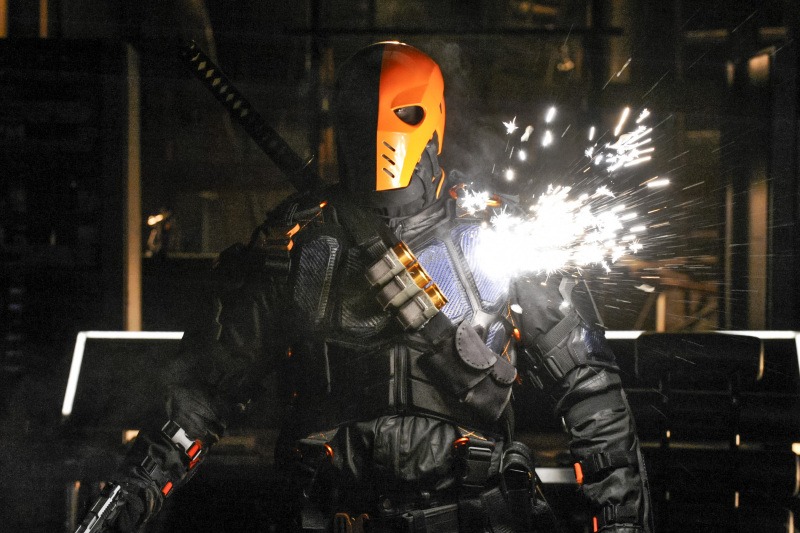 While we don't have an exact beat on the specific date of the crossover, we can guess at it with the help of Arrow's own schedule. The series will be celebrating its 100th episode this season, and we know for a fact that it'll air as part of the crossover event. Based on the weekly schedule for the series that kicks off with a October 5 premiere, the 100th episode will either fall on November 16 or November 30 (they'll likely be off for the week of Thanksgiving). That would put the crossover event's debut on either November 14 or 28, depending on whether they take a two-week break sometime during that month.
Arrow's Stephen Amell also took to Twitter to tease at the episode himself, and it looks as though Deathstroke will be making an appearance in the crossover in some form (hopefully once again played by Manu Bennett, who himself has expressed interest in returning).
5. The Flash and Supergirl will get their own separate musical crossover event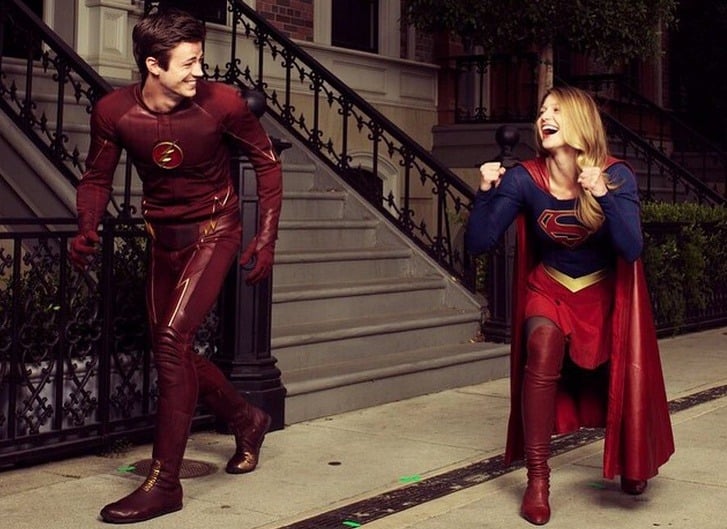 If one thing was clear during The Flash and Supergirl crossover last season on CBS, it's that lead actors Grant Gustin and Melissa Benoist have incredible on-screen chemistry. There's something about the lighthearted tone of both shows that combines perfectly, and The CW is well aware of this.
The Scarlet Speedster and the Girl of Steel will be reunited for their own musical crossover later this season, utilizing the considerable talent of its respective leads. Gustin and Benoist are actually both veterans of FOX's Glee, while The Flash also stars Broadway alums, Jesse L. Martin as Detective Joe West and Carlos Valdes as Cisco Ramon. The musical will reportedly take place somewhere around Episodes 13 to 14, while the four-way crossover is set to take place around the eighth episode of the season.
Stay tuned for more information as it releases!
Follow Nick on Twitter @NickNorthwest
Check out Entertainment Cheat Sheet on Facebook!