Everything You Need to Know About the Opening of the New Tyler Perry Studios and All of Black Hollywood Who Celebrated
Tyler Perry's work will go down in history as one of the best to ever do it. The writer, director, producer, and media mogul celebrated the grand opening of his new Tyler Perry Studios over the weekend in a star-studded gala that is sure to be the party of the year. For those who were not able to partake in the festivities, here's a cheat sheet of everything you need to know about the opening ceremony and the stars who attended.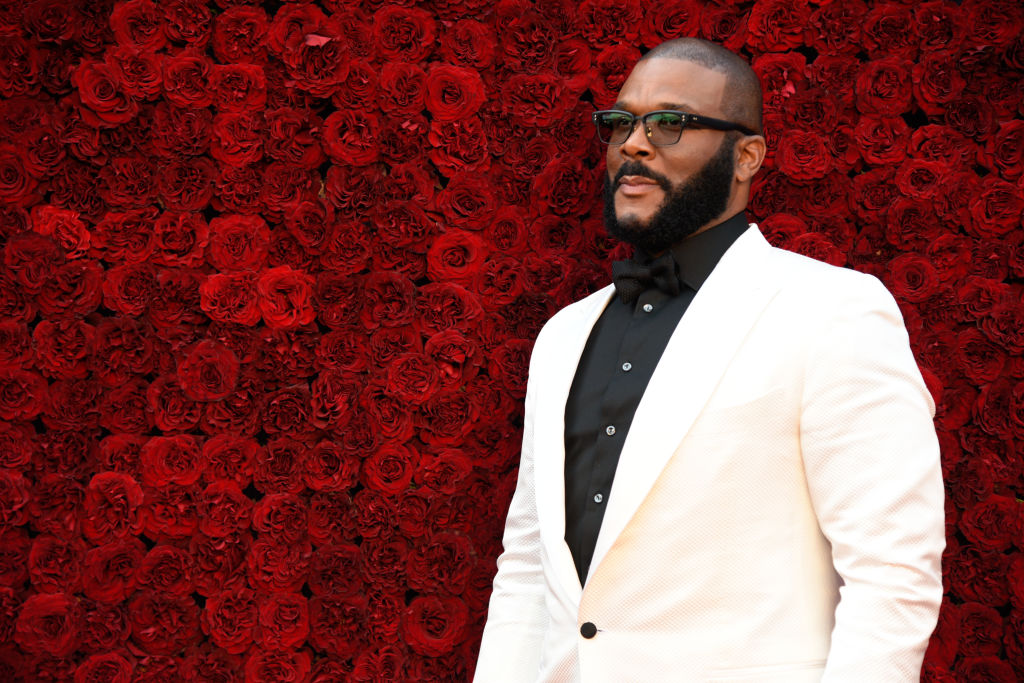 Tyler Perry Studios is the first African-American owned
Tyler Perry is the first African-American to own a studio outright. The Hollywood Reporter noted that the studio has no proprietary partners or corporate backing. It's owned fully by Perry, the first-ever of its kind.
Actress Tiffany Haddish, who worked with Perry on his 2018 comedy Nobody's Fool, gave Perry his props for being the first to achieve what he has. Variety reported that Haddish recalled:
"Every time that I came in to work here at Tyler Perry studios, it was the biggest smile on my face. Cause I know the history of this place — It was a Confederate union military base – trying to keep us enslaved. Now it's owned by a black man."

Variety
The studio space is 330-acres in Atlanta and features 12 soundstages named for black entertainment icons. As Haddish mentioned in her speech to Perry, the studio sits on a former Confederate Army base.
Tyler Perry Studios has its own special "Walk of Fame"
Our favorite actors and actresses won't have to wait until their work is voted on to have a star on the Hollywood Walk of Fame. Thanks to Tyler Perry Studios, anyone who has ever worked on one of his films, whether that be in front of the camera or behind the scenes, thas a star in their honor.
Outside of the soundstages, Perry his collaborators revealing the stars he dedicated to them for their work. Perry recently received his very own star on the Hollywood Walk of Fame and felt it was important to give back to those who worked just as hard as he has. Stars took to Instagram to share their excitement after receiving the honor.
Actress Patrice Lovely, who has worked with Perry on various television and stage play productions said in part:
"Im just a Little girl from Alabama that had a dream, And ALLLLL of my dreams have come true. The Best part is, he's not finish blowing my mind yet. My name is immortalized on a star at @tylerperrystudios"
Former Cosby Show star, Keshia Knight-Pulliam, who has been acting since she was a little girl, also took to Instagram to express her thanks, saying:
"What a night!!! Thank you @tylerperry ❤"
Tyler Perry Studios historical sound stages
The centerpiece of the evening was Perry's tribute to trailblazing black stars who inspired him most throughout his childhood and career, some of whom he'd had the pleasure of working with thus far. People Magazine reported that those who have sound stages named in their honor are: Denzel Washington, Oprah Winfrey, Halle Berry, Sydney Poitier, Della Reese, Spike Lee, Harry Belafonte, Cicely Tyson, Whoopi Goldberg, Diahann Carroll, and Will Smith.
The reveal of each soundstage was accompanied by a fireworks display. Perry also immortalized the late Ruby Dee and Ossie Davis, Della Reese, John Singleton, and Diahann Carroll, who sadly passed away just before the ceremony on Friday, October 4.
Unable to live to see her legacy honored in such a way, Perry spoke of the loss during the ceremony, with Variety reporting on his reflection:
"It's sad news, is exactly what I thought at first, but then I looked at her 84 years on this planet. I looked at all that she was able to do. I looked at the bridges and the barriers that she broke just for me to be in this moment. So I'm celebrating it."

Variety
Tyler Perry Studios grand opening gala
On Saturday, October 5, Tyler Perry celebrated the historical grand opening of his Tyler Perry Studios with a huge black-tie gala. All of Black Hollywood showed up to support such a monumental win for not just Perry, but those who have worked hard and tedious for centuries in an industry that often underpays and undervalues Black talent.
The evening consisted of a tour of the studios equipped with trolleys to transport everyone around, a three-course dinner and dedication ceremony to the studio and all of Perry's biggest inspirations, and even a gospel brunch. Perry became emotional during his speech at the sit-down dinner, telling attendees, "It means I'm a part of history. This is a historic night in American cinema. It's never been done before.
Attendees ranged from music to acting to politicians and included Don Lemon, Rep. John Lewis, Beyonce, Oprah Winfrey, Gayle King, and Samuel L. Jackson were just a few who showed up. There were performances by Patti LaBelle, Jennifer Hudson, and Mary J. Blige. The sit-down dinner alone is said to have had over 800 guests. Celebrities who attended the ceremony set social media ablaze, sharing behind the scenes photos and videos of the studio. Director Ava DuVernay tweeted her amazement at Perry's accomplishment, saying:
"Fun Fact: The studio lots of Disney, Warner Bros, Paramount, Fox and Sony could fit inside @TylerPerry's studio lot at the same time – and there would still be 60 acres to spare. All on a former Confederate Army base. A stunning achievement that will echo through the generations."
Fans and journalists watching from afar spoke online about how proud they were of Perry for doing what was once never thought possible. One wrote:
"Tyler Perry really showed us what building your own table looks like. I got emotional just watching via IG as legends like Oprah, Whoopi, Denzel, Will Smith, etc. christen the sound stages named after them. He even named one after Spike Lee after everything. You love to see it."
Perry has carved out his own lane, where all of Black Hollywood will be celebrated and have jobs to look forward to for years to come.