Exclusive: Teddi Mellencamp from 'RHOBH' Shares Her Journey to Going 'All In'
Teddi Mellencamp from The Real Housewives of Beverly Hills revealed an extremely personal story of how she emerged from struggling to find happiness within herself to discovering light and joy in her life.
The mother of two chatted with The Cheat Sheet about her business as an accountability coach, how she became a leader in health and fitness, and the impact the show has had on her growing company.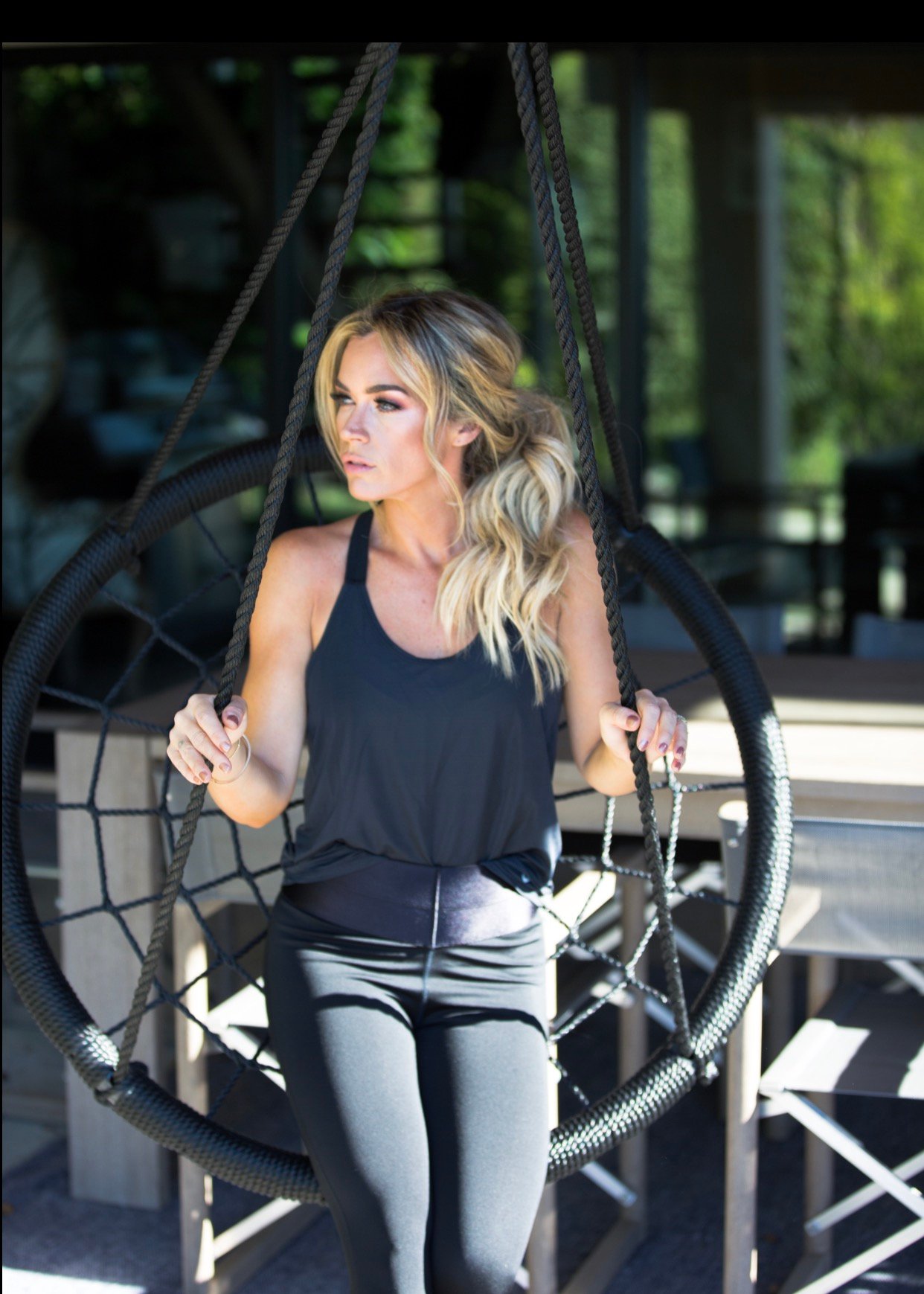 Although Mellencamp is the daughter of iconic musician John Cougar Mellencamp, she revealed that she is like many young mothers who are trying to balance career, marriage, and children. She opened up about finding her voice and the impact health has had on her well-being and self-esteem, plus how living in this positive space has helped her to maintain a cool head while being on an explosive reality television show.
Mellencamp admits she hit a low point in her life
After moving to Los Angeles, Mellencamp took a desk job and says the sedentary lifestyle wasn't doing her any favors. "I put on a ton of weight," she says. But after realizing she wasn't in the right business she returned to her true love, which was riding horses. The weight naturally dropped off, despite not wrangling with her eating habits.
However, after her son was born she says she wasn't really losing the baby weight. "I wasn't doing much about it and I got kind of depressed and really down on myself," she admits. "And I got to a place where I was a really good mom, but after I'd put the kids to bed I just felt bad."
She says her husband Edwin could tell everything wasn't right. "He could tell something was wrong mentally and I wasn't feeling like myself."
Then she had that defining moment
Many people who have gone through a physical transformation can point to the moment where they make the decision to change. Mellencamp recalls an outing with friends and their children where someone took a group picture. "I remember looking at this picture, and it was such a cute picture of all our little kids together," she recalls. "And I just looked at myself and said there was absolutely no way I could ever show this picture to my husband or anyone I know."
That moment broke her heart, she says. She recalls the weight wasn't the primary issue, but rather how she felt about herself. "I was so negative about myself so that I wasn't even comfortable in my own skin," she remarks.
Without telling anyone, she embarked upon a health and well-being journey. She started a new Instagram account where she introduced herself and wrote that she was on a journey to get in the best shape of her life. She invited people to follow along to see how she did.
Her journey was not linear
Mellencamp's "can do" attitude kicked into high gear. She worked out every single day for an entire year, hitting various local classes and different workout venues. Even though she was killing it in her workouts and she mentally felt better, she wasn't seeing the results she hoped to achieve.
That's when she did a deep dive on her diet. "Yes, I was working out hard, I was doing all these crazy classes, but I wasn't taking care of myself any better because I wasn't eating right," she says. She then pivoted to concentrating on her meals and food.
Once she made healthy food choices then she saw the transformation. "I started showing those changes on Instagram," she says. "Then people started to take notice and took interest."
A business is born
A growing number of friends took notice of how different Mellencamp looked. Some wanted to get in on the secret sauce. So she hosted a test group of people who wanted to lose weight and feel better. She called it the "two-week jump start" where the group texted what they were going to have for breakfast, lunch, dinner, and two snacks. The test group also had to include how they were going to work out. As a result, people in the group experienced a stunning transformation too.
Before Mellencamp joined RHOBH she had about 40 clients. She worked directly with them, sending messages of encouragement and tracking their food and workouts on a daily basis. After she joined the show, her business exploded. As a result, she created All In, which offers health and lifestyle support — essentially holding people accountable to reach the goals they set for themselves.
She has so many people interested in having this positive experience that Mellencamp now has 40 accountability coaches on staff. The coaches offer their authentic approach since they were once clients too, she says. "Plus this business keeps me accountable too," she adds. "This is sustainable for your life and it isn't a fad diet." While she doesn't have any Real Housewife clients, she's gotten referrals from people from the show.
Her transformation helped her manage her part on 'RHOBH'
Mellencamp says that becoming more comfortable in her own skin certainly allowed her to rock her part on RHOBH. But she admits sometimes the drama can be biting, especially when she gets hit as hard as she does on social media.
"I'm my own worst critic," she says. "Where it gets hard is when people say really negative things that don't even involve the show. I have to think that something must really be going on in their [the person making the comment] life to say that to a stranger."
But she ultimately made peace with knowing she'd make some mistakes, while at the same time staying true to herself and speaking her truth too. "And if I don't speak my truth I can't live with myself," she says.
Check out The Cheat Sheet on Facebook!