'Falcon and the Winter Soldier' Will Tackle Backlash Over Anthony Mackie Being the New Captain America
One of the first Marvel series to debut on Disney+ will be Falcon and the Winter Soldier, and both Anthony Mackie and Sebastian Stan will reprise their roles that began in the Marvel Cinematic Universe. However, at the end of Avengers: Endgame, Steve Rogers' Captain America (Chris Evans) handed his shield to Mackie's Sam Wilson – aka Falcon – instead of his lifelong friend, Stan's Bucky Barnes – the Winter Soldier. This didn't sit well with some Marvel fans, so how will the new show deal with the backlash over Cap's unexpected choice?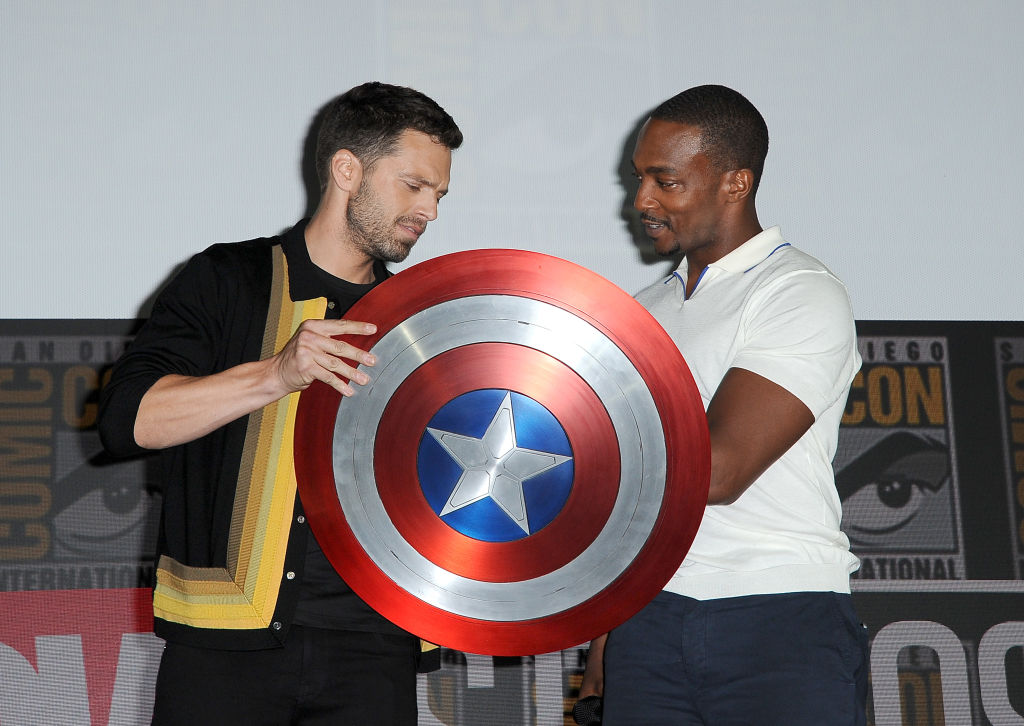 Why did Steve Rogers choose Sam Wilson?
In the Marvel Comics, Bucky took on the role of Captain America when Rogers was presumed dead. Instead, he was caroming through time, and when he returned he insisted that Bucky continue the Captain America role. However, after Bucky died Rogers resumed his identity as Captain America before passing it on to Sam Wilson.
Endgame directors Joe and Anthony Russo opted to skip Bucky and go straight to Sam because they felt he best represented Roger's values and beliefs.
"Cap and Bucky are brothers, but you know what's interesting about them is they're very different people and I think that Bucky always has the ability to have his mind corrupted, it can always be taken over by someone else," Joe Russo explained to CinemaBlend. "That hasn't been resolved for him and Sam has his free will and I think that Sam also had a similar ethic as Cap as far as service goes in the military."
Anthony Russo said they decided that Sam Wilson would be the next Captain America in the MCU after a lot of discussion. He explained that it eventually became clear that Cap and Sam are kindred spirits who have a character connection.
Is Sam Wilson Falcon or Captain America?
Steve Rogers handed his shield to Sam Wilson, but the name of the new series is named Falcon and the Winter Soldier. This has led to many fans asking if Mackie will even take on the Captain America identity in the new series.
"I am The Falcon, I will always be The Falcon. The moniker will stay the same," Mackie told Variety at the D23 Expo just last month.
The actor also claimed that he didn't know if his Captain America suit was in the new show, even though he said during an interview for the Avengers: Endgame Blu-ray release that he had been fitted for the costume.
"Everybody was like, 'Oh, you had a fitting of your suit!' And I was like, I never said I had a fitting for the suit. Go back to the tape, I said I had my first fitting," said Mackie.
Rumor has it that the storyline in the new series will feature the United States government asking Sam Wilson not to operate as the new Captain America, as they have U.S. Agent taking his place as the "government-sanctioned" super-soldier. And, now that they have announced Wyatt Russell will be playing U.S. Agent, that rumor has gained steam.
Dealing with the fallout
Not only will the writers of Falcon and the Winter Soldier have to deal with the fallout of Steve Rogers' Captain America retirement, but they will also have to deal with the backlash from fans over his choice.
Writer Derek Kolstad – who created the John Wick film trilogy – will be leading the writing team on the new Disney+ series. And, while answering questions during a recent Twitter Q&A, Kolstad said that they will definitely address the world's reaction to a black man taking over as Captain America.
"Oh yeah. And then some," wrote Kolstad.
He also admitted it was "intimidating" to be the first film or television writer to explore Sam Wilson as Captain America, and he says he will be looking to both Mackie and Stan for their input.
"Of course. The best idea always wins, and who better to have them than those who bear their characters so proudly," said Kolstad.
Fans will have to wait and see if Sam Wilson is Falcon or if he becomes the new Captain America when Falcon and The Winter Soldier premieres on Disney+ in the fall of 2020.