Fall TV: Which New Shows Have Earned Full Season Orders?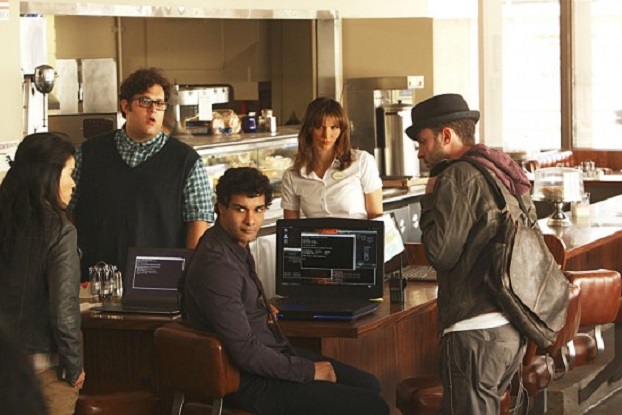 Most of this season's new TV shows have already premiered, which means it's about time for each network to go over its lineup and make a decision: Keep or axe? For a select few series, the choice has been a no-brainer, with networks adding new episodes to their initial order almost immediately. Others haven't been quite as lucky. As the winners and losers of fall's new television slate continue to emerge, here's a rundown of the shows that have been picked up for a full season order.
NBC is the latest to pick up a freshman drama for a full season, ordering an additional nine episodes of the Debra Messing, comedy Mysteries of Laura. Despite receiving scathing reviews from critics, the series opened to a notable 10.4 million total viewers. Though its ratings dipped in following weeks, the program has still helped the network improve its 8 p.m. Wednesday slot by 58 percent from the same time period last year.
CBS also recently gave its new shows a vote of confidence, issuing a longer run to each of its four freshman dramas that debuted this season. Scorpion, NCIS: New Orleans, Madame Secretary, and Stalker will all be extended past their original 13-episode order to a full season (which is typically compromised of 22 episodes). Of the four, NCIS: New Orleans is probably the least surprising pickup, particularly given the well-known name behind it. The cop procedural has been the most-watched new show of the fall season so far, averaging 18.16 million viewers on Tuesday nights, according to CBS.
Meanwhile, Scorpion, starring Katherine McPhee, has also been doing surprisingly well, remaining steady in ratings even after losing its Big Bang Theory lead-in on Monday nights. Teo Leoni's Madame Secretary has also been finishing first or second in overall viewers in its Sunday time slot, though it skews to a largely older audience. Perhaps the most controversial of the pickups is Stalker, which has garnered significant critical backlash and been accused of being exploitative. Despite this, the series has won its time slot of Wednesday at 10 p.m. every week this season.
ABC became the first to issue two full season orders earlier this month, thanks to success of its new Shonda Rhimes drama How to Get Away With Murder and the Kenya Bariss comedy Black-ish. The network — which also recently became the first to cancel a show after axing the terribly received rom-com Manhattan Love Story – extended the former's run to a total of 15 episodes, the most that star Viola Davis's busy filming schedule could permit.
The news came to no one's surprise, given that Murder has far and away become the banner's biggest new hit, actually building on its Scandal lead-in to earn a whopping 14 million viewers in its premiere. Barris's semi-autobiographical comedy also opened big, with 10.8 million viewers. Though the show fell a significant percentage in viewers in the following weeks, it's still given ABC its biggest post-Modern Family comedy hit.

The CW was also quick to issue extended orders to two of its freshman series, ordering more of The Flash and the surprise hit Jane the Virgin after only two episodes. Though the comic adaptation was expected to be a hit, it ended up surpassing expectations, shattering the CW's ratings records as the most-watched series premiere in the network's history and only seeing a modest decline its second week out. Critical darling Jane the Virgin gave the network its most-watched Monday night in almost three years, with 1.6 million viewers, and it also held well in its second airing, probably at least partly due to rave reviews.
Fox's Gotham made for another unsurprising pick up earlier this month, with the network adding another six episodes to its original 16-episode order. The Batman prequel has been one of the most buzzed-about and heavily promoted series this fall, and though it's seen a decline in recent weeks, it's clear the channel is continue to place high hopes on the show.
The running tally? 10 new shows extended to full seasons and only one canceled — two, if you count Krysten Ritter's Mission Control, which was dumped by NBC before it even aired. That's likely to change very quickly in the coming weeks, so stay tuned to see which of your new favorite shows will end up making the final cut.
More from Entertainment Cheat Sheet:
Want more great content like this? Sign up here to receive the best of Cheat Sheet delivered daily. No spam; just tailored content straight to your inbox.