Fan Reactions to 'The Boys' Demonstrate Why It's the Highest Rated Superhero Show on TV
The Boys, Amazon Prime's new original series, has audiences raving about Season 1 of the gritty superhero show. In an interesting twist compared to other superhero content such as Avengers: Endgame, The Boys examines the dark side of superheroes, positioning them as celebrities backed by corrupt corporations. Ahead, learn what positive feedback viewers have to share about The Boys on Twitter.
Viewers love to hate Homelander
Antony Starr, 43, plays Homelander, the leader of a group of high-powered superheroes. He's idolized by the public but behind closed doors, he's not a role model. Everyone loves a good villain based on what fans have said about the character on Twitter. 
"Homelander is Captain America and Superman put together but a bad person. Great villain #TheBoys," one person tweeted. 
"Props to Homelander for being The Creepiest Character On TV," another wrote.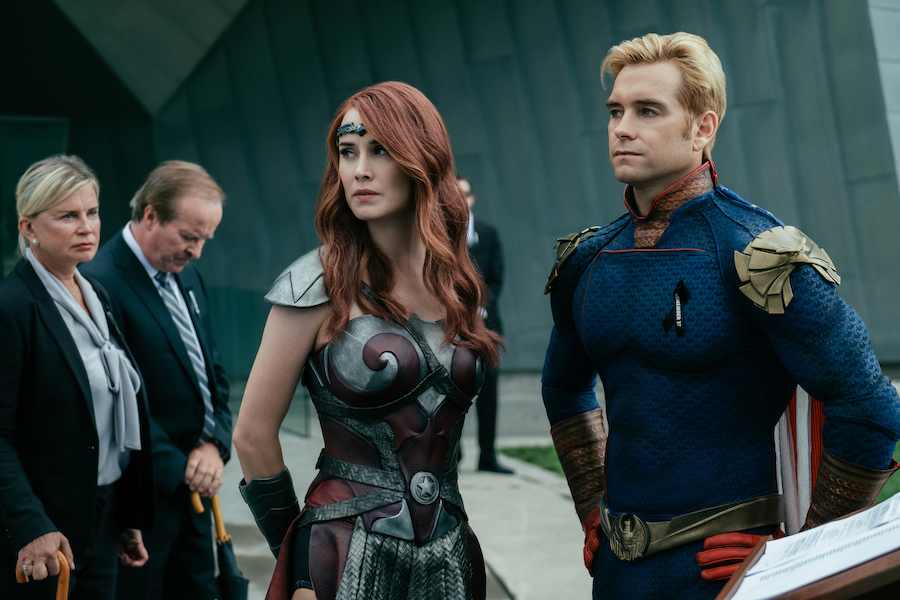 "He just made into my top 10 villains of all time #TheBoysTV," a Twitter user said referring to Homelander. 
"TV has officially found its new Joffrey," read another tweet referencing Joffrey Baratheon, a Game of Thrones character viewers loved to hate. 
People can't recommend the show enough
Like restaurants or dry cleaners, recommendations are gold. The same goes for TV shows. People on Twitter can't recommend The Boys enough. 
"If you haven't watched #TheBoys on Amazon Prime then you're not living your best life," one person tweeted urging people to watch the show. 
"Stop what you're doing right now and watch #TheBoys! Just finished it and it's so fuc***g good. Can't wait for season 2!!!" another said with a similar tweet reading, "Stop whatever you're doing now and go watch [sic] The Boys on Amazon Prime. #TheBoysTV."
Audiences love the show's 'refreshing take' on superheroes
Fans love the new perspective the show brings to superheroes. 
"Hot d***, #TheBoysTV [sic] season 1 was AMAZING. My favorite take on superheroes since [sic] Watchmen," another wrote comparing The Boys to HBO's drama where superheroes are considered outlaws. 
"It is awesome. A refreshing take on the superhero genre," a Twitter user said. 
Another called it "bananas" before going on to say the show's "So gripping from beginning to end. Definitely one of my favorite new shows this year. Fuc***g diabolical."
Others referred to the show as "superb," "awesome viewing," or "the s**t." One person said they were "delighted and surprised" after watching. 
Is 'The Boys' best TV show? One Twitter user thinks so
A Twitter user noted Season 3 of Netflix's Stranger Things and Season 1 of The Boys as being among the best TV programming of the year.
"It comes down to either [sic] The Boys or [sic] Stranger Things Season 3 as the best TV of 2019. Both Netflix and Amazon have something special and unique," they tweeted, adding, "Quite frankly they are nothing short of brilliant and I can't wait to see where each show ends up!" 
Fans already clamoring for more episodes
With only eight episodes, it's easy to breeze through Season 1. Fans have already watched every episode and are asking for more after being on Amazon Prime for approximately two weeks.
"I'm really happy #TheBoysTV lives up to the hype. Can confidently say it's the best superhero tv show. I need season 2 now," one person tweeted. 
"The Boys is ONE H**L OF A SHOW! Season 2 where you at?" another said. 
"Just finished #TheBoysTV and all I can say is I cannot wait for what's next absolutely loved it," one person tweeted while another called it "amazing funny, violent with a great cast and story and visuals." 
Watch Season 1 of The Boys on Amazon and get a glimpse of Season 2 on Twitter.