Fans and Celebrities Are Hilariously Dragging Kim Kardashian's Valentine's Day Surprise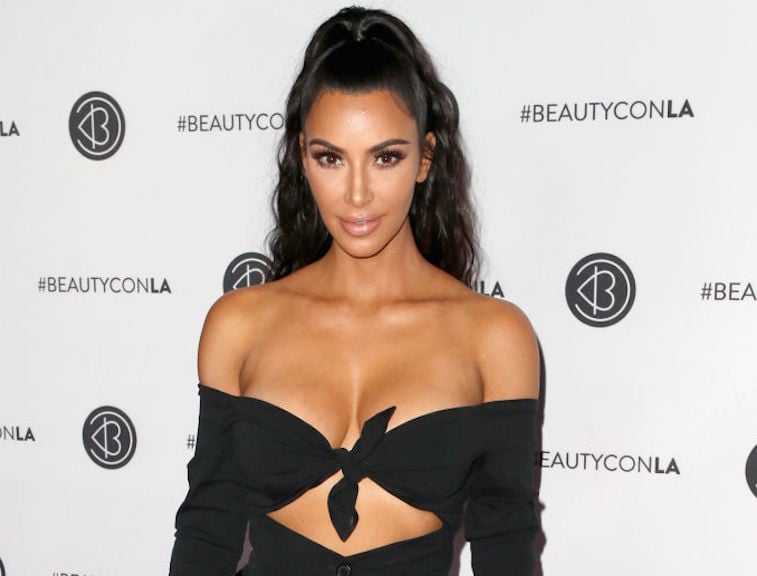 Kim Kardashian had an epic Valentine's Day surprise waiting for her at home.
The Keeping Up with the Kardashians reality star took to social media to share her V Day surprise and the internet has questions.
Not only were fans poking fun at Kardashian's surprise but fellow celebrities also got in on the fun.
Kanye West gave his wife an unexpected surprise
This past Valentine's Day, Kim Kardashian took to social media to share her special surprise her husband, Kanye West had for her.
Kim Kardashian shared a video of her Valentine's Day surprise with saxophonist Kenny G playing for her in the middle of a room surrounded by single rose in individual vases.
The reality shared the video on Twitter with the caption, "NO BIG DEAL KENNY G IN MY LIVING ROOM!!! Happy Valentines Day."
In a second tweet, Kardashian wrote, "Best husband award goes to mine !!!! Most thoughtful gifts ever!!!!"
Shortly after Kim Kardashian posted the video on social media, she also shared a few photos of Kanye West to her Instagram stories that confirmed he was the one behind her surprise.
Followers shared their thoughts on the gesture
After posting her Valentine's Day surprise on social media, fans and fellow celebrities shared their thoughts on the arrangement.
With Kenny G playing the saxophone in a room full of roses, many social media users had a few questions.
Chrissy Teigen, who is the queen of hilarious comments, shared her thoughts on her BFF's Valentine's Day surprise on Twitter.
She commented, "did Kenny have to stand there while the flowers were being set up? How did he get out? we need more info on kenny!!!"
After that, fans went on to ask Kardashian some hard-hitting questions surrounding her surprise.
One fan commented, "did they build the vases around kenny g, or did kenny g have to maneuver around the vases. also how is our man kenneth gonna get out of that room without knocking something over. does he just have to live there now or what."
Fans began trolling Kardashian
Chrissy Teigen began something that is continuing to go on.
Fans began asking their own questions about Kim Kardashian's Valentine's Day surprise. Some fans even began sharing what they thought about Kanye West surprise. Many interpreted the sweet gesture as one that could easily be seen as a little off putting.
One fan tweeted, "Kanye West's gift to his wife was to capture Kenny G and hold him in a room of their house. He is forbidden from taking breaks and must remain standing, playing his romantic sax. If even a single vase of roses is overturned, an alarm will sound…"
With many fans believing Kenny G. was being held hostage, but the jazz performer took to Twitter to put those rumors to rest.
In a tweet to Kardashian, Kenny G. thanked the couple for letting him be part of their Valentine's Day showing that he participated in the stunt willingly.
He wrote, "Thanks for having me be a part of your Valentine's Day."