Fans Are Confused By the Bizarre Game Kanye West Makes the Kardashians Play
Kanye West is a rapper, entrepreneur, fashion designer, and the husband of your favorite reality star, Kim Kardashian West — but he's arguably most known for his bizarre behavior.
From begging Facebook CEO Mark Zuckerberg for money on Twitter to infamously interrupting Taylor Swift at the 2009 MTV VMAs, West has consistently made headlines for his antics.
Most recently, the Yeezus rapper made the news over a weird game that he makes the Kardashians play, which involves the dictionary, highlighters, and a positive mindset. (???)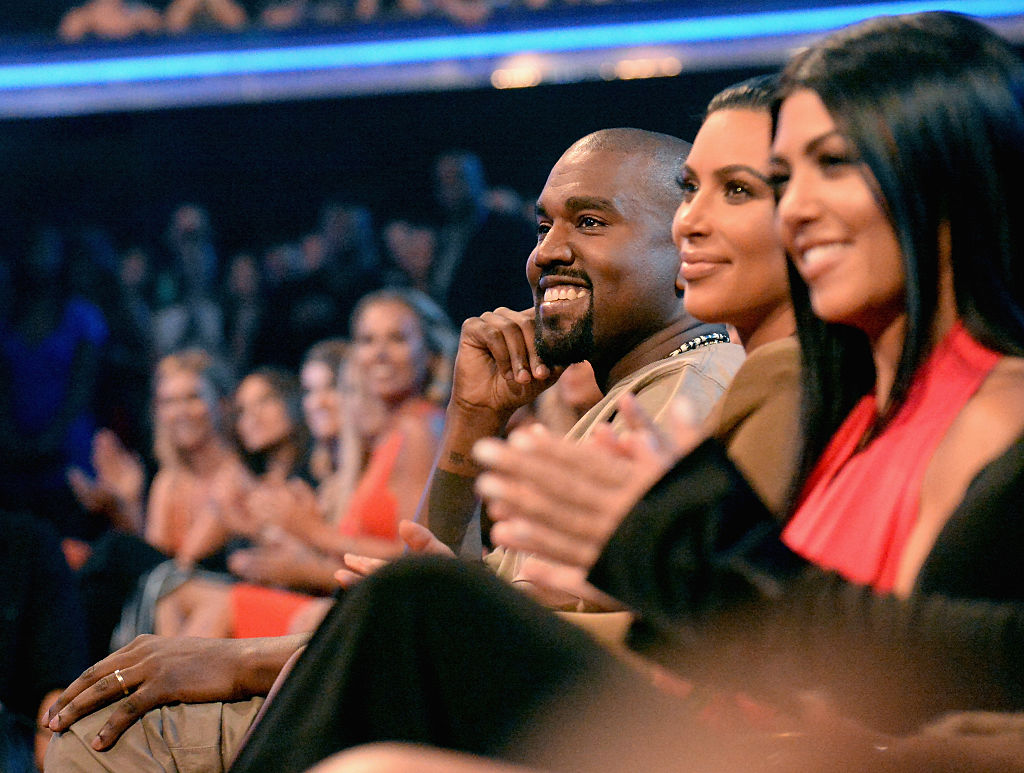 Kanye West's game is… different
The Late Registration rapper created a game about positivity. He introduced it on the Dec. 1 episode of Keeping Up with the Kardashians, playing with his wife and her sisters, Khloé and Kourtney Kardashian.
"Kanye always wants people to be more positive so he came up with this little dictionary game," Kim explained. "We pick a page in the dictionary and everyone has to underline the positive words."
In a clip shared to Kim's Twitter page, the group is shown highlighting words such as "barrel" and "barter," and talking about how they are or aren't positive.
While discussing the words they came across, West said that the game "always sparks these kinds of conversations."
"People get into parenting, this and that," he explained. "It's a fire board game, like when you're bored. That's what board games are."
"It's true!" Khloé said, laughing.
Reactions to Kanye West's game
Fans reacted to the game on Twitter, expressing shock and disinterest.
"I can't with him I can't," one person wrote.
"this gave me aneurysm," commented another.
Others were completely confused by it.
"Can you believe this is what rich people spend their lives doing, underlining dictionaries," one user wrote, while another asked: "Is this what happens when rich ppl run out of things to buy?"
"I've never seen a full episode of KUWTK I wonder if I'd be able to understand what's happening if i just randomly watch any episode," someone else tweeted.
Others, however, aren't totally mad at it.
"I hate to admit this. Feeling truly embarrassed. Absolutely ashamed. Never thought this would be me. But Kanye's dictionary game sounds like fun to me. THERE I SAID IT OK," tweeted one man.
Another person asked whether anyone wanted to give it a go, writing, "does anyone want to play kanye's dictionary game with me pls[?]"
Kanye West's game is not new
We can't deny how, um, different this game is. But it's not exactly new. In his May appearance on My Next Guest Needs No Introduction, West told host David Letterman that he spent a lot of his free time reading the dictionary and highlighting positive words.
"I do that so when we write songs in church we talk about these ideas of who we are and then we remove certain words that don't have positive, connecting language," the Jesus Is King rapper said. "All you have to do is do a few pages of this, and it will help us unprogram and reprogram because we are programmed and a part of the program."
It seems that this practice has had a positive effect on West and his music. He's turned away from dark themes in favor of jollier, more spiritual tunes. In October, he released his gospel-inspired ninth studio album, Jesus Is King, which sees him set aside his ego and dedicate himself to Jesus.
"I'm letting you know what Jesus has done for me, and in that I'm no longer a slave, I'm a son now, a son of God. I'm free," West told Zane Lowe in October.
Now, who's playing?