Fans Are Convinced Taylor Swift Is Engaged to Joe Alwyn: Are Her 'Lover' Song Lyrics and Other Clues Proof?
One of the exciting tidbits to come out of Taylor Swift's new Vogue cover story was a tease of two more of the songs from her new Lover album. One of the song's lyrics, however, has fans believing she's totally hinting that she's engaged to her boyfriend of almost three years, Joe Alwyn.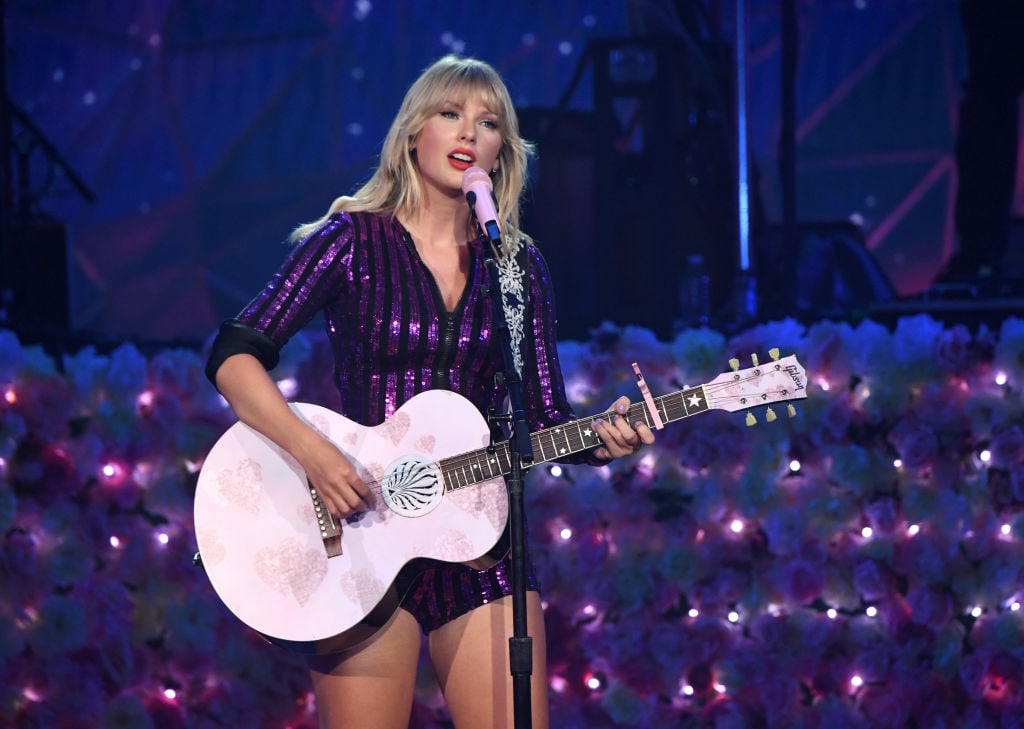 Swift reveals details about her new album
In the September 2019 issue of Vogue, Swift gave some more insight into what fans can expect from her new album and her faithful followers are pretty excited that it's all about love, no doubt inspired by her boyfriend, Alwyn.
The singer shared that Lover, dropping on August 23, will have 18 songs – and there's definitely a recurring theme. She told the magazine: "I was compiling ideas for a very long time. When I started writing, I couldn't stop."
She also thinks it might be her favorite album yet, sharing, "There are so many ways in which this album feels like a new beginning." She added: "This album is really a love letter to love, in all of its maddening, passionate, exciting, enchanting, horrific, tragic, wonderful glory."
Do the 'Lover' lyrics reveal Swift and Alwyn are engaged?
Fans have already heard the first two songs off the album — "ME!" and "You Need to Calm Down."
She also played two more songs from the album for the interviewer, one titled "The Man," in which she experiments with "the idea of perception," how she would be perceived as a man. Swift noted: "If I had made all the same choices, all the same mistakes, all the same accomplishments, how would it read?" The lyrics include: "I'd be a fearless leader. I'd be an alpha type. When everyone believes ya: What's that like?"
The other song is the title track, "Lover," and some eagle-eyed fans think that Swift might have revealed that she's engaged. Of the song, she explained, "This has one of my favorite bridges," adding, "I love a bridge, and I was really able to go to Bridge City."
The interviewer described the song as "a romantic, haunting, waltzy, singer-songwritery nugget" and it includes the following lyrics: "My heart's been borrowed and yours has been blue. All's well that ends well to end up with you."
The lyrics sound like she's heading down the aisle
Swift also posted those lyrics on Twitter and Instagram, along with a photo of herself dressed in blue, doing a graceful dance move.
The lyrics seem to point to the old wedding tradition of "something old, something new, something borrowed, and something blue," so naturally her fans are thinking she's low-key announcing her engagement.
One fan tweeted: "EXCUSE ME??!!!! SOMETHING BORROWED AND SOMETHING BLUE IS RELATED TO MARRIAGE!!!!! @taylorswift13 WHAT ARE YOU HIDING!!!!!"
It was when Swift liked a Tumblr post where a fan pieced together the "something borrowed and something blue" idea that fans really went wild, however.
But wait… there's more! Since Swift doesn't do anything accidentally, fans took note of the photo, specifically her left hand, which has a string tied around her ring finger or pinky.