Fans Are Freaking Out Over a Video of Tom Brady Jumping Off a Cliff With His 6-Year-Old Daughter
Someone should tell Tom Brady that the fastest way to find critics is to post videos on the internet.
But in this case, all of those Brady haters might have a point. When the 41-year-old Patriots quarterback shared a video of himself cliff jumping in Costa Rica, it was enough to make his cautious viewers cringe. But the real issue fans had with the quick video wasn't Brady's involvement — it was seeing him drag his hesitant child off the edge, too.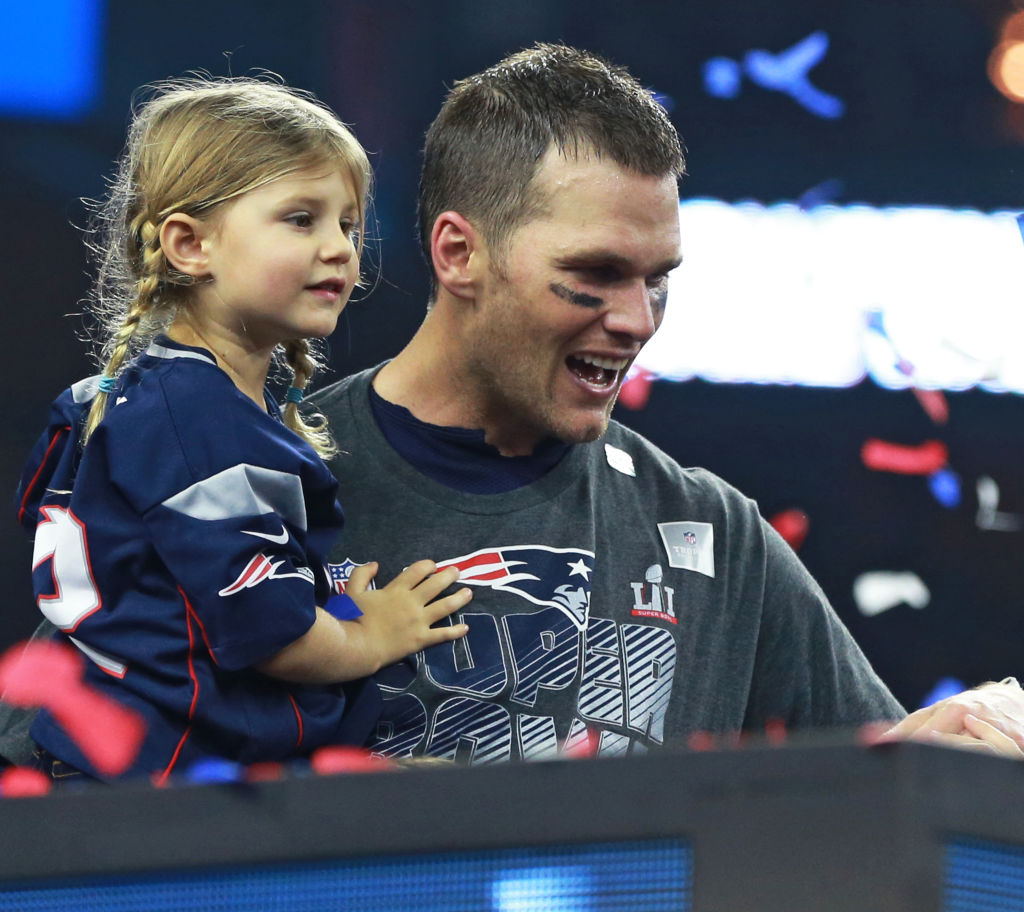 Gisele Bundchen approved of the stunt
The video in question, which was shot by Tom Brady's wife Gisele Bundchen, shows the stunning backdrop of a Costa Rican waterfall nestled amongst the jungle foliage. Tom Brady stands next to his 6-year-old daughter Vivian, contemplating a jump. He says, "Ready?" before plunging off the side of the rocky cliff while holding her hand.
Clearly, Vivian is not ready because what happens next is less of a jump and more of a drag. It's obvious from the short clip that the little girl is nervous about taking the plunge, but winds up getting pulled down because she doesn't let go of her dad's hand. And that's what people think makes the whole thing so dangerous.
The Instagram comments were flooded with criticism
Obviously, Brady thought nothing of the video since he's the one who posted it. In the Instagram caption, he says: "If Vivi is going to be an Olympic champion one day, it probably won't be in synchronized diving. Daddy always gives her a 10 though!" He also said, "I didn't want to be the first Brady to fall off a cliff!"
But some of Brady's fans were horrified by the video. Yahoo News reported fan reactions which included comments such as "You basically tried to kill her," "Nothing like getting a torn labrum at 10 years old," and "He was in motion, if he let her go she could have been seriously injured on the rocks." The general consensus was that the whole thing was "irresponsible" and frankly stupid.
Some fans defended Brady, saying the cliff "wasn't that big" and that everyone is just "dad-shaming." But it's clear that the child was scared and the stunt was at least slightly dangerous.
Even famous friends disagreed with Brady's jump
It wasn't just random internet commenters who took issue with Tom Brady's dangerous stunt.
Dwayne "The Rock" Johnson said, "You KNOW I have complete faith in you as a man, friend, player and father – but this just gave me anxiety. Geeezus." Former NFL quarterback Brett Favre said he gave Vivian a "10" but Brady received a thumbs-down.
Tom Brady went cliff jumping before
This isn't the first time Tom Brady jumped off a dangerous cliff, though it is the first time he involved a young child. In a 2015 Instagram video, Brady recorded himself jumping off an even higher cliff in Costa Rica. And back then it made fans nervous too.
It's obvious that this football superstar isn't afraid to take risks both on and off the field. But some fans are wishing he wouldn't literally drag his innocent kid into it.