Fans Are In A Frenzy Over Miley Cyrus' Recent Instagram Post That Had Something To Do With Nick Jonas
Looks like everyone isn't immune to fangirling over Nick Jonas.
Miley Cyrus has been sharing some AMAZING throwback photos from her Disney days. Some of the epic throwback include those who, along with Cyrus, took Disney Channel by storm in the mid-2000s.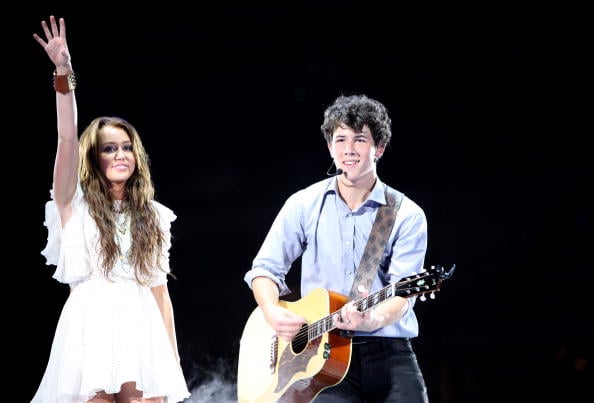 Along with fellow celebrities loving the nostalgic videos and photos, Nick Jonas just so happened to slide in Miley Cyrus' DMs to applaud the singer for reliving such a great era.
Miley Cyrus is the queen of throwbacks
Over the past few days, Miley Cyrus has been making us truly miss the days when she and many other famous celebrities pratically ruled Disney Channel.
Some of her epic throwbacks have included Selena Gomez and Demi Lovato, but her most recent one just dubbed Miley Cyrus the queen of nostalgia.
On March 12, Cyrus shared a direct message exchange she recently had with her ex-boyfriend, Nick Jonas on Instagram.
The exchange starts with Miley Cyrus sending Nick Jonas a photo of her younger self wearing a Jonas Brothers T-shirt. Under the photo, she writes to Jonas "Lols," in which he replies, "Amazing. These throwback shots have been [fire emoji]."
Along with the screenshot, Cyrus also shares a video of her doing a hair flip to the song "7 Rings" by Ariana Grande.
Miley Cyrus captions the entire Instagram post, "That moment when even your ex knows your socials have been [several fire emojis]."
Fans have been going crazy about this post
Not only did fans love this sweet exchange between the exes, they also love that Miley Cyrus brought back a memory from an era we all wish we could relive.
From 2006-2007, every preteen out there watched as Miley Cyrus and Nick Jonas warmed our hearts with their young love.
The two met while Cyrus was starring in her show Hannah Montana and Jonas was taking over the music scene with his older brothers.
Fans loved Miley Cyrus and Nick Jonas as a couple and seeing their friendly exchange on Instagram made us feel like it was 2007 again.
Shortly after Miley Cyrus shared the screenshot, fans took to Instagram and Twitter to share their thoughts on the post.
Though Miley Cyrus and Nick Jonas has since moved on from their breakup, fans will forever and always remember the time when these two celebrities were each other's true love.
Priyanka Chopra weighs in on the post
Shortly after Miley Cyrus posted her friendly exchange with Nick Jonas, Priyanka Chopra shared what she thought about her husband's direct message with his ex.
Chopra wrote in the comments section,"Lol. Hahaha… Hubby is right. These posts are [fire emoji]."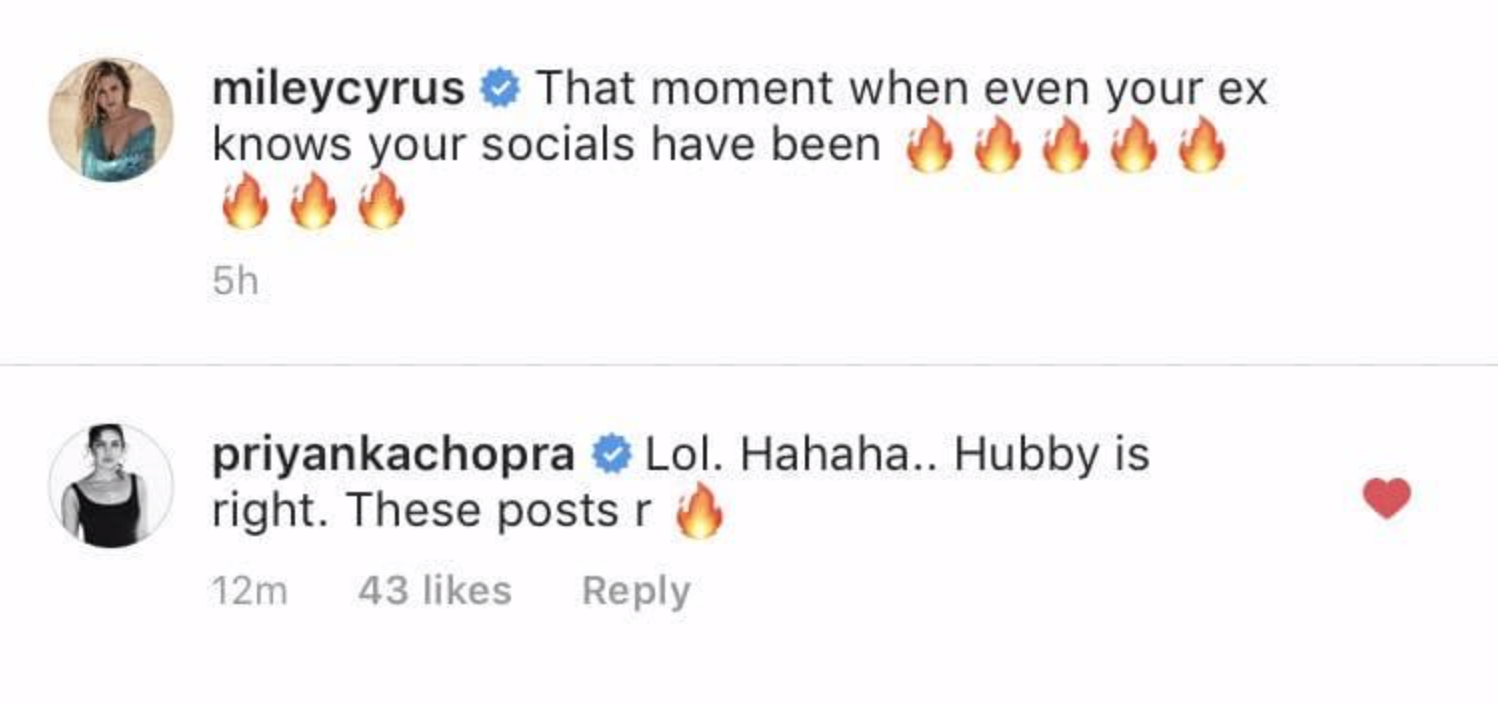 Though many would like to believe there is some bad blood between Chopra and Cyrus, that is most likely not the case.
Priyanka Chopra just starred in the Isn't It Romantic movie with Cyrus hubby Liam Hemsworth.
Miley Cyrus and Nick Jonas have remained close friends since their breakup years ago, so we are pretty sure Priyanka Chopra does not feel at all threatened by her husband's friendship with Cyrus.