Fans Are Losing It After Ryan Tedder Says He Was Only Joking About Beyoncé and Adele Collab
Remember how it felt when you paired cake with ice cream for the first time or Oreos with milk? Absolute bliss, right? Sometimes two things come together and create such magic that you wonder how you got by without putting them together before.
That's exactly how fans feel about Adele and Beyoncé.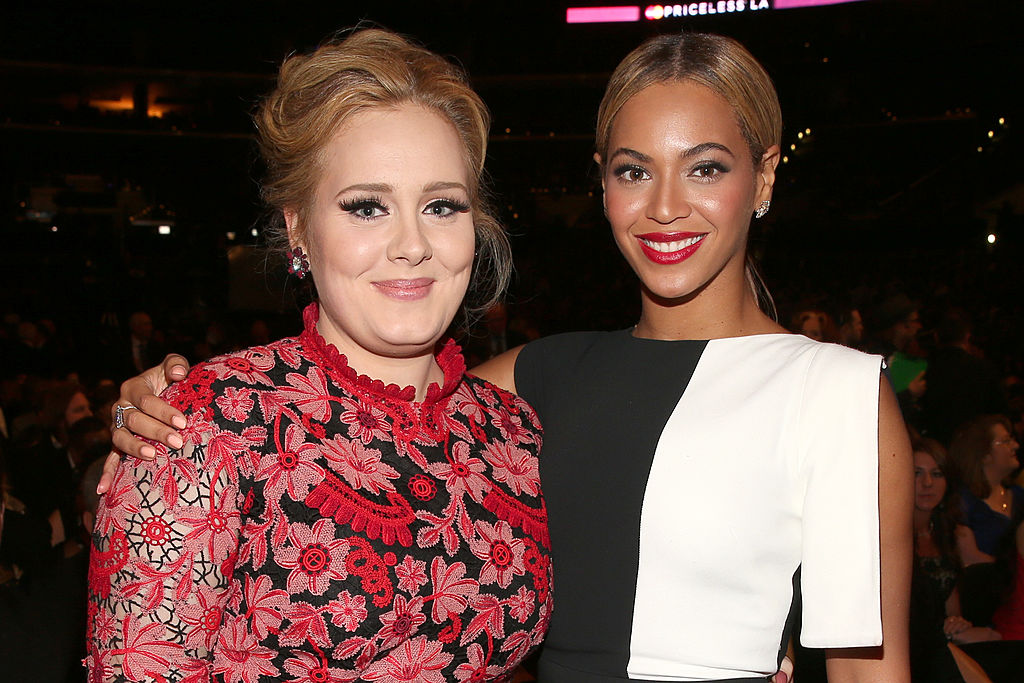 People have been absolutely losing it since OneRepublic frontman, Ryan Tedder, revealed that a Beyoncé and Adele collaboration was in the works. But now, it appears that the singer may have only been kidding.
What did Ryan Tedder say about Beyoncé and Adele?
It all started when Tedder spoke to Z100 New York at the Global Citizen Festival over the weekend. He told the station that his new album would feature a song with Beyoncé, Adele, and Coldplay's Chris Martin.
"We have one song featuring Beyoncé and Adele with a Chris Martin piano solo in the bridge," he told Z100 New York of the singers and Coldplay frontman.
Obviously, people went absolutely crazy with this information. It was like the song gods smiled down on the world and delivered the perfect mixing of artists.
Tedder's cruel joke
After a weekend of preparing to have their dreams made by the upcoming epic song, fans were disappointed to learn that the whole thing was a joke.
On Monday, Tedder took to his Instagram Story to clear things up.
"Three of my favorite things: absurdity, kidding, joke," Tedder wrote with the dictionary definitions of the words.
"Journalist: any cool collaborations on the next @onerepublic album?" Tedder wrote. "Me utilizing 'sarcasm,' 'kidding,' and a 'joke' simultaneously, 'Ya, we have one song featuring Beyonce, Adele, and Chris Martin, but I don't want to talk about it or give too much away.'"
He then shared a screenshot of some of the articles that had been written about the supposed upcoming song.
"Come onnnnnnnnn people," he said.
While it may not actually be in the works, Tedder is down for the collaboration to happen.
"All that said wouldn't that be a [fire] collab?" he said. "I'd stream it.
Fan reactions
Needless to say, fans were not too happy to have their dreams shattered by Tedder's post.
"We just found out Beyoncé and Adele collabing was fake and we haven't felt this betrayed since Percy Jackson found out who the real lightning thief was," The Lightning Thief Musical account tweeted.
"Why would anyone joke like this and get people's hopes up?" one fan wrote. "I don't like these kinds of jokes, a joke is supposed to be funny. This is not funny. I wanted a Adele, Beyoncé, Coldplay collaboration. My hashtag was going to be #theABCsong."
Others were concerned about the legality of such a joke.
"It should be illegal to joke about an Adele and Beyoncé collab," one person tweeted.
And some even wanted to get violent with Tedder.
"Something told me that it prolly was a joke but Ryan Tedder still need his a– beat for joking about a Beyonce and Adele collab," another user wrote.
But some fans wondered if Tedder was actually joking or if he just had to backtrack after possibly breaking a nondisclosure agreement.
"We are not getting this Beyoncé x Adele x Chris Martin collab. It seems like he's saying it as a joke OR he broke the NDA, will pay for Blue's college tuition, and Beyoncé will pull the song from the album bc he ruined the surprise," one person speculated.
Either way, it looks like we'll never know what heaven in a song would sound like.