Fans Are Loving Kylie Jenner's Short Hair
Kylie Jenner has become a fashion icon. A few years ago, she was one of the lesser-known Kardashian-Jenner sisters; she's the youngest in the bunch, and her three oldest sisters, Kim, Kourtney, and Khloe, were always running the show. But once Jenner launched Kylie Cosmetics, her life changed. She's now one of the most followed celebrities on Instagram, and she's running a billion-dollar industry. Oh, and she takes a lot of pride in her look — including her hair. And fans are loving her shorter 'do.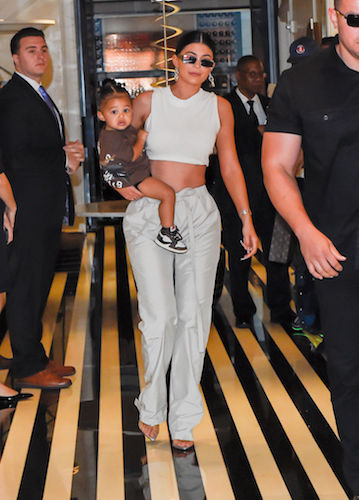 Jenner is always rocking a new hairstyle
One of the most important parts of Jenner's look is her hair. At the 2019 Met Gala, she rocked long, purple, straight hair. But just two days earlier, her hair was dark brown. Jenner changes up her hair almost as often as she changes her outfits. It's been bleach blonde, green, and everything in between. Most of the time, Jenner's hair isn't real. She hasn't been shy about her love for wigs. These days, wigs look so real that it's hard to tell whether Jenner's hair is real or fake, but when she changes up her look so often, it's safe to assume most of the looks aren't her real hair.
Lately, fans have been loving her short, dark hair
Jenner has posted several pictures to Instagram lately rocking short, dark hair. Though she's had plenty of fun looks this year, fans appear to love this casual, more natural style. Jenner had shorter, dark hair when she was younger, so this look brings a part of her back to her younger years. Singer Pia Mia commented on Jenner's recent post, writing, "Love u w [sic] short hair." The comment got 1,800 likes. Singer Lewis Blissett also commented on Jenner's photo. "This hair !!!!!!!!!" he wrote. People were excited to see Jenner rocking a less glamorous look and just being casual while taking mirror selfies in her home.
The Kardashian-Jenners are big fans of wigs and extensions
Just as most celebrities have sported fake hair for red carpets and other events, the Kardashian-Jenner crew has done the same. Kim Kardashian loves to wear different wigs and extensions to accentuate her looks. And Khloe and Kourtney Kardashian often wear extensions to the get their hair to look the way they want. Kendall Jenner appears to be the only Kardashian-Jenner who doesn't wear fake hair frequently, unless she's doing a photoshoot of some sort. Even at the Met Gala, when Kylie Jenner rocked a purple wig, Kendall Jenner wore her usual dark look in a bun.
Jenner will probably change up her look pretty soon
Jenner has stuck with the dark hair for a while, though she has switched up its length. Only a few weeks ago, her hair was down past her lower back. Now, it's in a long bob. It's only a matter of time until she switches up her look again; she doesn't like to have the same hair for too long. But we're here for her new look, since she's proven time and time again that she can work with pretty much any hairstyle.