Fans Are Placing Bets on Which Kardashian Will Get Pregnant First in 2020
Family matriarch Kris Jenner currently has 10 grandchildren, but Kardashian fans know it's only a matter of time until the eleventh one comes along. Who will be the one adding to the famous family, who Caitlyn Jenner called "the royal family" of entertainment? It might not be the one you think.
Only one of Kris Jenner's six children is currently childless and, interestingly enough, only one of them is currently married. But marital status and number of current kids don't seem to affect the odds one bit. Fans have very interesting methods of predicting which Kardashian or Jenner is the most likely to announce a pregnancy in 2020.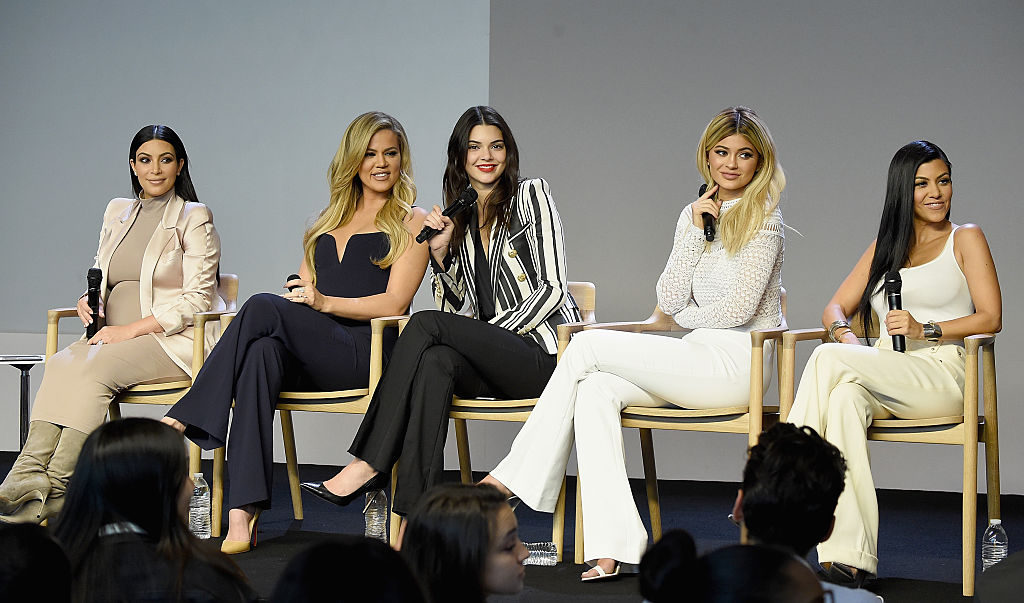 Caitlyn Jenner may have revealed that someone is pregnant
On the Nov. 21 episode of I'm a Celebrity… Get Me Out of Here, Caitlyn Jenner made a shocking statement that most fans assume was an accidental disclosure that someone was pregnant. "20 in December…they call me Boom Boom," she said.
Caitlyn, who was married to Kris Jenner, currently has 16 grandchildren and son Brandon Jenner (who already has one child) is expecting twins with his girlfriend, Cayley Stoker.
Plus, Kylie Jenner has one child, Kim Kardashian West has four, Kourtney Kardashian has three, and Khloé and Rob Kardashian have one each. Caitlyn's daughter Cassandra Jenner has three kids. That doesn't explain the missing two kids who would bring the total count to 20.
Everyone assumes Kylie Jenner must be pregnant
The Kar-Jenner clan is well-known for sharing a lot on social media. But the one family member who kept her pregnancy secret until the last minute was Kylie Jenner, which is leading fans to speculate that she might be doing it again.
Kylie is still technically single but rumor has it she and ex-boyfriend Travis Scott were acting super flirty over the Thanksgiving holiday. The pair share a daughter, Stormi Webster, who was born in February 2018.
Even though she denied the latest pregnancy rumors, Kylie has gone on record saying she wants another baby. Betting site SBD has the strongest odds in favor of Kylie being the first from the Kar-Jenner family to announce a pregnancy in 2020. But then again, it might be someone else.
Fans predict Khloe as the second most likely to get pregnant next year
Khloe Kardashian is currently single, but that doesn't stop fans from assuming if it's not Kylie sharing baby news, it'll be her. The 35-year-old already has one daughter, True Thompson, who she shares with ex Tristan Thompson. But after an epic cheating scandal last year, it's not looking good for these two to rekindle their romance.
Even though she's publicly single, fans wouldn't be surprised to find a secret love interest in Khloe's life. And that person could become the father of her second child.
Most people think Kim and Kourtney are done having kids
Kim Kardashian loves being a mom, but she's already made it known that four kids is her limit. The KKW Beauty founder went on record saying her family is most likely complete.
"I LOVE my babies so much but 4 is all I can handle with how busy I am, and each one of my babies needs so much attention," she wrote in response to a fan question on Instagram.
"I don't think I could handle more than that," she continued. "My time is spread really thin. And I think it's important that in all couples, the mom gives the husband as much attention as the kids."
Which Kar-Jenner has the lowest odds of getting pregnant in 2020?
While betting fans rank Kim and Khloe low on the list for most likely to get pregnant, there is one family member who is even less likely to announce baby news. That's Kendall Jenner.
The 24-year-old model doesn't seem like she's interested in having kids anytime soon. "I go in and out of phases," she said. "Some days, I'll be there and I'll be like, '[Oh my God], I think it's happening. I think I have the fever.'"
But she's also happy just being an aunt. "Most days, I'm like, 'This is too much.' It's a lot to be able to play with them," she said. "I'll just be like, 'go to your mom.'"
Which Kar-Jenner will announce a pregnancy next? We'll just have to wait and find out! If it is Kendall, then some bettors are about to make a lot of money.