Here's What Fans Are Saying About the New 'Little Women' Movie Trailer
It's time to go on an adventure with the March sisters. The trailer for Little Women premiered on YouTube, and within a few hours, fans commented on the all-star cast list. How can you go wrong with Emma Watson, Meryl Streep, and Laura Dern? Here's what fans on Twitter are saying about the Little Women trailer.
The trailer for 'Little Women' premiered on August 13, 2019
ritten by Louisa May Alcott in the 1800s, Little Women is considered one of the most powerful early feminist works of literature. Since its creation, the story has been remade into a film and stage production. Now, the March sisters are back in an upcoming film directed by Greta Gerwig. The trailer for the Little Women movie premiered on August 13, 2019, and within a few hours, it was trending on YouTube.
Already, the fans are commending the cast and director on the upcoming film; some stated that they can't wait to see Little Women. One Twitter user said, "a stunning classic novel? Greta Gerwig direction? Saoirse Ronan and Timothée Chalamet together again? Emma Watson? Meryl freaking Streep? Take my money, take all of it."
"Raise your hand if you've ever felt personally victimized by Greta Gerwig and her adaptation of Little Women and it's all-star cast members Saoirse Ronan, Timothée Chalamet, Florence Pugh, Emma Watson, Eliza Scanlen, Laura Dern, and Meryl Streep," said another Twitter user.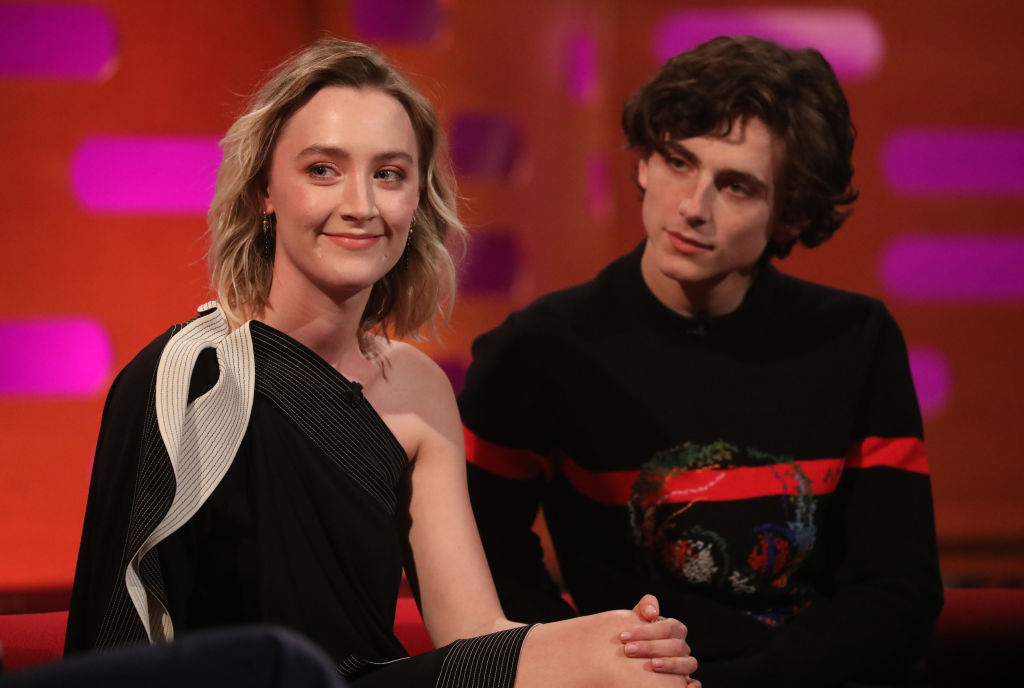 Fans say there's chemistry between Timothée Chalamet and Saoirse Ronan
This upcoming film has a star-studded cast, including actors like Laura Dern, Meryl Streep, and Emma Watson. Two of the lead roles are played by Timothée Chalamet and Saoirse Ronan, alumni of the award-winning movie, Ladybird. Fans online noted their chemistry in the trailer and even director Greta Gerwig commented on their energy.
"There is some true pairing between them that feels like what's in the tradition of great cinematic pairings," Writer/Director Greta Gerwig said in an interview with People. "They have an energy between them that is like they become a bonfire when they're together. They're both so alive, and they're both so talented and so smart and so young. When you put them together, it's like combustion."
After the trailer premiered, viewers took to Twitter, commenting on Timothée Chalamet's acting and the newest film adaptation of the classic novel. One Twitter user said, "I honestly saw a 10-second clip of Timothée Chalamet telling Saoirse Ronan he loved her in the Little Women trailer and cried."
"If Timothée Chalamet as Theodore Laurie Laurence kills me, do not prosecute him. That is on me. He caught me slippin,'" said another Twitter user.
When does 'Little Women' come out?
This film is not the first time a studio created a movie version of Little Women. A version of Little Women premiered in 1994. In fact, the story is so beloved that it became a stage production, featuring songs like "I'd Be Delighted" and 'Some Things Are Meant To Be." This movie, one Twitter user noticed, includes multiple well-known actors to a younger generation of movie-goers.
"Little women, this version, needs to be told because Little Women is a classic and it needs to reach every new generation," said one Twitter user. "And it will reach the new generation that's going to watch it because of Saoirse and Timmy and Emma and the rest of the cast!"
Little Women premieres in the United States on Dec. 25, 2019.