Fans Are Slamming Kylie Jenner for Getting Her Daughter This Lavish Gift
From the moment she was born in February 2018, Stormi Webster has been living an extravagant lifestyle, thanks to her mother Kylie Jenner, a billionaire who founded the makeup brand Kylie Cosmetics. She lives in a multimillion-dollar home and is constantly being showered with the best of the best.
Most recently, Jenner gave Stormi something (else) that not many kids her age would get: a fancy diamond ring. Naturally, fans were stunned by Jenner's gift for her daughter and shared their thoughts on the lavish present online.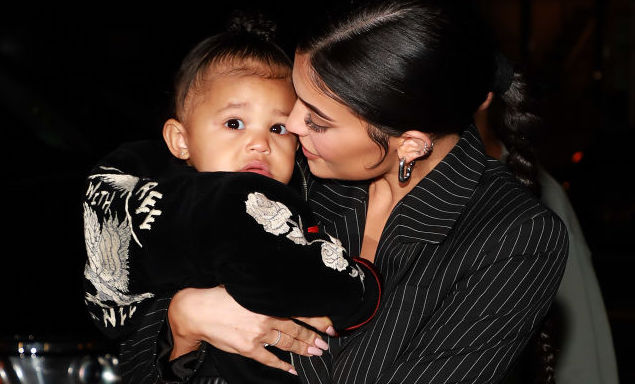 A closer look at Kylie Jenner's gift for her daughter
For Christmas 2019, Jenner gave her daughter an infinity ring that features two round diamonds. In a video posted to her Instagram Story (which has since expired but was captured by the blog The Shade Room), Jenner shows Stormi wearing the massive sparkler.
"Stormi!!!" Jenner exclaimed as Stormi cooed in the background.
Fans reacted to the gift in the comment section with outrage and shock.
One person wondered, "What exactly is she going to do with that!?"
"I'm not being a hater I'm just saying a doll would've been FINE," someone else wrote.
Others criticized Jenner for buying something so lavish, especially for someone so young, as kids tend to misplace their possessions.
"All that money for her to flush it down the toilet," one comment read.
Someone else said, "Nothing more classless than always showing how rich you are."
Another claimed, "That's a choking hazard!!!!"
As of writing, Jenner has not commented on the backlash.
There were, however, a few positive comments. Some social media users supported Jenner and said that she's free to purchase whatever she wants.
It's not the first time Jenner has been criticized for her spending habits
Jenner has often been criticized for things she's purchased for her daughter — even by people close to her, reportedly.
According to a June 2018 report from Life & Style, Travis Scott allegedly felt that Jenner had been spending way too much on their baby girl and worried that Stormi would become spoiled and entitled.
"Kylie's spending a fortune on Stormi's designer carriers, strollers, clothes, and accessories, but Travis thinks it's too much and wants her and her family to stop spoiling Stormi," a source told the outlet. "She's just a baby. Travis didn't have everything handed to him as a child and he wants the same for his baby."
"He worked for everything he has and feels Kylie's parenting skills are over-the-top because she's had a silver spoon in her mouth since birth," the source continued. "He wants Kylie to have some perspective and stop spending so much on the baby before it's too late."
Unsurprising, their lifestyle choices allegedly wound up driving the couple apart. Sources confirmed on Oct. 1 that Jenner and Scott had split after a little more than two years together.
Read more: Travis Scott Seemingly Shades Kylie Jenner's Latest 'Thirst Trap' Photos