Fans Are Bashing Dean Unglert and Caelynn Miller-Keyes After Their 'Bachelor In Paradise' Breakup
Caelynn Miller-Keyes and Dean Unglert have been cozied up in Paradise since the day Unglert arrived on the beach.
That is, until Miller-Keyes had a conversation with Bachelor In Paradise bartender Wells Adams and fellow Paradiser Demi Burnett. In an effort to look out for Miller-Keyes, Burnett gave her fellow contestant some tough love. She told her to be careful of Unglert, because of his reputation when it comes to dating. She warned her that he makes every woman feel special. Though he's friends with Unglert, Adams didn't disagree. He told Miller-Keyes that no woman's ever been able to "wrangle" him before, and that she should have a conversation with him about his intentions post-show.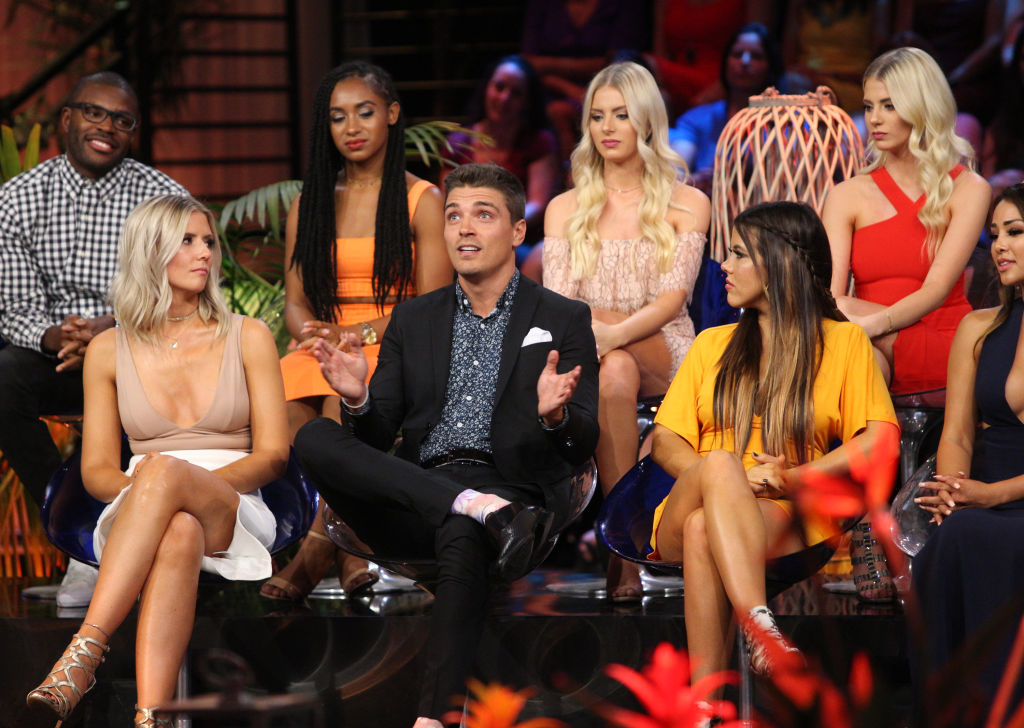 That conversation seemed to be the beginning of the end.
To Unglert's credit, he was honest about his intentions.
"All I know is I'm enjoying spending my time with you, and I don't want to spend it with any other girl while I'm here. But I suck at dating. It's challenging for me to see myself getting to a point where I'm like, 'alright, I'm ready to settle down now, but now I'm going to take off in this van for nine months so I can be as free as possible," he told her.
Later, Unglert helped Miller-Keyes celebrate her birthday. He brought her a cake, complete with candles, and sung her "Happy Birthday," accompanied by the rest of the Bachelor In Paradise cast. He awarded her his rose at the ceremony, but promptly after, pulled her aside to tell her he was leaving the show. He told her he couldn't give her what she wants.
Miller-Keyes was heartbroken. She thought she could "convince [him] otherwise," as Unglert told her she needed to do.
Twitter blows up at Caelynn Miller-Keyes and Dean Unglert after their breakup
Bachelor In Paradise fans took to Twitter to share their thoughts on the whole fiasco.
"Caelynn thinks Dean made this birthday special?? Cuz he brought her a cake?? Has she never had a birthday before??#BachelorInParadise," tweeted one fan.
"DEAN IS GOING TO DUMP CAELYNN ON HER BIRTHDAY YOU HATE TO SEE IT LMAO #BachelorInParadise," wrote another.
Some fans are sympathizing with Miller-Keyes, wondering why Unglert came to Paradise.
"I agree with Caelynn like what did Dean want to happen here????#BachelorInParadise," tweeted one person.
While others are #TeamDean.
"Unpopular opinions- caelynn sucks, she manipulates everything and plays the victim, what dean did was mature he wasn't that into her so he left #BachelorInParadise," tweeted another fan.
Though fans are relishing in the Miller-Keyes, Unglert breakup drama, what they're really living for is Miller-Keyes' quick turnaround upon seeing Connor Saeli at Chris Randone Krystal Nielson's wedding.
Read more: Chris Harrison Is Proud Of The 'Bachelor In Paradise' Episode That Introduces Demi Burnett's Girlfriend