Fans Can't Believe 'Teen Mom' Farrah Abraham's Daughter, Sophia, Recently Said This on Instagram Live
If there's any MTV reality TV celebrity who's known for causing controversy it's Farrah Abraham. The star first got her start on 16 and Pregnant and then gained further attention on Teen Mom OG. From her parenting skills to her business tactics, fans have always been divided on their opinions of Farrah. And while she may no longer appear on Teen Mom, there's no doubt she still has a seriously strong following on social media, as we all love to see what she's getting into next.
More recently, her daughter, Sophia, just turned 10 — and the preteen seems to be speaking her mind more than ever before. Here's how Sophia just surprised her mom's followers by what she said on Instagram Live.
Farrah has thrust her daughter into the spotlight for years
Sophia's been in the spotlight since before she was even born, as Farrah became famous for having her child at an incredibly young age. And even as Sophia aged, Farrah has taken it upon herself to make sure her young daughter gets all of the love and attention she feels she deserves. While Farrah believes she's encouraging Sophia to become totally autonomous and a mini-superstar in the making, her parenting choices have surely come under fire over the years.
CafeMom reminds us when Sophia was just 4 years old, Farrah said her young daughter was just "doing her own thing" and learning how to be totally independent of her mom. Not only that, but a few years later, the Teen Mom star was setting up social media accounts for her daughter. While Farrah maintained that she was the one overseeing all online activity, fans still reported Sophia's Snapchat when they discovered she was asking strangers to talk to her.
Today, Sophia is constantly on camera, as she still has a highly-active Twitter and Instagram and is always a part of Farrah's social media, too. Will this affect her negatively in the future? That remains to be seen.
Recently, Sophia surprised everyone by saying this on Instagram Live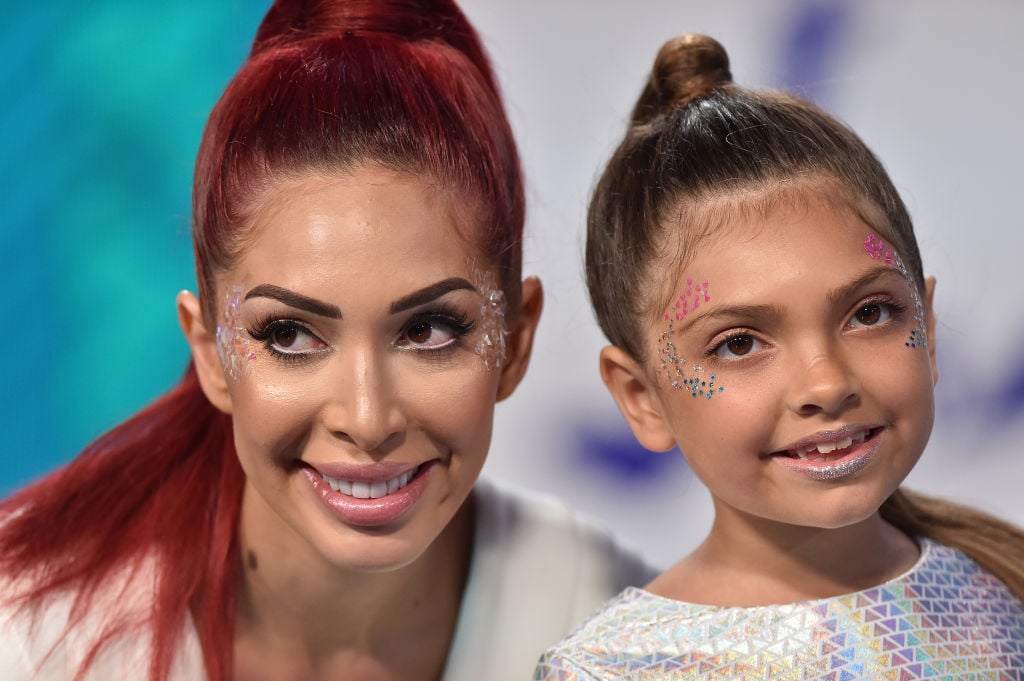 Farrah features Sophia on her Instagram stories and Instagram Live videos with fair frequency, and fans have never heard any complaints from the young child about it. If anything, she seems amused by the videos and her mother's online activity. iHeartRadio notes that Farrah's recent Instagram Live video contained some odd behavior from Sophia, however.
The publication notes that Farrah was discussing Sophia's behavior in her acting class. "Sophia was pretending like she was shy at this acting thing and she got called out," Farrah said. To that, Sophia told her mom, "You just like to lie on social media. And you like to gossip about me on Live all the time." Farrah was able to laugh off the incident and then add that Sophia "embarrassed" her — and to that, Sophia sarcastically added, "You're the best mom ever."
The moment surely didn't go unnoticed by fans. As one viewer said, "Farrah was always so disgustingly disrespectful to her parents and now her daughter will treat her even worse."
Fans have noticed Sophia's odd behavior on social media before
This may be the first time fans have ever witnessed Sophia talking back to Farrah, but it's certainly not the first time others have noticed Sophia exhibiting odd behavior around her mom. On this video posted to Sophia's Instagram, many of her followers noted how Sophia sounds and acts younger than she really is. As one follower wrote to Farrah, "You have serious issues and how you are allowed to neglect this child is beyond me. She is very underdeveloped for her age, her speech is not OK, you can't home school anyone as you can't even write properly." And others have shown a lot of concern that Sophia isn't around anyone her own age to develop connections with and make new friends.
Will we see more behavior from Sophia like she exhibited on Farrah's recent Instagram Live video, or will she adjust well to the life of being in the public eye? We'll have to wait and see what happens.
Check out The Cheat Sheet on Facebook!