Fans Can't Get Over This Sweet Comment Miley Cyrus Made About Priyanka Chopra's On Instagram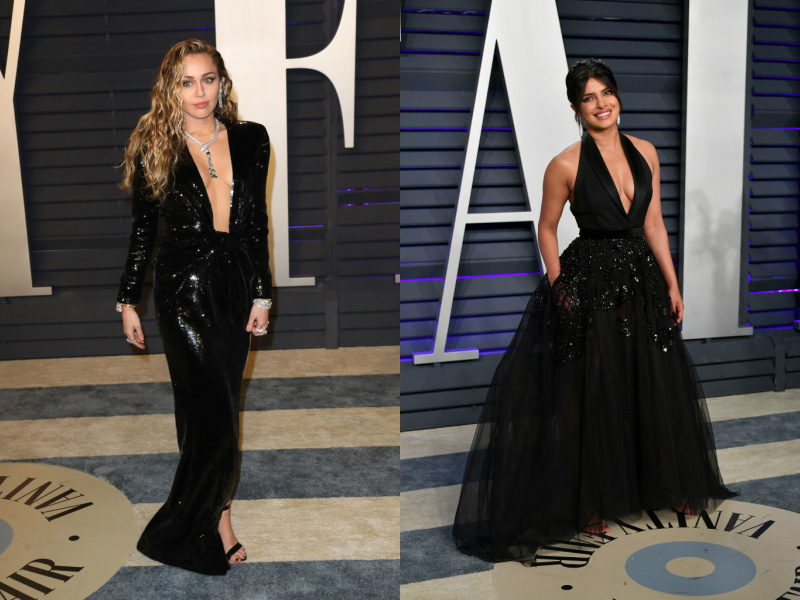 Fans are loving the comment Miley Cyrus made on a photo of Priyanka Chopra.
The singer took to Instagram right before attending the Oscar's Vanity Fair After Party to show her ex-boyfriend's wife some love.
This is the first time Cyrus or Chopra have interacted with each other on social media.
Even though the two actresses are most likely not best friends, we still love where this relationship could possibly be heading.
Miley Cyrus' comment put the internet into a frenzy
Isn't it great when an ex can get along with you and your significant other?
That is exactly what Miley Cyrus is showing the world.
Just before attending the Vanity Fair After Party with husband, Liam Hemsworth, on February 24, Cyrus decided to leave a sweet comment for a fellow celebrity on Instagram.
Hours before the after party, Priyanka Chopra's makeup artist posted an up-close photo of the Quantico actress looking stunning after getting her makeup done.
Soon after the photo was posted, Miley Cyrus wrote a sweet yet simple comment: "Pretty! Love," then followed up with a blue heart emoji.
Though this doesn't seem like a big deal to most, fans began freaking out in the comments.
"@mileycyrus omg."
"we need a picture of miley & priyanka plssss."
"so sweet of you @mileycyrus."
"@mileycyrus please take a photo with Priyanka, please pretty please."
Since celebrities are always showing each other love on social media, it shouldn't come as a shock that Miley Cyrus would do that for Priyanka Chopra.
However, since Chopra is currently married to Cyrus' ex-boyfriend, many feel relived that there are no hard feelings between the two.
Cyrus used to date Nick Jonas
For those of us who have been fans of Miley Cyrus since her Disney days know that the "Nothing Breaks Like A Heart" singer was once smitten with Nick Jonas.
Cyrus and Jonas were the ultimate Disney couple and even consider each other their first loves.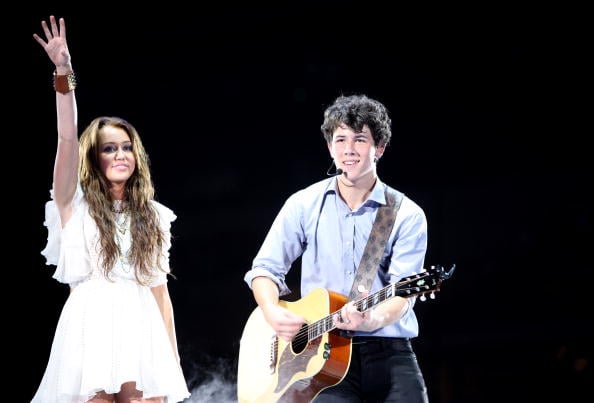 After dating from 2006-2007, Miley Cyrus and Nick Jonas called it quits due to demanding schedules and growing apart.
Over the years, Cyrus and Jonas have remained civil towards one another and eventually found love with other people.
Miley Cyrus married her on-and-off-again boyfriend Liam Hemsworth in an intimate wedding ceremony back in December 2018.
Nick Jonas married Priyanka Chopra in multi-day wedding ceremonies held in India.
Are Priyanka Chopra and Miley Cyris friends?
Though they share an ex, Priyanka Chopra and Miley Cyrus could possibly be moving toward establishing a friendship.
The two actresses used to only be connected by Nick Jonas. Now, they are connected through Liam Hemsworth.
Just recently, Priyanka Chopra starred alongside Miley Cyrus' husband, in the film Isn't It Romantic.
Since Chopra had to work closely with Hemsworth on set, we can assume she was able to get to know him and his wife.
No one knows if Priyanka Chopra and Miley Cyrus have become friend or not.
Either way, we hope Cyrus continues to leave sweet comments under Chopra Jonas' photos!