Fans Criticize Kylie Jenner For Not Spending Any Real Time With Her Daughter
Kylie Jenner is one busy woman. Between parenting and running a billion-dollar company, Jenner probably hardly gets any time for herself. But it seems like she's always making time for her daughter, Stormi Webster. Jenner is frequently posting photos of her little girl and always gushes about her. So why are people criticizing her for not spending time with her daughter?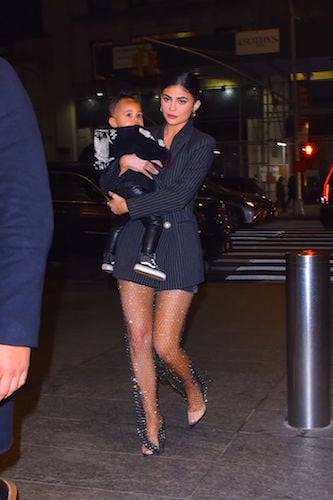 Jenner gave birth to Stormi Webster in February 2018
After a long nine months of waiting, the public finally learned what they'd been dying to know: Yes, Jenner was pregnant. Jenner and boyfriend Travis Scott hid her pregnancy from the world for nine months so that she could enjoy the special moment with her closest friends and family. Jenner later announced the birth of her daughter and shared a video showing her journey over the last nine months. It was bold of her to keep such a secret from her fans, but with so many critics these days, Jenner wanted to keep her pregnancy unknown to those outside her social circle.
Jenner constantly posts photos with her daughter to social media
If one thing is known, it's Jenner's love for Stormi. Jenner always posts photos with her daughter to social media, proving that despite running a successful business of which she owns 100%, Jenner still makes time to bond with her little girl. The family recently spent Jenner's 22nd birthday in Italy, and she's continued posting plenty of photos of her daughter and boyfriend Travis Scott. Jenner also is quick to comment on posts Scott puts up of their daughter on social media, and Jenner and Scott appear to have a strong relationship.
Fans think Jenner isn't spending any real time making memories with Stormi
Though Jenner is clearly spending a lot of time with Stormi, fans have criticized her for not making true memories with her little girl. In a recent post, Jenner and her daughter were wearing matching outfits and boating together. Jenner's hair and makeup were done, and it prompted one fan to point out that Jenner wasn't making real memories with her daughter, such as swimming together and laying on the beach together. Rather, she was always dressed well and looked like she never wanted to get her hands dirty and play with her daughter. However, the comment didn't last long on Jenner's photo — it appears someone removed it. Possibly because Jenner was having too much fun to listen to the haters. However, we can't argue that the user had a point with such a comment.
Jenner and Scott have joked about having a second baby
Though fans do make a point about Jenner always looking dressed up when she's with her daughter, it doesn't necessarily mean she doesn't like to be hands-on. In fact, Jenner once said that one of her favorite parts of parenting is changing her daughter's dirty diapers. On Travis Scott's birthday, Jenner joked that the two should have another baby, proving she clearly loves being a parent. However, every celebrity always has haters, and though Jenner definitely loves wearing makeup, it isn't necessarily a reflection on her parenting.