Fans Demand Justice for K-pop Star Goo Hara
K-pop musician Goo Hara was tragically found dead in her home in Seoul on Nov. 24. The cause of death remains unknown and is currently under investigation by police. Around the world, fans of the 28-year-old artist mourned Goo upon hearing the news.
Goo's death also sparked a conversation about misogyny and rape culture. Before her death, Goo was involved in a high-profile legal case with an ex-boyfriend where she alleged he threatened her with revenge porn. The case led to online backlash against Goo, and now fans are demanding justice for her.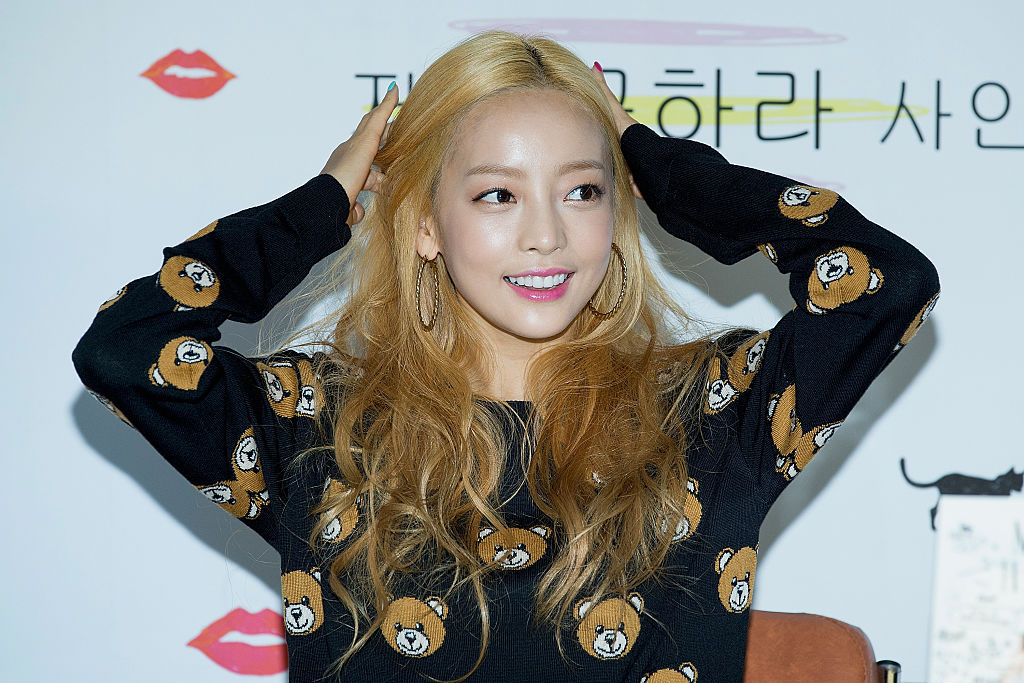 The artist was involved in a public and lengthy legal battle with an ex-boyfriend
Choi Jong Bum injured Goo's arms and legs during a fight in September 2018. That November, Goo received a suspension of indictment for injuring Choi. However, because Choi instigated the physical altercation prosecutors gave Goo leniency.
In January 2019, Choi went to trial for causing injury to Goo and for threatening to release a sex tape to Dispatch. In May 2019, Choi faced a second trial when charged with violating the Act on Special Cases Concerning the Punishment of Sexual Crimes. According to Soompi, the violations included "(filming body parts without consent), assault causing bodily harm, intimidation (blackmail), coercion, and destruction and damage of property."
Choi received a sentence from the Seoul Central District Court in August 2019. While prosecutors asked for a 3-year prison sentence, Choi received three years of probation. If he commits a crime during probation, he will receive a prison sentence of one year and six months. After the decision, Goo's legal team announced they planned to appeal for a heavier sentence.
"The court has acknowledged that the defendant is guilty of intimidation, assault, coercion, and property damage, but has given him a suspended sentence. Society needs tougher punishments in order to eradicate the kind of criminal behavior that Choi Jong Bum committed. We hope that during the appeals trial, the defendant will be appropriately sentenced according to the weight of his crime," legal representatives said in a statement.
Goo Hara received public backlash during the trial
Goo faced online criticism about the trial and sex tape with Choi despite the fact she was the victim in the situation. In May 2019, Goo's manager found her unconscious in her home in an apparent suicide attempt. After she recovered, fans remained worried about her mental health. Following her death, fans called out the misogyny Goo faced and asked for justice.
"Top trending on Korea Twitter is #최종범_처벌 or 'Punish Choi Jong-bum,' who is Goo Hara's ex-boyfriend that she is suing for revenge porn. Trial against Choi is still ongoing," Jihye Lee of Bloomberg tweeted.
Lee also tweeted, "Korean women find it more and more difficult to report crimes as victims because they see female artists facing even greater backlashes & trauma because how the public, police and the justice system respond to sexual assault, and that sends a clear message to all women in Korea."
Fans demand justice for Goo Hara
On social media, fans expressed their outrage over the circumstances surrounding Goo's death. Fans also expressed their wishes that Choi will receive a harsher sentence.
"The fact that men can abuse women and get away with it makes me sick, and that women are slut shamed to taking their own life is so disgusting These too beautiful women lost their life because of slut shaming and abusive men, when will this stop goo Hara I'm so sorry #RIPHara," a Twitter user wrote.
"Two amazing people, Goo Hara and Sulli passed away because of harassment they faced and both were best friends. Goo Hara and other females shouldn't be afraid to speak on their harassment. She was threatened for a release of a sexcam. Her abuser should not get away. #최종범_처벌," one fan tweeted.
Fans blame Goo Hara's death on misogyny
While some were quick to blame Goo's death on the K-pop industry, fans were quick to point out the real problem at hand is misogyny and the online harassment that came with it.
"This has nothing to do with kpop. This was misogyny. Her ex abused and blackmailed her and then manipulated the media to make it seem like he was the victim. The media and public took his side and attacked her. This was simply pure misogyny," a fan tweeted.
"goo hara's situation is more than some kpop incident. don't belittle her death just because she was a korean singer and actress. she was a victim of countless acts of sexism, ab/se, misogyny, and violence committed by everyone around her. that is a problem is way beyond kpop," wrote a Twitter user.
How to get help: In the U.S., call the RAINN National Sexual Assault Telephone Hotline at 1-800-656-4673 to connect with a trained staff member from a sexual assault service provider in your area.
How to get help: In the U.S., call the National Suicide Prevention Lifeline at 1-800-273-8255. Or text HOME to 741-741 to connect with a trained crisis counselor at the free Crisis Text Line.