Fans Love Kim Kardashian's Recent Instagram Photos of North and Penelope
Kim Kardashian and her sister, Kourtney Kardashian, have always been very close. And now, the two are raising their daughters together as well. While the Kardashians are one of the most famous families in the world, they have still managed to stick by one another's side. And fans think it's adorable to see their little ones doing the same.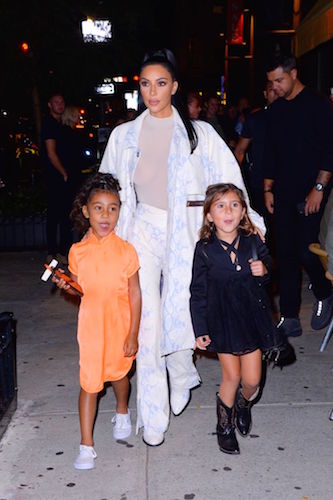 Kim and Kourtney were always very close growing up
Kim and Kourtney were born about a year and a half apart, and the two were always extremely close growing up. They were the oldest daughters of Kris and Robert Kardashian, and still today, both of them frequently post throwback photos of their days growing up together. Although Kim is arguably the more famous of the two, she and Kourtney have always remained close, and many people credit Kim for helping build the careers of her siblings. The sisters are close with their other sister, Khloe, as well, but Khloe is four years younger than Kim.
Kim and Kourtney's daughters are only about a year apart
Since Kim and Kourtney have such a strong relationship, they want that for their daughters, too. Kim's oldest daughter, North, is five years old, and Penelope Disick, Kourtney and Scott Disick's middle child, is six. The girls spend plenty of time together since they live in close proximity to one another in California. Penelope doesn't have any other sisters, and North's younger sister, Chicago, is still too young to play with her, so Penelope and North have developed a very close relationship.
Kim just posted a photo of the two girls at school — then a throwback from when they were younger — and fans loved it
The Kardashians love posting old photos on Instagram. And now, they're starting to share throwbacks of their own children. Recently, Kim posted a photo with her, Kourtney, and their two daughters outside of the daughters' school. North and Penelope were dressed in their school uniforms (and people couldn't help but notice Penelope's Gucci loafers). Shortly after, Kim also posted a photo of the two kids from a few years ago. Fans loved how much the daughters' relationship resembles how close their mothers are. Other celebrities were also gawking at how adorable the two girls looked in their school photo. "They are so beautiful," Gabi DeMartino wrote. "The cutest angels omg," wrote makeup artist James Charles. The school photo got nearly six million likes, and the throwback photo got more than one million likes in its first few hours.
The Kardashian family has nine little kids — and one more on the way
North and Penelope aren't the only children in the family, though. Khloe, Rob, and Kylie Jenner each have one daughter. Kourtney has two boys, Mason and Reign, and Kim has another son and daughter, Saint and Chicago. Plus, Kim and husband Kanye West are currently expecting their fourth child via surrogate. It will be exciting to watch all of the newest members of the Kardashian family grow up together.
Check out The Cheat Sheet on Facebook!