'Jersey Shore' Star Deena Cortese Posts a Photo of Her Son — and Fans All Notice 1 Thing
The Jersey Shore: Family Vacation family has added some new meatballs to the mix in the last year. Deena Cortese and Chris Buckner welcomed their first child, Christopher Bucker Jr., back in January, and Nicole Polizzi gave birth to her third child in May. Since then, the mothers have continued to film for the show. But when the cameras stop rolling, they're all about their little kids. Cortese recently posted a photo of her little man — and fans all noticed the same thing about him.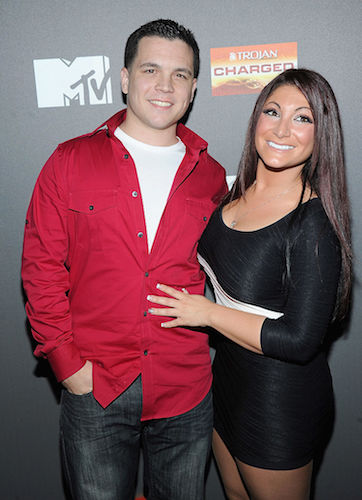 The 'Jersey Shore' cast has plenty of parents nowadays
When the show first premiered back in 2009, It was hard to imagine any of the cast members as parents. Everyone in the house was such a hot mess that it seemed none of them would ever grow up (and we secretly loved every minute of it). However, fast forward a decade later, and now there are more cast members with children than without. Pauly D and Ronnie Magro each have one daughter; Polizzi has three kids, Jenni Farley has two, and Cortese has one. It was hard to imagine them ever becoming mature enough for parenthood, but so far, they seem to be doing a great job.
Cortese and Buckner filmed several parts of their family life for the show
Buckner and Cortese announced that they were expecting last year, and they filmed a few parts of their family life for the show. Cortese allowed the cameras to attend her baby shower/gender reveal party, where everyone showered her with gifts for the new baby. Then, after her son was born, the cameras arrived once again to film the christening. Of course, there was plenty of drama at the event with Angelina Pivarnick and Jenni Farley at odds (Polizzi and Cortese were caught in the middle), but everyone managed to keep it classy out of respect for Cortese and her family.
Cortese's recent photo had everyone pointing out her son's eyelashes
Cortese loves posting photos of her little one to Instagram. When the cameras aren't rolling, she spends all of her time with him. She recently posted a photo of him captioned "My little man" complete with a heart emoji, and fans were quick to comment on the young boy's eyelashes. "Those eyelashes tho [sic]," someone wrote. "His eyelashes! He is adorable!" another fan commented. "Baby boys always have the best eyelashes!" someone else added. In the photo, Cortese's son was sitting on a chair and looking straight up at the camera — his lashes were the stars of the show.
Fans are waiting to see which 'Jersey Shore' star will announce a pregnancy next
Fans are already waiting for another Jersey Shore pregnancy announcement — and all eyes are on Mike and Lauren Sorrentino. Sorrentino was recently released from prison, and he had said that he and his wife wanted to start having kids after he came home. Of course, Cortese and Polizzi could also make announcements, but fans seem to be holding out hope that a baby Sitch is the next one on the way.