Fans Noticed Jill Duggar and Derick Dillard Are Missing From Yet Another Duggar Family Gathering
From their courtship rituals to their clothing choices and ultra-strict religious ways, the Duggars are a peculiar (and huge) family. And while we remember many of the oldest of Jim Bob and Michelle's kids starting reality TV as teens, they're all growing up fast. It's hard to believe Jill Duggar is 28 years old, married, and with two kids. And while she's always been known as one of the more obedient Duggar children, her husband, Derick Dillard, has caused her life to become shrouded in controversy.
Dillard got himself and Jill kicked off of TLC's Counting On due to transphobic tweets. And since then, fans have also suspected that the other Duggars don't like him, either. Could a family rift really be happening? Given that Jill and her husband were absent from yet another family event, it's possible.
Many suspect Jill Duggar and Derick Dillard don't have a positive relationship with the other Duggars
They may live simply, but the Duggars and their relationships are ultra-complicated. Jill Duggar and Derick Dillard have one of the most talked-about marriages amongst all of the Duggars. Part of that is due to Dillard's controversies of the past, and the other side of the coin is that many suspect Jim Bob and Michelle don't like him.
After Dillard was removed from Counting On, Radar Online reported Michelle and Jim Bob were upset with him for the shame he brought upon their family. As an insider told the publication, "Everything that Derick has said has caused the family bad press." And the insider went on to say that while Jim Bob and Michelle try to respect Jill and her marriage, they're concerned with "what he says and how he says it."
Aside from this alleged insider, fans have also noticed that Jill doesn't seem to attend nearly as many family events since leaving Counting On, either. Jill spent this past Easter with her in-laws, for example, and fans on Reddit suspect she may no longer be seeing eye-to-eye with her parents. "I think with Jill only having 2 children so far … it will be difficult for her to see eye to eye with her family's lifestyle when she's able to get very close with her children, something she never understood before," a Reddit user wrote.
Jill Duggar was missing from the latest family gathering yet again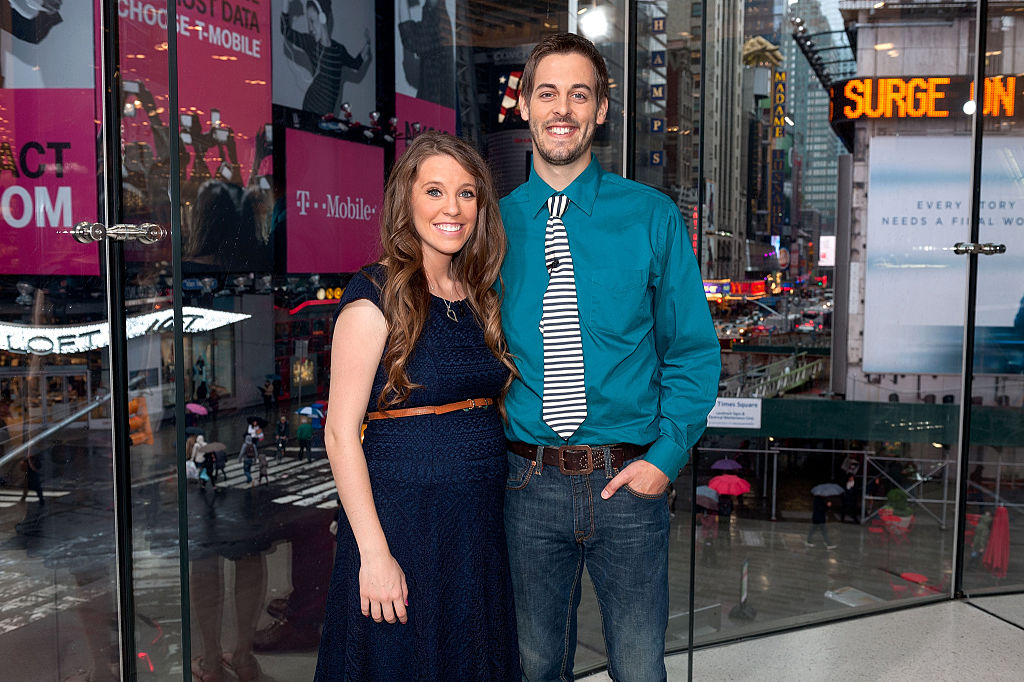 While the Duggar Family Instagram is typically the hotspot on social media for keeping up with what's going on at Jim Bob and Michelle's home, it was Joy-Anna Duggar who shared information about weekly Duggar gatherings. She recently shared this photo of many of the Duggars and their spouses and kids. "Family Night! One of the best things our family started doing! 
It's hard to get all of us together now that we're getting older and have our own schedules. Not all of us were able to make it tonight, but it was great catching up with the ones that were!" Joy-Anna captioned the post.
It looked like a full house, but fans noted in the comments that Jill was missing. Josh and Anna Duggar were also missing from the group, but Anna commented, "Sad we missed it this week… Looking forward to next Monday!" As for Jill, it looks like she didn't make any comments on the photo.  
Is there really a rift amongst the Duggars?
Is it possible that there really is a rift between Jill and the rest of the Duggars? It was suspected that Jill squashed the rumor mill back in May when she posted a sweet photo of herself, her kids, and Michelle to celebrate Mother's Day. "She demonstrates what a selfless, joyful, patient mother should look like as she raised and continues to raise all 19 of us!" Jill captioned her post, and she then went into more detail about how her mother is an amazing role model.
Since then, however, we haven't seen Jill spend much time, if any at all, at the big Duggar home. She certainly may be busy with her new home and kids, however, so we're hoping all's well for her, Dillard, and the rest of the big family.
Check out Showbiz Cheat Sheet on Facebook!