Fans on Twitter 'Cancel' Jimmy Fallon for Wearing Blackface in Past 'SNL' Sketch
On May 26, #jimmyfallonisoverparty began trending on Twitter. The reason? Old footage of Jimmy Fallon wearing blackface on Saturday Night Live reappeared online, and now fans are calling Fallon out.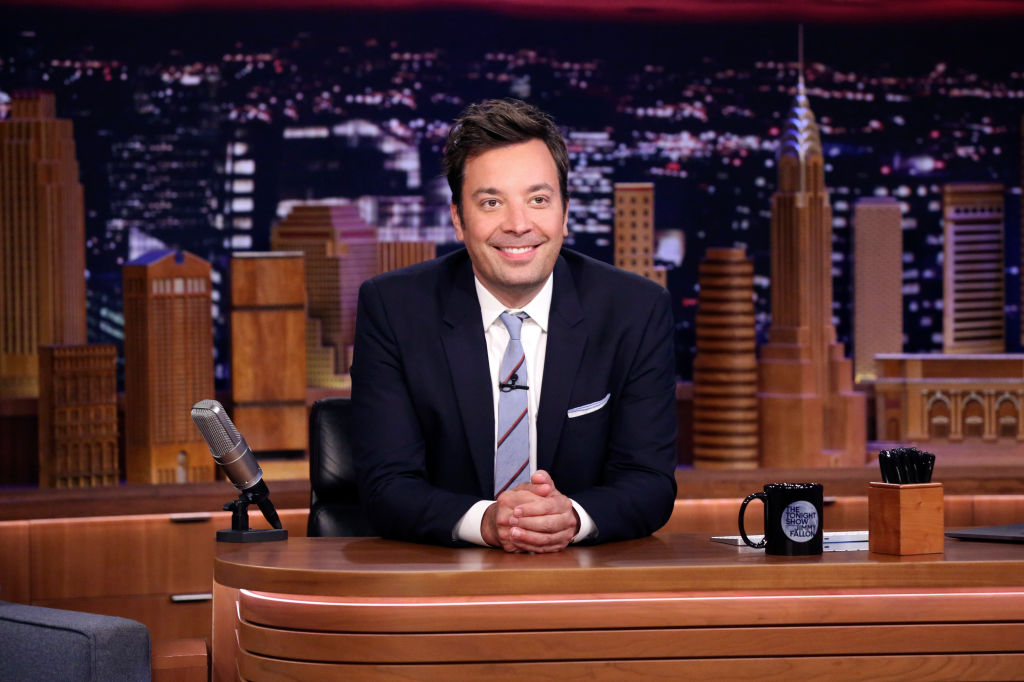 This is not the first time the clip of Jimmy Fallon has resurfaced
Nearly 20 years ago, Fallon wore blackface while impersonating comedian Chris Rock in a sketch on SNL. The clip of Fallon has resurfaced multiple times over the years, including when Megyn Kelly lost her job on The Today Show in 2018 for saying blackface was appropriate for a Halloween costume.
Nick Cannon also shared an image of Fallon and other comedians in blackface in February 2019.
He captioned the photo, "Happy 'BLACKFACE' History Month!!! I'm sure we can expect some more 'Apologies' by Monday…"
RELATED: Jimmy Fallon's Impression of Adam Sandler Got Him Cast on 'Saturday Night Live'
Social media users called out Jimmy Fallon
With the hashtag #jimmyfallonisoverparty, fans called out Fallon for once donning blackface and expressed how disappointed they were that he has his own show now with The Tonight Show Starring Jimmy Fallon.
"I know I did not just open Twitter and see that Jimmy Fallon did blackface in 2000. Nobody is safe from Twitter when we got this much time in our hand. First Lana, then Doja cat, and now Jimmy Fallon. Please let me catch my breathe. #jimmyfallonisoverparty," a Twitter user wrote.
"jimmy fallon really did blackface and people gave him a SHOW #jimmyfallonisoverparty," wrote another Twitter use.r
"Did I just wake up to see Jimmy Fallon did black face? I- #jimmyfallonisoverparty," tweeted a fan.
Some don't think the talk show host needs to be canceled
While there is mass outrage towards Fallon, not everyone feels that the late night host needs to be canceled. Some have pointed out that there were writers and producers who also had a say in the sketch on SNL, and Fallon should not be the only one to be held accountable for the problematic sketch.
"There's a major problem w the comedy industry itself in how widely this was seen as 'acceptable' comedy. Bill Hader and Jimmy Fallon both did it on SNL, while calling out these comedians let's also call out the writers who wrote it and the execs who greenlit it," one fan tweeted.
"So how are we gonna cancel jimmy fallon for doing blackface but not cancel Saturday night live for letting him do that and giving him a platform? #jimmyfallonisoverparty," a Twitter user wrote.
Others have argued that instead of being canceled, Fallon should deliver an apology for participating in the sketch, and he should be allowed to move forward if he handles the situation appropriately.
"This is unacceptable but it was also AGES ago i mean like, what? 2 or 3 DECADES? while it's important to bring it up because it's something that happened and ISNT AT ALL okay, he shouldn't be cancelled for it. BUT he needs to address it for what it is and apologise," wrote a Twitter user.
So far, Fallon has not commented on the hashtag or the controversy.