Fans Share Their Hilariously Loving Reactions to Justin Bieber and Ed Sheeran's New Song
Justin Bieber has flown under the radar for quite a while when it comes to producing new music. The 25-year-old singer married Hailey Baldwin last September, and he's kept fairly quiet about making new music ever since he canceled the remaining shows of his last tour to focus on his mental health. Now, Bieber has paired up with Ed Sheeran — for the second time — and finally released new music. And fans' hilarious reactions show they are definitely here for the new song.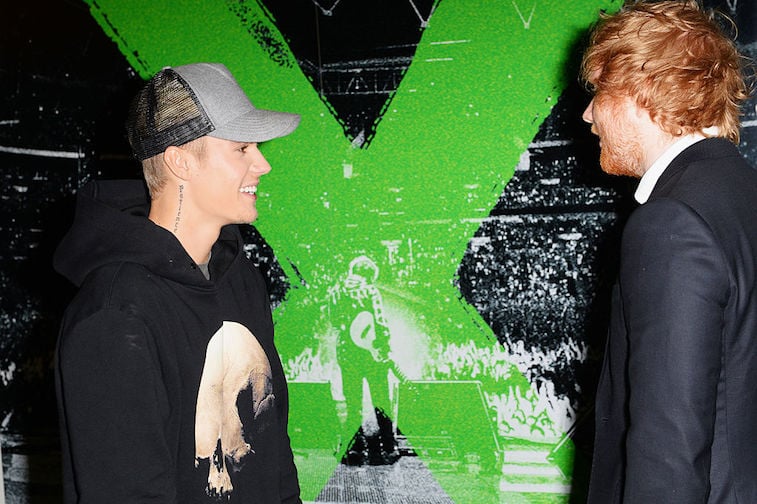 Sheeran and Bieber paired up back in 2015 for 'Love Yourself'
Bieber and Sheeran have paired up once before; the duo wrote the 2015 Bieber hit "Love Yourself" with the help of Benny Blanco, and it ended up being an anthem for anyone who has been in toxic relationship. Sheeran and Bieber have been friends for a while, and Sheeran did his own version of "Love Yourself," too (the song was originally written for Sheeran's album "Divide"). The collaboration left people wondering why the two didn't put out more new music together, since Sheeran's song writing and Bieber's music style were clearly a winning combo. But they listened to fans and just released a brand new hit.     
Bieber took a break from music in 2017 for his mental health
Bieber skyrocketed to fame back in 2011 when he released his first single "One Time." The teen star's voice hadn't even changed yet when the song came out, and he instantly grew a following of preteen girls. But when he took a quick break from music, then re-emerged in 2015 with hits such as, "Where Are U Now," Love Yourself," and "Sorry," his following grew to pretty much any young adult who enjoyed pop music. The fame proved to be a lot for Bieber to handle, and he struggled with his mental health while on his 2016-2017 tour. Finally, he decided to cancel the tour's remaining shows in summer 2017 and take a break for his own well-being. But everyone knew he'd be back.
Bieber and Sheeran paired up to release a new song on May 10 — and fans are loving it  
About a week and a half ago, Bieber shared on Twitter that something would be happening in 10 days. Instantly, fans picked up the hint that the singer would be releasing new music. And as the date got closer, Bieber revealed that he and Sheeran had partnered up once again, but this time, both of their voices were on the record. At midnight last night, Bieber tweeted the newest song, "I Don't Care," and fans instantly loved what they heard. Bieber's reply section filled up with hilarious tweets and memes about how fans couldn't get enough of the song.  
The song appears to pay homage to both of their romances
Although we don't know too much about the song's background yet, it's clear that it refers to being so in love that you don't care who else is around you — and you don't need anyone else. And both Bieber and Sheeran have women in their lives; Bieber is married to Baldwin, and Sheeran is married to his longtime love, Cherry Seaborn. The inspiration for the new song likely stemmed from the men's relationships. All we know is, the two should definitely release new music more often, because they always seem to pair up for the catchiest songs.
Check out The Cheat Sheet on Facebook!