Fans Think Farrah Abraham Is Actually Using Her Daughter's Instagram to Promote Herself
All eyes have been on Teen Mom star Jenelle Evans most recently, but we can't forget that Farrah Abraham was once known as the most controversial star of the show. Whether Farrah was fired from MTV or whether she quit is still up for debate, but there's no doubt she caused quite a splash while she was featured. From fights with her parents and her co-stars to her controversial parenting tactics, she's still managed to maintain a hefty social media following thanks to her dramatic ways.
It's not just Farrah who has a following, either. Farrah's 10-year-old daughter, Sophia, also has quite the fan base and social media following. Unfortunately, fans think Farrah uses Sophia's social media for personal gain.
Farrah treats her daughter as an adult even though she's only 10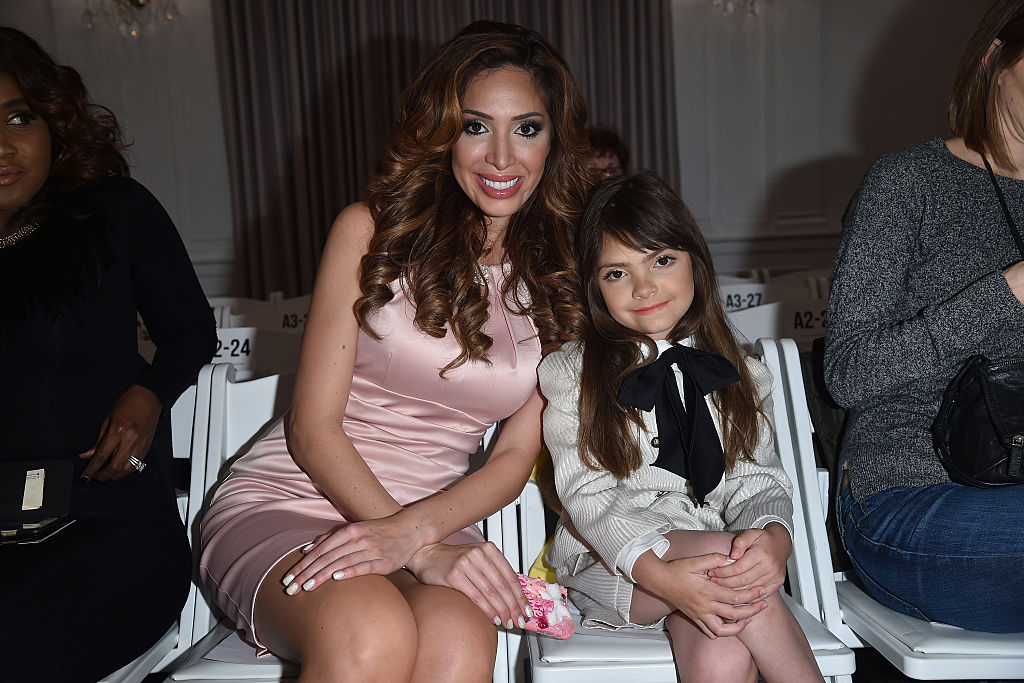 There's no doubt Farrah loves her daughter, but fans have been troubled for years by Farrah's choice of parenting. Sophia is homeschooled by Farrah and is often accompanying her famous mother on trips around the world. And while we're sure she's experiencing quite a lot for a 10-year-old, many worry she's not spending enough time with children her own age. Fans have noted before that Sophia's speech patterns and way of presenting herself on camera are worrisome and make her appear underdeveloped. And it's also a concern that Farrah has given her child her own boutique business in the past.
We can't forget when Farrah also discussed how she needed "breaks" from Sophia, too. The Hollywood Gossip notes she said, "It's healthy that we have a break. She has her own life and is doing her own thing, and I'm doing mine," which was also troubling.
She controls all of her daughter's social media activity
CafeMom reported back in 2015 that Farrah started an Instagram for Sophia, and that means the child was just 6 years old at the time. And while Farrah may sometimes treat Sophia like a friend more than a daughter, she's made it clear she is the one in charge of Sophia's accounts. With that being said, all of the content on the page is presented as if Sophia is posting it — and many fans have expressed their concerns that Sophia may see the negative comments that accompany each post.
Sophia also had a Snapchat account, but that was shut down by the app. Radar Online reports she was just 7 years old at the time and requesting her Snapchat followers to text her, and that's when her account was reported and subsequently cut off. Farrah claimed to be in charge of this account too — but many wondered where she was when her daughter was asking strangers for responses.
Fans think Farrah is using Sophia's Instagram for selfish reasons
Since Farrah is the one in charge of her daughter's accounts, many assume the motivation is for Farrah to promote her own businesses and products. Most recently, Farrah posted a video to Sophia's account that shows the Teen Mom sitting poolside with earplugs she's promoting. Fans were quick to criticize why this video was on Sophia's account instead of her own.
"You should keep the ads off your 'daughters' page and leave them on yours. Especially something that's just about you, nothing to do with her wishing you a happy birthday and shows you telling her to pretty much not to bother you… you're not that dumb Farrah [sic]," one fan commented on the video. And another added, "I'm sorry I don't need to follow this page as it's become very clear it's a page Farrah created to praise herself."
This isn't the first time fans have noticed Farrah using Sophia's page for self-promotion, either. All the way back in 2015, Farrah was posting all about her Mommy & Me Spa Kits to Sophia's page, and fans took offense then, too. "Anyone who believes this is actually her daughters page is dumb..anything to get her more money [sic]," commented a follower.
Check out Showbiz Cheat Sheet on Facebook!