'Teen Mom' Fans Think Farrah Abraham Is a Horrible Influence on Her Daughter
Former Teen Mom OG star Farrah Abraham might not be on the show anymore, but she sure is keeping herself relevant. Abraham often posts questionable photos to her Instagram account, but one of her most recent photos has fans extremely concerned with the type of mother she is. Now, people are suggesting Abraham is becoming a horrible influence on her daughter, Sophia.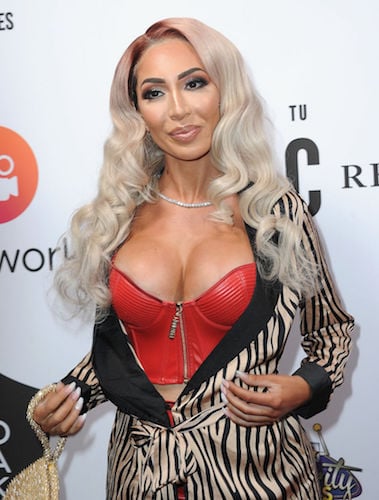 Abraham caused tension on 'Teen Mom OG' with her attitude
Since Abraham first appeared on 16 and Pregnant, she's had a questionable attitude. When the show aired, she had nothing good to say about her ex-boyfriend, Derek Underwood; she didn't even name him on the show, and she had cut him out of her life completely halfway through her pregnancy. (Underwood died in a car accident before Sophia's birth, and Abraham has since tried her best to bring him in to Sophia's life.) But when Abraham was chosen to star on Teen Mom, it didn't take long for the fame to go to her head. After being on Teen Mom OG for several seasons, producers began to take issue with the way Abraham was treating some producers. She had become difficult to work with, and she was demanding far more from producers than any of the other cast members.
Abraham has been involved in the adult film industry and posts risqué photos on Instagram
Once Abraham started to see some MTV fame, she branched out into other forms of entertainment. Specifically, Abraham got involved in the adult entertainment industry, and she was cast in several adult films. She also began working on a video series that gave sex advice. Ultimately, this is what caused her to part ways with MTV and Teen Mom OG. Now, Abraham often posts risqué photos on her Instagram account, and she has made herself out to be more of a sex symbol than anything else. She's spent thousands on plastic surgery and continues to live a lifestyle that promotes promiscuity. But fans have begun to worry about the potential effects it could be having on her 10-year-old daughter.
Fans believe Abraham is negatively influencing her daughter with her NSFW Instagram
Recently, Abraham posted a photo of herself wearing nothing but thigh-high boots and a cowboy hat. The photo highlights her backside, and nothing is censored out. Fans were quick to criticize the photo for various reasons, including saying the reality star has "created such a horrible name" for herself. But people also brought her daughter into the mix, suggesting that Abraham's behavior could have a negative effect on Sophia. "Her daughter will be so very proud when she is older," one user wrote with a sarcastic undertone. "… You literally have a kid who follows you on Instagram!!" another person commented. And the backlash kept going. "That's just sad I can't believe that you are giving your daughter such an example…"
Abraham tends to think that people are simply hating on her because they are jealous, but this time, people seem genuinely concerned and equally horrified with what Abraham is allowing her daughter to see and the example she is setting.
Check out Showbiz Cheat Sheet on Facebook!