Fans Think Jill Duggar Is Hiding a Baby Bump in Her Recent Birthday Photos
We've been keeping up with the Duggar family for years, and 19 Kids and Counting fans have started to favor a few members of the family over the years. While plenty of fans adore Jessa, Jinger, and Jana, for example, many still have a special place in their hearts for Jill. Jill and her husband, Derick Dillard, are no longer on TLC's Counting On due to Derick's hateful Twitter activity, but the controversial duo still has plenty of followers via social media who love to see what they're getting into next.
Jill and Derick currently have two children, but if Jill's anything like her mother, we can expect plenty more Dillard babies in the future. Could she possibly be pregnant currently? Some think she may be hiding a baby bump in the photos she just posted to Instagram.
Jill Duggar shared her birthday photos on Instagram
Thanks to Jill Duggar's family blog and her Instagram, fans can keep up with her recipes and daily life with Derick and her two sons. And most recently, she just celebrated her birthday. Jill turned 28 and posted several photos to Instagram to memorialize the occasion. "Had fun celebrating my b'day (& Lauren's @siandlaurenduggar ) this week with the girls! Thanks @derickdillard for keeping the boys during our girls day out!" she captioned one of her posts.
In addition to posting photos with famous mother Michelle and her sisters, Jill had other picture-perfect moments with hubby Derick as they spent some alone time together away from the kids. According to Jill, she and Derick went "on a little hike/lunch date" and then seemingly topped off the night with some birthday cake at Derick's mother's house. And many adoring Counting On fans wished Jill a very happy birthday as well.
Fans suspect she could be hiding a baby bump
Fans have been speculating over a possible Dillard pregnancy in the imminent future for a while now. We can't forget that Jessa Duggar is due soon to have her third baby, and Anna Duggar dropped a photo on her Instagram that had everyone thinking it was a hint that Jill was secretly pregnant. And now with Jill's current birthday photos, fans are speculating even further about why her midsection is seemingly hidden in every photo.
On this photo of Jill holding her birthday cake, one fan noticed the center of Jill's shirt was blurred and commented, "Oooh what's on your shirt? I say 3rd baby." And on another photo of Jill and Derick during their hike, a follower commented, "Am I the only one who feels like there is an intentional hiding of the belly … another Duggar grandbaby, perhaps." To that comment, another person added, "oh yeah the way she's leaning forward — normal pose for hiding a bump."
Others think Jill would have trouble getting pregnant again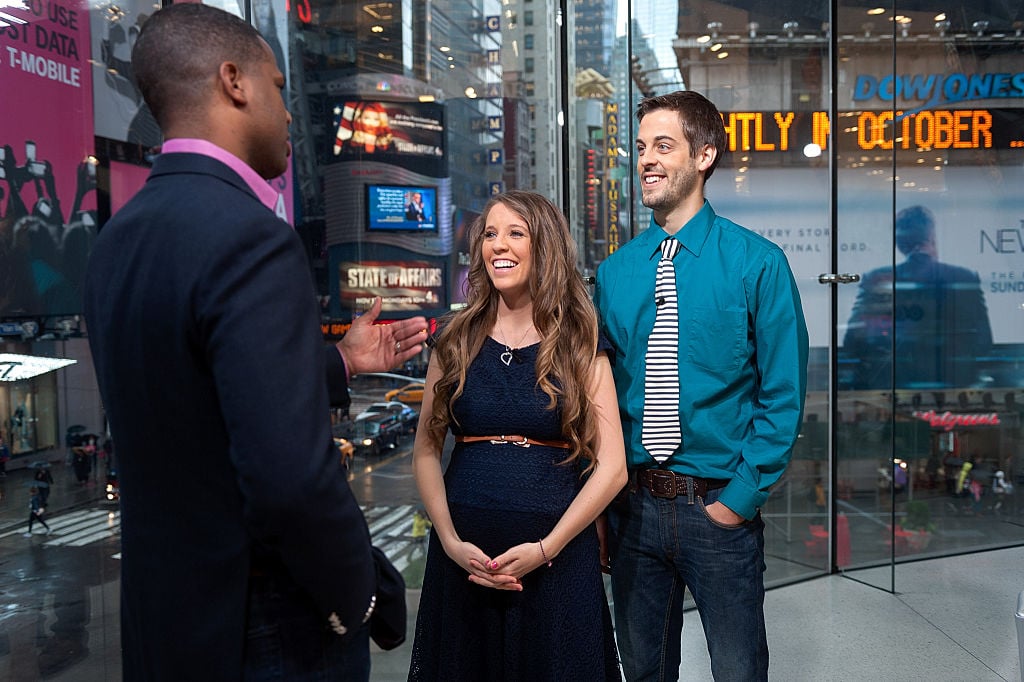 Is it true that Jill's pregnant and just hasn't announced it yet? Many think it's more than likely — but others think Jill may not be able to have more kids at all. Like many other women in the Duggar family, Jill has had two notoriously difficult pregnancies that have both ended in C-sections. And one Reddit user noted this with, "It seems like she has a very difficult time bearing children. I'm not a doctor so I'm not sure what the prognosis is regarding future pregnancies when you've already had two cesarean sections."
Others below this initial Reddit comment agreed that more pregnancies may be risky for Jill. "Just to add a bit of info to this, the major concern with subsequent cesarean deliveries is placenta accreta, meaning the placenta attaches too deeply into the uterus. In the most severe cases, the placenta grows through the uterus and attaches to other tissues," another said. They then added that "an improperly managed accreta could lead to the mother bleeding to death in a matter of minutes."
Will the riskiness stop Jill from getting pregnant again? We'll have to wait and find out — but either way, we're hoping she remains happy and healthy no matter what she and Derick choose for their family.
Check out The Cheat Sheet on Facebook!