Fans Think Kim Kardashian's Change in Appearance is Concerning: 'Her Face Looks Like It Hurts'
Kim Kardashian is easily one of the most famous women in the world. It seems that no matter how long the Kardashian-Jenner family is famous, they just keep getting more popular. However, fans have noticed that recently, Kardashian's appearance has changed. And while she's never been shy about enhancing her face, some people have become concerned with how she looks.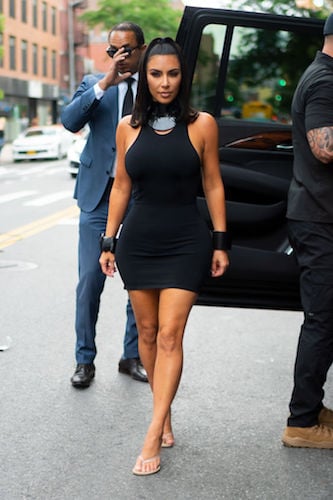 Kardashian has always been open about using Botox and fillers
Keeping Up With the Kardashians first aired back in 2007, and anyone who has followed along through the years has seen the women transform from young adults into full-fledged working women. But while their lives, fortunes, and careers have changed drastically, so have some of their faces. Kardashian, specifically, has always been open about having fillers and Botox in her face. She's never denied when fans ask what she uses, and she's even highlighted having work done on the show. However, people suspect there is more than meets the eye with her facial improvements.
She has vehemently denied that she's ever had plastic surgery
Through the years, Kardashian has always denied having any true work done on her body. Though she has admitted to the Botox and fillers, she says she's never actually gone under the knife to improve her appearance. She even once had X-rays done of her butt to prove to critics that there were no implants. But it leaves people wondering how she has the body that she does, with such a small waist and such a large butt and breasts. Regardless, all of the sisters (except Kourtney who has admitted having breast implants) have always denied receiving any formal plastic surgery.
Fans have noticed her look has changed drastically over the years
For those who love KUWTK, it's hard not to notice that Kardashian looks much different now than she used to. But recently, Kardashian's appearance has seemed to change even more dramatically. Fans have started commenting on her photos, questioning why she looks so different; some have said she's completely unrecognizable. But her recent video promoting teeth whitening products had fans downright concerned about her face. "Her face look so stiff," one person wrote, with a sad-face emoji. "Her face looks like it hurts," someone else said. Both comments received hundreds of likes. "Girl stop injecting yourself ur [sic] face is going to explode," another user commented. Fans appear increasingly concerned with how much filler Kardashian has added to her face.
Some think she's trying to look like Beyoncé
Fans have also suggested that Kardashian is trying to look like Beyoncé. The singer is very widely respected in the celebrity world and has millions — if not billions — of fans around the globe. When Kardashian posted photos to Instagram of her Vogue Arabia cover shoot, people instantly likened the images to Beyoncé's Formation style. Though Kardashian hasn't commented on trying to look more like Beyoncé, and that likely isn't her goal, fans can't help but liken her to the iconic musician.