Fans Think Kim Kardashian's Vogue Cover Totally Copies Beyoncé's Style
Kim Kardashian is arguably one of the most famous women in the world. When Keeping Up With the Kardashians first premiered back in 2007, Kardashian was pretty much the only relevant sister. She set the stage for the rest of her family to become famous, and a dozen years later, it seems the Kardashians are everywhere. But some think she's taking on a new image that greatly resembles Beyoncé's — and to fans, Kardashian's recent Vogue Arabia cover only proves it.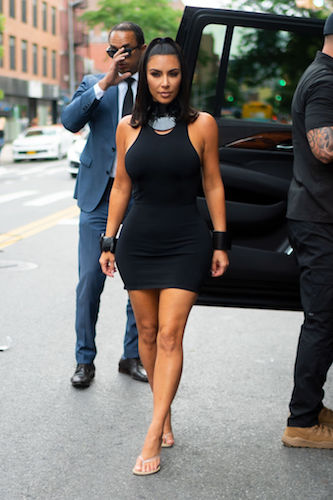 Kardashian has taken a step back from modeling
When Kardashian first rose to fame, she was frequently modeling for various high-end brands. It helped her make millions of dollars before any of her siblings caught up. But in recent years, she's taken a step back from modeling to focus on other parts of her career. She recently launched KKW Beauty, a makeup line that originally focused on contour kits. She married Kanye West in 2014, and the two have four kids together, all of whom have become another major priority for Kardashian. Her recent Vogue Arabia cover finally allowed her to step back into modeling for a bit.
Fans have accused her of copying Beyoncé's style
Kardashian's look has changed a lot through the years; her hair and makeup is different now than it was back in the late 2000s, and her style is much more polished. But not everyone has seen Kardashian's style change as a positive; some think she's started copying the looks of music icon Beyoncé. Kardashian's recent Instagram photos have shown her face with a new makeup style — one that makes her look far different from how she once did. One Twitter user posted a side-by-side comparison of one of Kardashian's recent selfies and one of Beyoncé's selfies, and even we have to admit that the resemblance is uncanny.
People once again saw Beyoncé vibes in Kardashian's recent Vogue Arabia cover
Kardashian recently published photos to social media of her photoshoot with Vogue Arabia, and though plenty of fans were thrilled to see her modeling and loved the photos, there were still quite a few comments suggesting Kardashian was doing her best to once again look like Beyoncé. "I love you as you can't imagine, but I think this is a 100% copy paste of Beyoncé style (very formation)!!!," one user commented. Others weren't as nice with their accusations. "Beyoncé inspired… She's obsessed," another user wrote. "This is [the] style of Beyoncé," someone else commented.
Some have said she looks completely unrecognizable
Recently, Kardashian appears to have dramatically changed the look of her face, despite always denying any plastic surgery. She has said in the past that she's had fillers in her face as well as Botox, but she has remained adamant that she hasn't had any reconstructive surgery done. However, fans have said that she doesn't even look recognizable in recent photos compared to how she once did. The Kardashian-Jenners have never been shy about using Botox and fillers to enhance their looks, though some think in Kim Kardashian's case, there was more done than she's admitting.