Fans Think Miley Cyrus Is Subtly Attacking Liam Hemsworth in a Recent Video of Her and Cody Simpson
It's hard to keep up with Miley Cyrus these days. While the superstar was once known for her pop songs, wild dancing, and provocative style, those days for Cyrus were seemingly behind her. Fans saw a softer side of the singer when she married long-term boyfriend and fellow actor Liam Hemsworth. Unfortunately, we know that relationship didn't last, as the two have since divorced and gone their separate ways with new relationships.
Cyrus has since dated a few people since the divorce from Hemsworth, but her current relationship with Australian singer Cody Simpson seems rock solid. Cyrus posted a video of her dancing with Simpson to Instagram, too — and fans think it's an attack on Hemsworth. Here's what the video entails and what her followers are saying.
Miley Cyrus and Liam Hemsworth were only married for 8 months before divorcing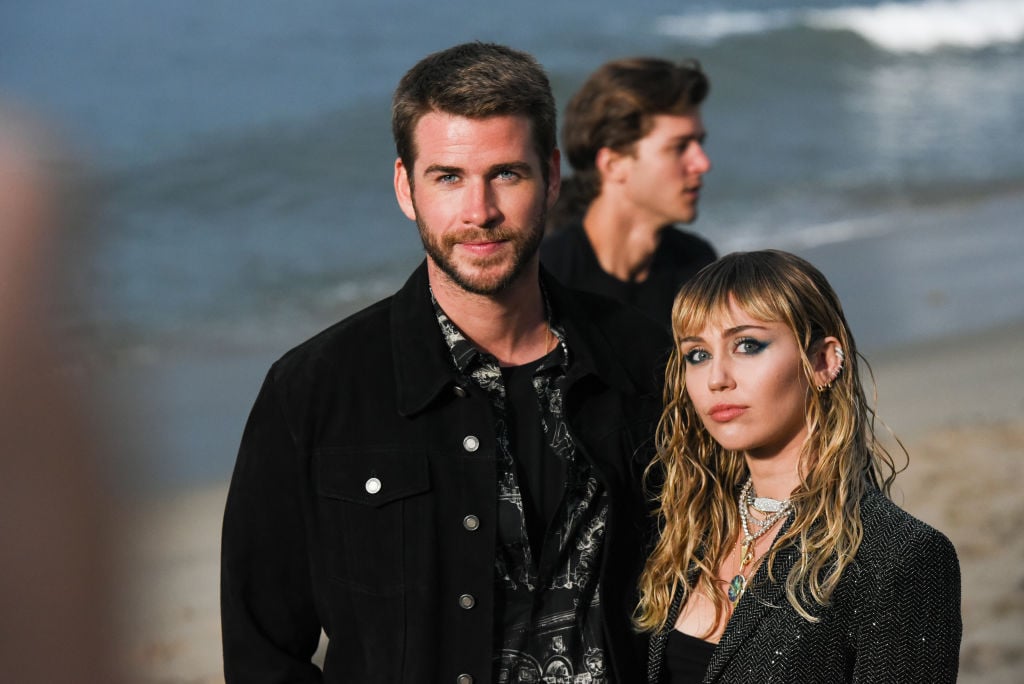 Though Cyrus and Hemsworth's relationship spanned a decade, their marriage was incredibly short-lived. These two met on the set of The Last Song 10 years ago, and they endured an on-again, off-again relationship ever since.
It seems a major source of contention in their love life was Cyrus' free spirit. Hemsworth appeared to be the more straight-laced one out of the two of them, while Cyrus valued her freedom, creative expression, and wild-child ways. A source close to Cyrus also talked to People about her free spirit.
"She just got to the point where she didn't want to hold back about who she is. She wants to be true to herself. Being with Liam, this was just not possible. For them to be happy, she had to change as a person too much," the source said.
After Cyrus sang "Slide Away," fans knew their relationship was totally over. Hemsworth caught wind that Cyrus was seeing Kaitlynn Carter after their separation, and he filed for divorce.
Cyrus looks totally in love with Cody Simpson
Cyrus and Carter had a short-lived, whirlwind romance right after her romance with Hemsworth ended, but now, Cyrus has found love in someone else entirely. Cyrus and Cody Simpson have known each other for years but have just recently gone full-force into their romance. As Simpson told People, "We found each other again in a space where we're both not partying, working real hard, and it just keeps things healthy and it's good."
While Cyrus may have had doubts about her relationship with Hemsworth, it looks like she's all-in with Simpson. Fans suspect Cyrus and Simpson have already moved in together. And Cyrus has also been spotted wearing Simpson's custom-made ring. As for marriage talk, we're not sure if these two will rush to tie the knot, but they both appear to be quite serious and open about their devotion to each other.
Is a recent video from Cyrus directly throwing shade toward Hemsworth?
It's safe to assume Cyrus and Hemsworth aren't on the best terms. And Cyrus' Instagram video has her followers wondering if she's throwing major shade at her ex. In early November, she posted a video of her and Simpson dancing in front of a fireplace. Cyrus is wearing a witch costume while Simpson is shirtless.
Fans aren't commenting on the dance as much as they're talking about the location of the video. "Her wedding was there," one fan commented with a crying emoji. Another wrote, "Isn't that the same fire place her a Liam took wedding photos in front of? Talk about a punch." Yet another added, "The same place you were dancing on you wedding day w Liam, oh Miley….."
We're not sure if this really was aimed to hurt Hemsworth, but it does seem odd that Cyrus would post a video of her dancing in this location. It seems she and Simpson are quite happy together, however, so perhaps it's best to let them continue flaunting their love!
Check out Showbiz Cheat Sheet on Facebook!