Fans Think This Is Why Amy Roloff From 'Little People, Big World' Doesn't Like Matt Roloff's Girlfriend, Caryn Chandler
We've been watching Little People, Big World for over a decade — and through the years, fans have come to love Amy and Matt Roloff. They first started the TLC program to give fans a look inside their lives as people with dwarfism, and we also got an in-depth view into how they raised their four children and took care of their farm. A lot has changed over the years, however. Today, Amy and Matt are divorced following over two decades of marriage, and they both have serious significant others.
Matt and Caryn Chandler have been dating for a few years, and Amy has made it apparent on the show that she's not the biggest fan of Caryn's. Here's why fans think Amy takes issue with her.
Amy knew Caryn Chandler for many years before she was dating Matt
Amy and Matt's divorce came as a huge shock to fans, and it was even more surprising when Matt started dating someone he'd worked with for many years. Good Housekeeping notes Caryn Chandler was an employee of Roloff Farms and was particularly helpful managing tasks during pumpkin season, the farm's busiest time. And it seems Matt and Caryn developed quite a close relationship over the years, which eventually blossomed into romance. As Matt said on an episode of the show, "I enjoy her immensely. Whether we're working or whether we're relaxing, we have a great time together."
While the two made things social media-official back in 2017, they're still going strong today, and engagement rumors have also followed the couple. As for Amy, since she owns the farm along with Matt, this means she's also known Caryn for over a decade.
She's stated Matt and Caryn's relationship is unhealthy for her to be around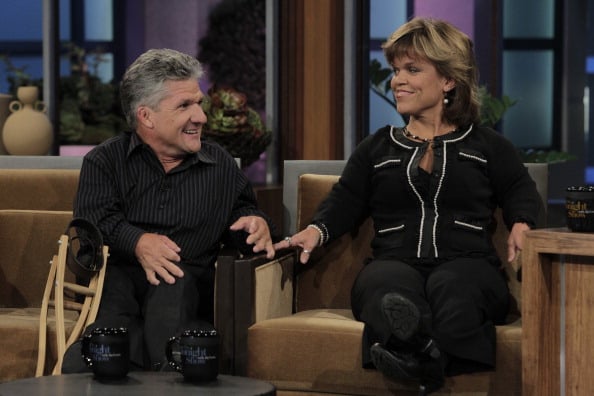 While Amy has known Caryn for many years as her employee, she's stated before that it's ultra uncomfortable to think of her as Matt's girlfriend. Good Housekeeping notes in one episode of Little People, Big World, Amy discussed her discomfort with inviting Caryn to events that were typically reserved for just family time. "Caryn is an employee, and is in a personal relationship with my ex-husband, and so it is still hard to invite Caryn to some of the family events. I'd rather just minimize the personal interaction. It's not healthy for me."
It seems the divorce may have impacted Amy more heavily than Matt, too, which is may explain the reason she feels this way regarding Caryn. Radar Online notes Amy discussed her divorce on Instagram and said, "One thing I've learned not only did it impact me going through it and after it was final but my kids as well—even as 'adults.'" And while Amy is in a happy and committed relationship of her own, she still has to see Caryn and Matt all the time on the farm, which may serve as a constant reminder of her failed marriage.
Fans think this is the real reason Amy doesn't like Caryn
There's definitely lingering tension between Amy and Caryn, and fans of the show seem to suspect that Amy might be a little bit jealous of Caryn. In particular, fans think she might be jealous of Caryn's relationship with the rest of the Roloffs, especially in comparison to her boyfriend Chris'.
In Touch Weekly reports fans suspected Amy was jealous when she made some comments regarding Caryn attending Tori Roloff's gender reveal party. "Seeing Caryn here threw me for a loop more than I would have liked. I think coming here to this particular event is an intimate family thing… It just throws a whole different dynamic to my life here on the farm," Amy commented. The jealous vibes weren't lost on fans, either. As one fan tweeted, "It's obvious Amy is super jealous of Matt's new girlfriend. Looks like her kids feel comfortable and like her very much too."
Amy had these feelings back in 2018, so it's possible the tension has decreased now that Caryn and Matt have been an item for longer and she and Chris have furthered their relationship. Whatever the current case is, fans are giving their best wishes to both Matt and Amy.
Check out The Cheat Sheet on Facebook!