Fans Trend #IStandWithTaylor to Support Taylor Swift Amid New Scooter Braun Drama
On Nov. 14, Taylor Swift penned a letter to her fans and the music industry. In the letter, Swift claimed Scott Borchetta and Scooter Braun will not let her perform songs from her old catalog for the American Music Awards. Immediately following Swift's letter, support for the singer flooded in on social media. Fans trended #IStandWithTaylor on Twitter.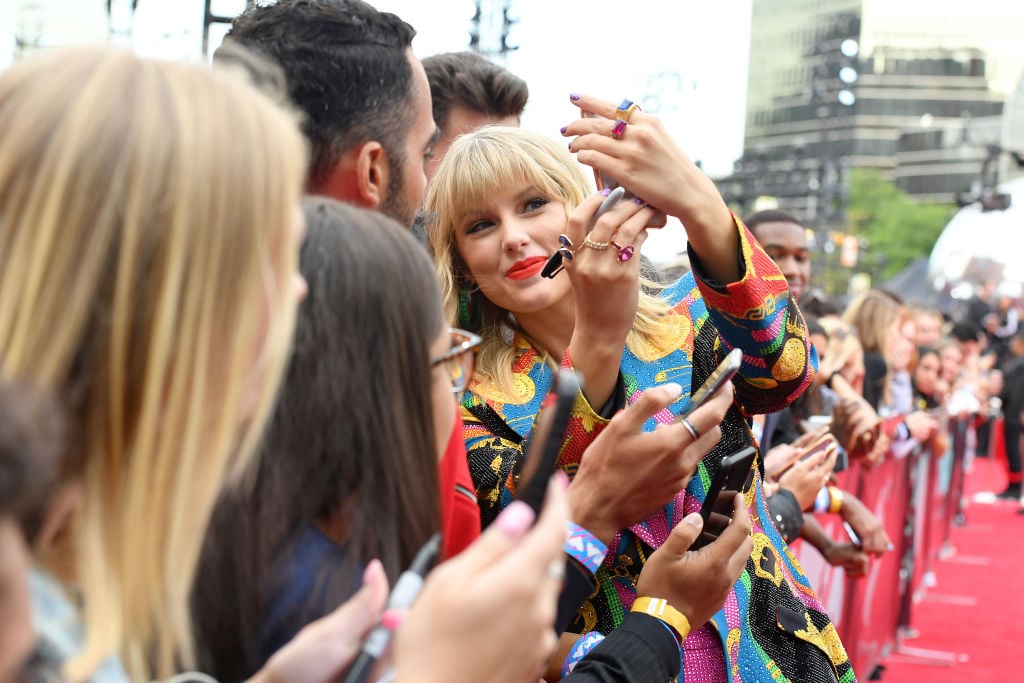 Taylor Swift wrote a letter about the dilemma with Scooter Braun and Scott Borchetta
To alert fans about the dilemma she faces, the singer posted a letter on social media. In the letter, Swift alleged that Braun and Borchetta blocked Swift from performing a medley of her hits at the AMAs.
"Guys – It's been announced recently that the American Music Awards will be honoring me with the Artist of the Decade Award at this year's ceremony. I've been planning to perform a medley of my hits throughout the decade on the show. Scott Borchetta and Scooter Braun have now said that I'm not allowed to perform my old songs on television because they claim that would be re-recording my music before I'm allowed to next year," Swift wrote.
They also allegedly will not let her include the songs in an upcoming Netflix documentary.
"Additionally – and this isn't the way I had planned on telling you this news – Netflix has created a documentary about my life for the past few years," Swift wrote. "Scott and Scooter have declined the use of my older music or performance footage for this project, even though there is no mention of either of them or Big Machine Records anywhere in the film."
Fans rallied behind Taylor Swift
After Swift posted the letter on social media, fans trended the hashtag #IStandWithTaylor on Twitter. Celebrities and artists also spoke out in favor of Swift.
"Idk the fact that Taylor was planning on doing a medley that celebrated her entire life's work for herself, AND her fans, and these two dirtballs are really here trying to sabotage it just really hurts my heart a lot. #IStandWithTaylor," one fan tweeted.
One Twitter user wrote, "Taylor Swift has ALWAYS fought for artist's rights. Her Spotify boycott, her Apple Music letter, her new record label deal are all examples of that. Taylor Swift fights for music. She fights for artists. CAN OTHER ARTISTS PLEASE FIGHT FOR HER RIGHTS FOR ONCE?"
Fans also called out Scott Borchetta and Scooter Braun for lying
After Swift's original letter, Big Machine Records denied Swift's claims. The label's statement claimed that Borchetta and Braun did not tell Swift she "could not perform on the AMAs or block her Netflix special." After doing so, fans called out the word choice. Swift never claimed that Borchetta and Bruan banned her from performing, she said they stopped her from performing her old catalog.
"do you have basic reading comprehesion? she didn't say you blocked her from performing or having a documentary. you blocked her from performing 85% of her discography lmao also this poor attempt at gaslighting is both so trasparent and pathetic @scooterbraun #IStandWithTaylor," one fan tweeted.
"'at no point did we say that Taylor could not perform on the AMAs or block her netflix especial' sure but you did block her from performing 120 songs and not using old performances on her documentary. so STOP TWISTING HER WORDS. taylor is NOT the bad guy here #IStandWithTaylor," wrote a fan on Twitter.