Fans Want This 'Euphoria' Actress To Play Gwen Stacy In The MCU
If you're a Marvel fan, odds are you've seen Spider-Man: Into The Spider-Verse at this point. So many variations of the web-slinging hero are brought in from multiple dimensions, with one of them being Gwen Stacy in her Spider-Gwen form. 
Fans have wanted a live-action Spider-Gwen for some time, but ever since Into The Spider-Verse, the rumbling has gotten louder. Now, there's even a large amount of fans specifically calling for a Euphoria actress to take on the role.
Who is Spider-Gwen?
Gwen Stacy has been in Spider-Man comics since 1965 and has been a love interest for Spidey, among other things. But just like in Andrew Garfield's The Amazing Spider-Man 2, Gwen (Emma Stone) meets her death because of the Green Goblin.
It wasn't until 2014 that Spider-Gwen, or Ghost-Spider, was born. This Gwen lives on Earth 65, not 616 like a lot of the other Marvel heroes do. She gets her powers just like Peter does, through a radioactive spider and the Peter on her Earth doesn't have spider-capabilities.
Could Gwen Stacy ever be in the MCU?
The most popular version of Spider-Gwen seen recently was in Into The Spider-Verse; it's the only way fans have gotten a cinematic Ghost-Spider thus far. Considering Spider-Gwen is from a different dimension, it would have seemed far fetched for her to join Tom Holland's Spider-Man. But now that we know there's a multiverse, there is definitely room to see Gwen Stacy with powers in the future of the MCU. 
Gwen going back and forth between dimensions is also a storyline in the comics. As ScreenRant reports, Gwen's identity has been revealed on her Earth, so she goes to college in another universe, the one where all the other Marvel heroes are from. There's a built-in plotline right there on how Gwen could run into the MCU's Peter Parker. 
The one thing that could get in the way of bringing Spider-Gwen to the big screen is the whole Sony/Marvel rights negotiations. But right now it's unclear whether Marvel is allowed to use her in a movie.
This 'Euphoria' actress already has a vast campaign to be Gwen Stacy, and she doesn't even know it yet
With the idea of a live-action Ghost-Spider planted in fans' heads, the fancasts are going strong. In the past, people have noted Sabrina Carpenter, Hailee Steinfeld (who voiced her in Into The Spider-Verse), and Dove Cameron as possibilities. But HBO's Euphoria introduced the world to a new actress, and fans have grasped onto the idea of putting her in this role.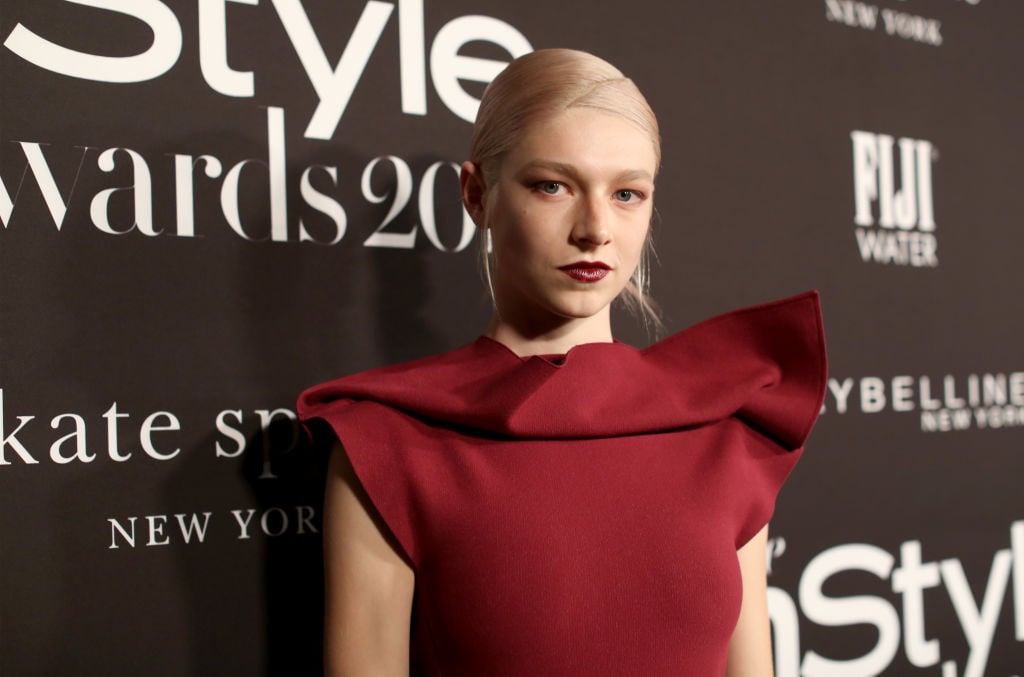 The actress in question is Hunter Schafer, who was a breakout star in her role as Jules, opposite Zendaya's Rue. Schafer had only ever done modeling before this role, but since its premiere, she's become one of the rising stars in Hollywood to watch.
So it's no surprise that her fans are campaigning all over Twitter to get her cast. Just take a look at this small sampling of what fans have to say about Hunter Schafer as Gwen Stacy:
There are also discussions on Reddit about it, with fans noting the "uncanny resemblance" to the Gwen seen in Into The Spider-Verse. That's certainly not a requirement when moving a character from the page to the screen, but it helps their case. Fan-art on Redbubble is even available of Schafer as Ghost-Spider.
All in all, it seems like a perfect fit. Schafer also has proven she has the chops to take on a role in a mega-universe like the MCU. Plus, she's already close buds with Zendaya, so there's really nothing to lose in casting her.