'Teen Mom': Farrah Abraham Posts Butt Injections & Fans Are Outraged
Farrah Abraham is no stranger to criticism. But this time, the former Teen Mom cast member is receiving a lion share of hate for one of her most recent Instagram posts. Abraham has consistently been open about the plastic surgery procedures that she gets to achieve her ideal body type. But the video that Abraham posted has Teen Mom fans absolutely disgusted.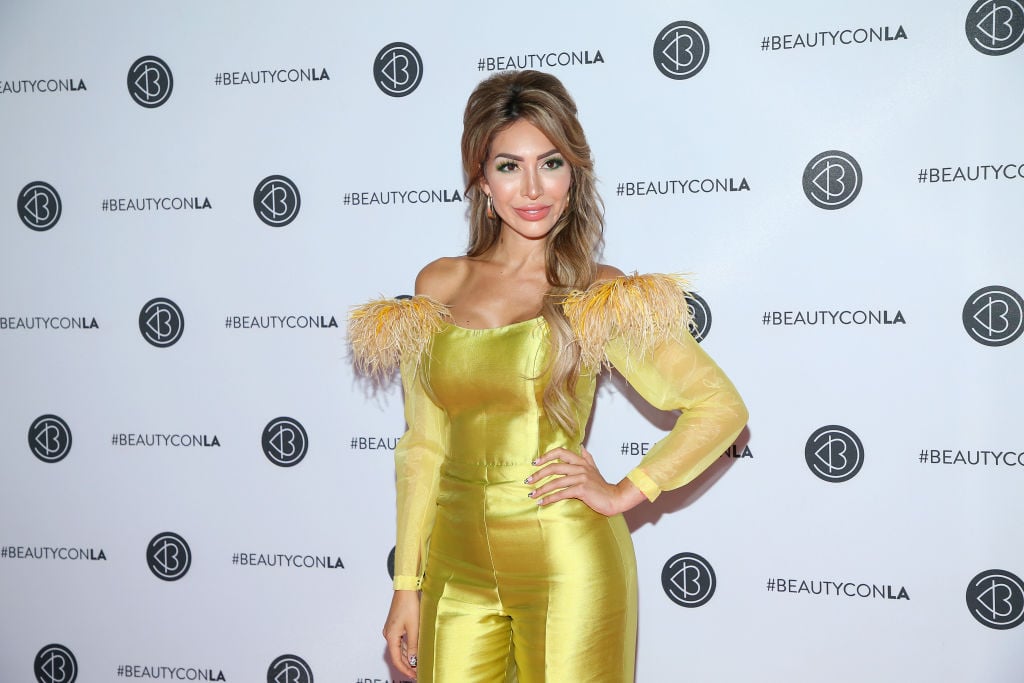 From TikTok to IG
On Saturday, the 28-year-old took to her Instagram page to post a video that she'd previously posted to TikTok. If you're unfamiliar with TikTok, it is a social media video app that is primarily used to record comedic videos or videos where users are lip-syncing. It's important to note that the app is primarily used by tweens and young teens. In the video, Abraham is lying on a table, smiling, winking, and making duck faces as she gets butt injections. In the background, the song Mrs. Potato Head by Melanie Martinez plays loudly.
Butt injections before Beautycon
"Don't be dramatic. It's only some plastic. No one will love you if you're unattractive," the lyrics belt out in the background. Clearly, said lyrics were intentionally chosen by Abraham for this particular video. She also tags the video with the hashtags: beauty guru, butt injections, attractive, beauty, and Beautycon LA, because this procedure was likely done right before Abraham attended the beauty conference.
Fans express their outrage on Instagram
Fans immediately began to tear into Abraham for choosing to post this video to Instagram. "Shame you can't get brain cells injected, seriously…" one critic wrote. "Farrah Abraham's giving away all that Kardashian secrets," another wrote. "This is just embarrassing. You have no shame. Have you seen your face? You look like jigsaw had a stroke. By all means, keep botching yourself #frankenfraudfarrah oh yeah did you pay your lawsuits yet," one persistent Instagram user questioned.
Moms and dads express their concern
But this particular Instagram post managed to spark far more outrage than Abraham usually receives. Parents were outraged that she would post a video like this to a platform that is mostly populated by young children. "Wtf is wrong with you, Farrah Abraham! You're not a celebrity you're not even a has-been celebrity. You were on MTV for getting knocked up at an early age!! You're not even attractive anymore you think people hate on you! No, it's called people telling you the truth about yourself get some da*n help! My kids go on Tik Tok and seen THIS garbage and told me about it that's why I'm on your page writing you," one concerned parent wrote.
Other outraged Instagram users felt that Abraham was a sending a horrible message to young people who may struggle with their body image. "Wow.. what a not great message you've portrayed here. The song is a trigger for girls and guys who have eating disorders and you've used it while getting butt injections, like your butt is soo unattractive, it has to have injections. How about doing some squats and butt exercises?," one diehard fan began.
"And what's with the kissy face while getting the injections? It's weird! I've supported you and argued with people on IG before about you, but this post can't be supported. It's wrong in so many ways. Girls and guys, you don't need injections to be beautiful! Beautiful comes in many shapes and sizes and yes you will be loved!!," Abraham's disappointed fan continued.
Fans defend Abraham for her transparency
Of course, not everyone had a problem with Abraham posting her butt injections. Some fans admired her ever-present candor and transparency about the work she has done. "I appreciate how real you keep it with everyone. There's nothing more annoying than celebrities who lie about all the work they've had done. If you can afford it, do what makes ya happy!," the user wrote.
Live and let live
Honestly, we can see both sides here. We understand the outrage that parents may have when their child comes across Abraham's page on Instagram or Tik Tok. However, it's their responsibility as parents to limit what their children have access to. Abraham has never made a career out of being a role model, so we're unsure why people are expecting her to be. Furthermore, it's Abraham's body and if she wants to keep manipulating it to her liking, that's her prerogative. As we're not footing the bill for her butt injections, it really doesn't concern us at all.