Farrah Abraham Claims Jenelle Evans Wanted Her Advice After 'Teen Mom 2' Firing
Farrah Abraham had her share of scandals after becoming famous with through 16 and Pregnant then Teen Mom. So it's probably not surprising that another star would reach out to her for help.
Abraham claimed that Jenelle Evans wanted her advice after she was fired from Teen Mom 2. Find out what Abraham said happened and more.
Jenelle Evans was fired from 'Teen Mom 2'
Evans was one of the more controversial stars on Teen Mom 2. Fans of the show were outrage when it was reported her husband, David Eason shot her dog, Nugget. It didn't take long before the reality star was fired.
"MTV ended its relationship with David Eason over a year ago in February 2018 and has not filmed any new episodes of Teen Mom 2 with him since," a MTV spokesperson told Us Weekly. "Additionally, we have stopped filming with Jenelle Eason as of April 6, 2019 and have no plans to cover her story in the upcoming season."
The married couple also were then investigated and temporarily lost custody of their children. They eventually regained custody of their children. Evans talked about the judge and the decision.
"Today [was] the final day we were in court from 9am-6pm," she told Champion Daily. "She didn't find any evidence against us of neglect or abuse of any sort."
Farrah Abraham ended her feud with her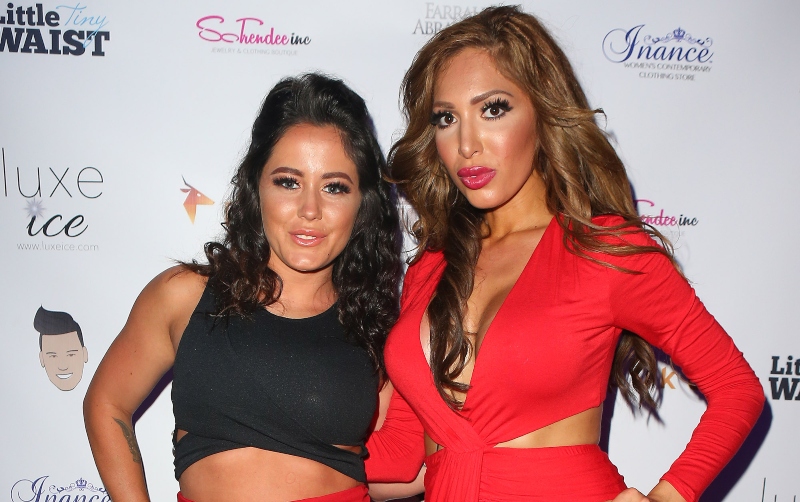 Evans didn't get along with Abraham before, but that has changed. Abraham recently had kinder words for her and went to Evans' makeup launch.
When asked who reached out to patch things up Abraham told TMZ, "We actually never reached out to each other. If I'm invited to something of hers, I show my support." She added, "But I think we understand the hardships of motherhood, and she's doing great."
They apparently haven't talked about the problems they had with each other in the past. "Honestly I stay focused, I wish her all the best with her eyebrow kit and her makeup line, and that's just where we're staying focused," said Abraham.
Abraham said she asked for advice
Abraham is no longer on Teen Mom OG so she has some experience trying to move on from reality TV. She said Evans wanted her advice after getting fired on the Foodgod: OMFG podcast.
"Jenelle called me the other day and she's not knowing what to do," Abraham said according to Entertainment Tonight. "She's talking to a PR girl rather than the legal team, and I was like, 'Uh, you have a situation.'"
She claimed that Evans even asked how to handle her legal situation. "She was like, 'How did you win that court thing?' I was like, 'It's not how, it's what you pay attention to,'" said Abraham. "If you're busy running around worried about press and relevancy and all this and not contracts, not what matters. I'm business."
Evans lately has been working on a makeup line. She is continuing to work on her marriage with Eason.