Farrah Abraham's Daughter Defends Her; Tells 'Haters' To 'Back Off'
Farrah Abraham is never far away from controversy. The former Teen Mom reality star makes a ton of decisions that leave her in a constant state of scrutiny. From her decision to make adult films, to her many plastic surgery procedures, to the racy photos she posts on social media, to how she chooses to parent her 10-year-old daughter, Sophia, the Ex On The Beach alum has earned her fair share of critics. Typically the 28-year-old chooses to ignore the massive amount of hate she receives on a daily basis, but now her daughter has stepped in to defend her.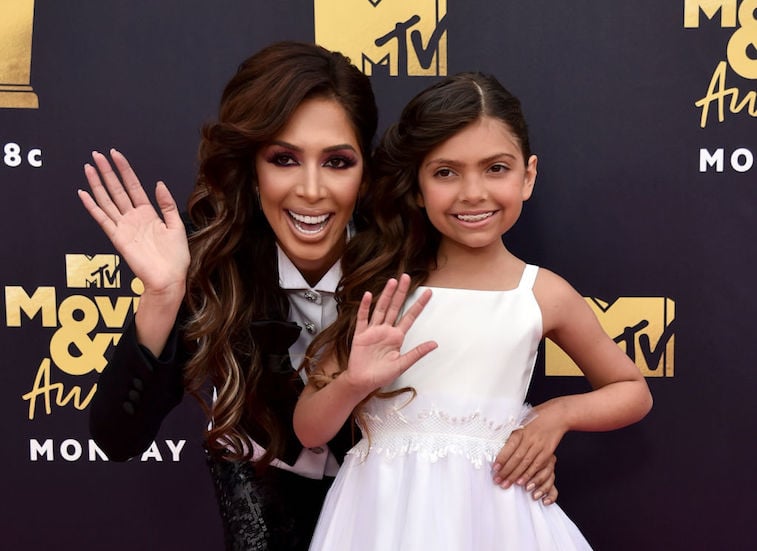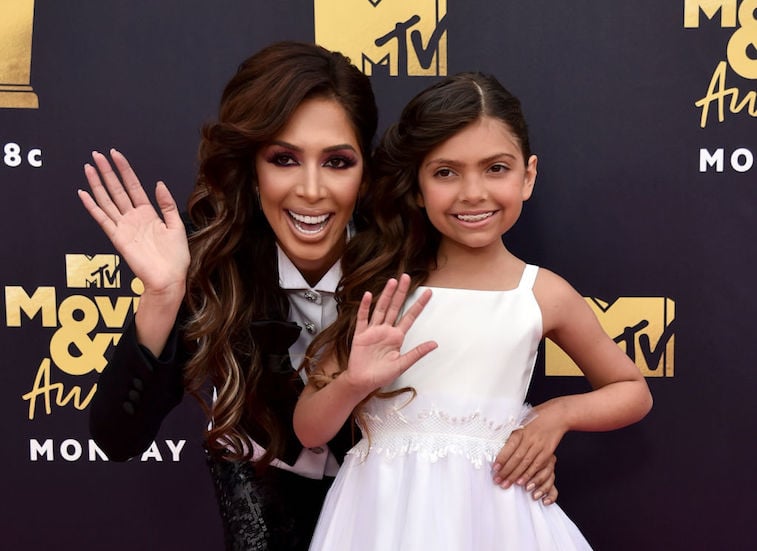 Abraham's latest Instagram video
Yesterday, Abraham took to her Instagram page to post a video. In the video, the former teen mom is seen playing with her hair and blowing a ridiculous amount of kisses for such a short video. "Confession, I hope you can handle it. Join in, get with it and make America great again. I need to start my own reality show, like real, real, real…I miss confessionals," the 28-year-old declared sporadically before breaking into a low-energy scream.
Alongside the strange video, Abraham posted a caption announcing that she will be returning to YouTube to make confessionals. Confessionals are a staple of reality tv, where contestants go into a room and confess secrets and inner thoughts to the camera. Confessionals are typically done in a solo capacity, but occasionally they happen between two members of a cast who are close friends.
Announcing new news
"CONFESSIONALS ARE BACK! WATCH EP.1 link in bio! Fake marriages, SAG-AFTRA, ummm real real. Loveyou FARR-IBERS! LIKE – SUBSCRIBE – SHARE," the 28-year-old captioned the video. That's all it took for the critics to come out in droves. "You're starting to look like Quagmire," one critic wrote referencing a character from the hit cartoon, Family Guy. "There's seriously something wrong with you. Seek help," another Instagram user chimed in.
Farrah Abraham's daughter, Sophia
Rightfully upset that strangers were once again attacking her mother, Abraham's daughter, Sophia Abraham, chimed in telling critics to leave her mom alone. "Haters back off," the 10-year-old wrote in a hashtagged comment underneath the video. A seemingly innocuous comment, critics somehow felt the need to respond to the child. "I think it's great you're trying to protect your mom!!! Good job! Please tell her to protect you as well…. & not drive while doing lives," one person wrote, referencing Farrah Abraham's penchant for recording live Instagram videos whilst driving around her daughter.
Critics respond
"Sophia, back off and go and be a kid," another user wrote. "Stop speaking to your elders as if you're in charge! Please go play with CHILDREN your own age! Have you ever done that…played that is," one critic questioned. Other critics went a different route and believed it was Farrah Abraham who wrote the comment, rather than her daughter.
"So strange and creepy how Farrah goes on Sophia's account to comment on her own post and defends her," one skeptic wrote. "Ok, Farrah. You think by pretending to be Sophia saying 'back off' that we will actually think it's her and what…Feel bad? And really back off," another user cosigned, clearly unconvinced that the message came from a 10-year-old.
Can everyone act their age
No matter how critics feel about Farrah Abraham, it's never acceptable to start an argument with a 10-year-old, especially over social media. While it's possible that the comment actually came from Farrah Abraham and not her daughter, we have no proof on the matter. So for now, let's all just act like the adults we claim to be and leave Sophia Abraham out of it.