Farrah Abraham Called out for a "Ridiculously Photoshopped" IG Photo
Farrah Abraham has been garnering her fair share of criticism as of late. From being accused of impersonating her daughter on IG, to a messy wardrobe malfunction at the Venice Film Festival, to calling her 10-year-old child a manipulator, the Teen Mom alum has received no small about of backlash. Now critics are convinced that Abraham has photoshopped her most recent IG photo as an attempt to keep up appearances.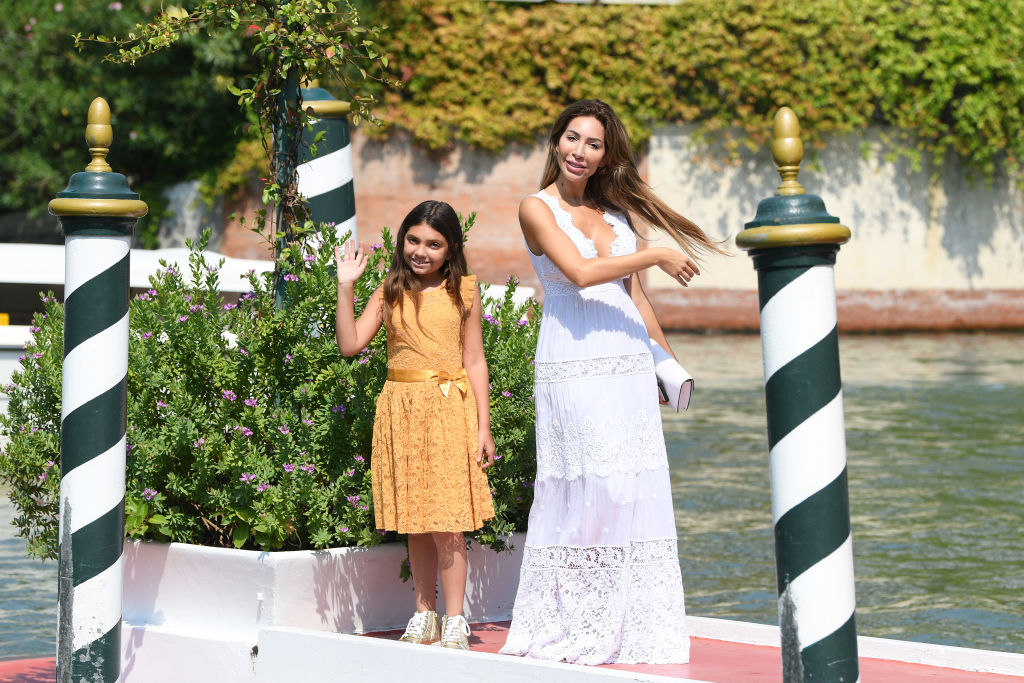 Recently, Abraham took to Instagram to post a new IG photo of herself and her daughter. In the picture, the two are standing in front of the famous Eiffel Tower. Both mother and daughter have one foot up in the air and are weighed down by several bags. Abraham has three Louis Vuitton shopping bags in her hands, while her daughter holds purses in her hers and kicks her Louis Vuitton booted foot out in front of her.
Abraham posts a new pic of herself and her daughter to Instagram
"#Paris to #Nyfw New dream photoshoot in Paris off to the runways watch now," 28-year-old Abraham captioned the photo. "Best mom ever! Best shopping spree! Best photoshoot! Love you Paris #ilovemylife," Abraham's daughter commented underneath the post enthusiastically. But of course, the 10-year-old wasn't the only one to comment on the picture.
Immediately fans and critics alike began to weigh in on the IG photo. Some of Abraham's critics suggested that the Louis Vuitton bags were in fact, empty, and Abraham was just trying to keep up appearances. On the other hand, Abraham's fans seemed to think that it was great that she was providing her daughter with opportunities to travel and receive the "finer things" in life. However, there was a pretty strong consensus by people on both sides that the IG photo had been technologically altered by photoshop.
Fans think Abraham's daughter has photoshopped boots
Many IG users quickly took note of the boots that Abraham's daughter is wearing in the photo. As they appear far too large for her, many speculated that they had been photoshopped on. "What the heck is up with Sophia's foot? They look like photoshopped Louis Vuitton boots," one person wrote. "Sophia is wearing Louis Vuitton boots…that are way too big…must be photoshopped," another person commented on the IG photo. "This is the least disturbing thing about both of them, but what is with the photoshopped combat boot," one critic questioned.
Is the boot the only part of the IG photo that's been altered
And people were quick to add that the boots didn't seem to be the only part of Abraham's photo that appeared to be altered by photoshop. "Noticed that too! If that's PS then the rest of the background is suspect," one person said. "I agree I think the background is a screen, it's way blurry compared to the two of them. A genuine photo wouldn't be. Farrah living her best "lie" yet again," another person added in agreement.
Some people believe that the photo is real
Still, some people were convinced the photo is real. "It's actually real. I am the first to make fun of them, but she went to Paris for 2 days to try and get media attention and blow the last of her money on LV. This is real. And the boots are for Farrah so they're huge which is why they look fake," one person said offering a justification for the IG photo as well as the size of the Louis Vuitton boots in question.
Several inconsistencies
Still, some fans are convinced that the IG photo is doctored, having analyzed it in further detail. "This pic is ridiculously photoshopped! The guy in the background on the left is in black & white and the one on the right has some weird shadow blob and appears to be sitting on a step by the angle of their leg. Not to mention Sophia's boot! Why? Just why?," one person penned underneath the picture of Abraham.
Was the picture photoshopped
Whether or not Abraham did, in fact, photoshop her most recent IG photo remains to be seen. That said, if she did, it's certainly one of the least egregious things she's been called out for as of late. Furthermore, if she did use photoshop, she's not the first public figure to do so, and she certainly won't be the last.