'Teen Mom' Fans Are Positively Cringing Over This Vid of Farrah Abraham
A lot of time has passed since Farrah Abraham was fired from the hit MTV series, Teen Mom, but that hasn't stopped the 28-year-old from being in the tabloids. With over 2.2 million followers on Instagram alone, Abraham still gets her fair share of attention, both positive and negative. Abraham seems to welcome the attention, as she is very open to showcasing her controversial decisions all over the Internet. Fans and critics alike are quick to express their opinions on her every move, and her recent video has them cringing in secondhand embarrassment.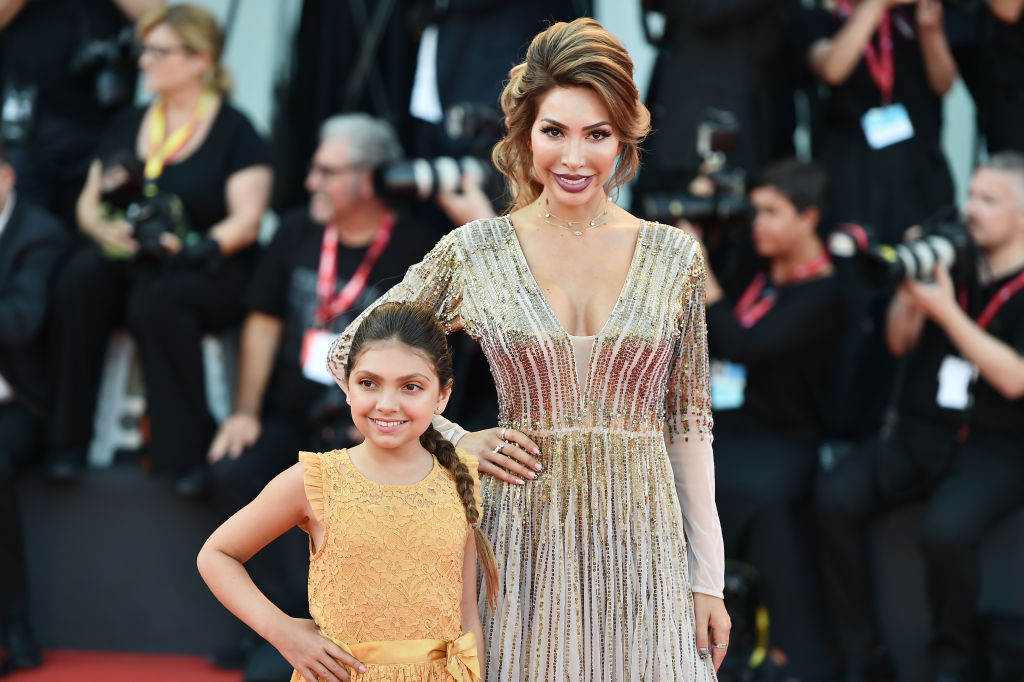 Recently, Abraham traveled overseas with her 10-year-old daughter, Sophia Abraham, to Venice, Italy. Whilst there, the former teen mom was invited to attend the Venice Film Festival. Taking her daughter as her date, the reality TV star showed up to one segment of the event in a long-flowing, gold, gown.
Venice Film Festival
Following the event, the Teen Mom alum took to her Instagram page to post a picture of herself and her daughter walking the red carpet. "All the Fashion on the Red Carpet #venicefilmfestival. Venice Italy Film & Fashion & Sophia Abraham took on her first carpet in Italy! ," the reality TV star wrote.
What was seemingly an innocuous post quickly turned into more for Abraham. Critics were quick to note that the paparazzi seen in the video weren't really paying too much attention to Abraham. "No one was taking her pic! All the cameras are pointed away or in the laps of the photographer," one Instagram user quickly noted. "Right????? Hardly any cameras are pointed at her, and most are just not even taking pictures!," another user cosigned.
Why Instagram users are so embarrassed
Other Teen Mom fans were quick to harp on to the fact that a security guard seemed to be rushing Abraham off the red carpet. "Nobody wants to take a picture of them…seems the security guy says her to get out! So embarrassing," one fan exclaimed. "I'm embarrassed for them. Cringing. No one was taking pics like 2 paps and then the security rushes her along. Sad. The screaming at the end wasn't even for her it was for the limo who just dropped off more people in the background," one eagele-eyed critic pointed out.
Others were flummoxed by the fact that Abraham was even at the event in the first place. "I'm confused, why is she there?" one Instagram user questioned. "Lmao, the foreign press don't even know who you are, Farrah Abraham. Then the security guards pushed you on your way. DEAD," another critic wrote, insinuating that the press was likely confused by Abraham's appearance also.
IG fans think bringing Abraham's daughter was a calculated move
Some critics even felt that Abraham chose to bring her daughter as her date to ensure that she was more easily recognizable. "Everyone was probably confused about why Sophia was the only child there…what a strange dysfunctional mother-daughter relationship. No one even looks interested in you at all, like they don't know who you are. Are you scared that if you don't drag Sophia everywhere, people will have no idea who you are because you're known for teen mom? You're so irrelevant," the critic commented.
There's no such thing as bad publicity
Despite all the claims that Abraham is irrelevant, plenty of people still flock to her social media profiles to express their opinions on her. Be they fans or critics, Abraham doesn't go one day without a ton of attention. So ultimately, she's not nearly as irrelevant as people like to think she is.