Farrah Abraham's Followers Think Her Daughter, Sophia, Looks 'Exhausted' During Their Italy Trip
There are plenty of controversial Teen Mom stars, but Farrah Abraham proved that she doesn't need to be on the show anymore to still keep an audience. Farrah and the producers of Teen Mom OG couldn't come to an agreement regarding her work in the adult film industry, thus causing her to leave the show. Luckily for her, her controversial attitude on the show carried through to social media. And her followers are paying more attention than ever to what she's up to.
Recently, Farrah posted a video series of her time in Venice, Italy, with her 10-year-old daughter, Sophia. And many are noticing how worn out Sophia looks on camera. Here's what Farrah posted.
Farrah's posting videos of her trip to Italy with Sophia
Despite fans having no idea how Farrah's making her money now, she's still taking lavish trips with Sophia. And she vlogged her latest experience in Venice, Italy, too. The video first shows Sophia starting her first day of school, and it looks like she's working from the airport. We know Sophia's homeschooled, so this isn't too surprising — but there's no doubt the 10-year-old looks exhausted as Farrah's talking to her about school and their trip.
When Farrah and Sophia finally arrive at their destination, Sophia even mentions the long nap she took on the plane. And there's moment when she closes her eyes tiredly while she and Farrah are out on a boat ride. Finally, at the end of the vlog, Sophia seems completely over her mother talking to the camera about their experience in Venice. "Can I talk now?" Sophia asked — and Farrah promptly shushed her with a "no." When Sophia finally does add her comments, she gives her mother a hard time about her lipstick, too.
Fans think Sophia looks tired and fed up with her mom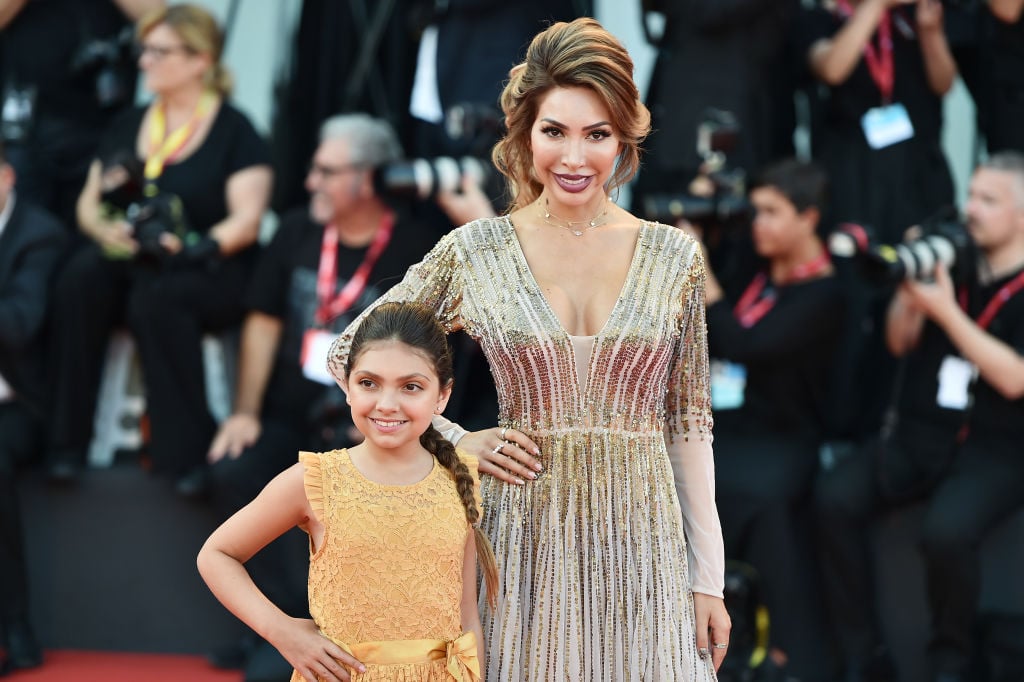 Farrah's known for taking her daughter with her on lavish trips, but fans have remarked in the past about how Farrah needs to start acting more like a parent and stop acting like a friend to Sophia. On the YouTube video of their trip, one fan commented, "sophia looks exhausted and seems embarrassed of Farrah." And another wrote, "It looks like Sophia's ready for bed her mom is dragging her in this boring video …." And fans had even more to say about the mother-daughter duo on Farrah's Instagram clip of their getaway.
You act like your with a grown friend that is your child act right," one follower commented on the Instagram clip of Farrah and Sophia in a Venice gondola. "Poor Sophia needs to socialize with kids her own age," another wrote. And Farrah posted photos of her and Sophia on Sophia's Instagram, too. "Why hasn't Derek's family intervened and taken custody of this child?" one follower mentioned on this photo of the mother-daughter duo.
Sophia seems to act more age-appropriate when she's with Farrah's mother
It's typical for Farrah to bring Sophia with her on all of her big trips. But on Farrah's recent travels to Dubai, she left her daughter in the care of her mother, Debra Danielsen. And fans were loving the activities Sophia and her grandmother were getting into. From fun in the kitchen to doing homeschooling activities together to picking cherries outside, fans think Sophia looks way happier when she's doing normal, everyday kid activities than when she's jet-setting with Farrah.
"She's so happy, so proud, so calm. You can tell she is so comfortable around you," one fan commented on this video of Sophia making Kool-Aid popsicles. "This is sad to watch really, this is how she should be 100% of the time. She will eventually have to go back to mom and be dragged around taking inappropriate picture of her mom [sic]," another wrote.
Despite looking worn out, we're hoping Sophia at least had fun in Italy. We'll have to wait and see where the Abraham family is headed off to on their next trip, too.
Check out Showbiz Cheat Sheet on Facebook!