Farrah Abraham's Instagram Followers Think Her Latest Product Endorsement Is Her Worst Ever
With so many infamous Teen Mom stars, it's tough to know who's doing what (or who's getting into trouble currently). And while all eyes are on Jenelle Evans and Amber Portwood, we can't forget about Farrah Abraham. Abraham is no longer on Teen Mom OG due to conflict with production over her involvement in the adult film industry, but she's still making a name for herself on social media. And her latest product endorsement has her followers raising their eyebrows.
So, what is Abraham endorsing this time — and why do her followers find it so strange? Here's what she's up to and what everyone's saying about it.
Farrah Abraham prides herself on being an entrepreneur
Those who watched Teen Mom OG are well-aware of Farrah Abraham's many businesses. Fans may recall when Abraham opened up her own frozen yogurt shop and furniture store, and she also gave her now-10-year-old daughter a children's clothing boutique. Unfortunately, none of these businesses have stood the test of time — but that doesn't mean Abraham has given up yet. In fact, while her frozen yogurt brick-and-mortar business no longer exists, OK! Magazine notes she claimed the business was thriving and her lease was just up on that specific location. Fans aren't so sure if that's true, but Abraham insists she's a truly successful businesswoman nonetheless.
Abraham's so confident in her business abilities, in fact, she even created her "Ambition to Reality" Masterclass program that allegedly helps guide those who wish to start up their own business. As she explained in this Instagram post, "So excited , so blessed & much success to smany #entrepreneurs. This was a big life changing point in business for me I think all should pay attention to ! [sic]." Not only that, but she even has her daughter promoting the Masterclass program in this post.
She's endorsed a number of products that haven't gone over well with fans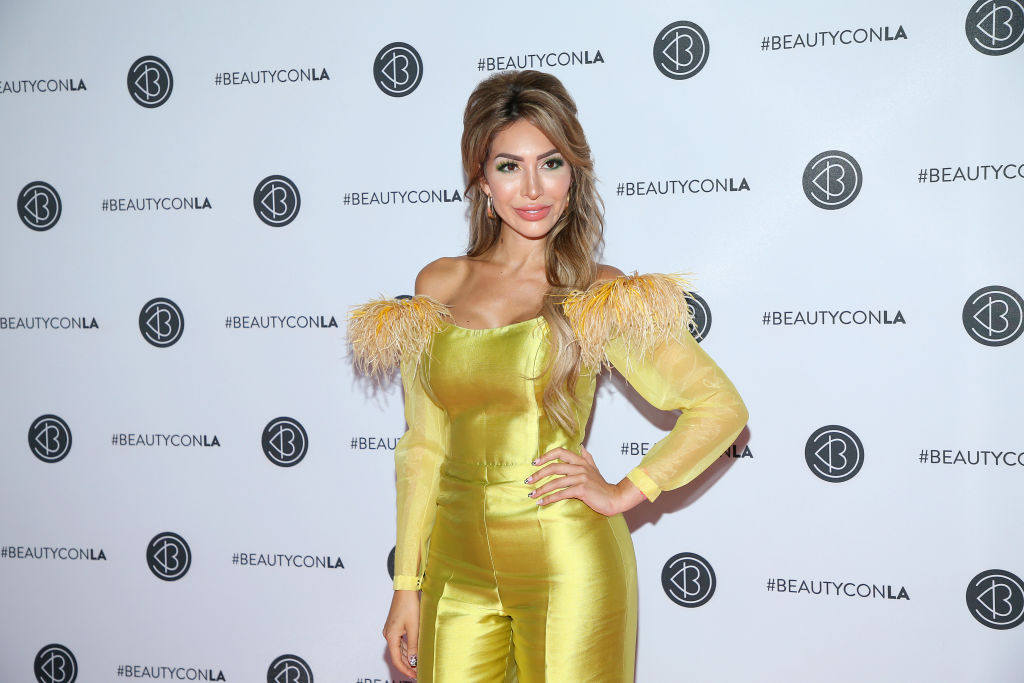 Abraham may believe she's well-versed in business, but her many product endorsements haven't gone over well with her followers. And in more recent times, it seems Abraham is trying a number of beauty and bath products and promoting those on Instagram. Earlier in August, she created a video for her own line of CBD skincare products under the brand Culture and posted it to Instagram. Unfortunately, fans didn't have nice comments to make about the products. "I would never purchase anything this thing is promoting, she's in her late 20s looking 45," one follower wrote.
Not only that, but Abraham also promoted the PrismPop Fountain of Truth Skincare Eye Roller — and again, her followers weren't having it. Given how open Abraham has been with her plastic surgery choices, her followers aren't trusting what she's selling when it comes to skin, age-defying, and beauty. "But I'd never know it would actually work because you get injections every other day," one of her followers commented on this post.
Her followers think her latest endorsement might be her worst yet
Despite the critique, Abraham still continues to endorse beauty products — and her fans think her latest one is even more bizarre than her other recent ventures. In this Instagram video, Abraham promotes Miko Beauty 1 Shot, which are collagen powders created to enhance beauty. In this video, Abraham tries the powder on its own and mixes it in with various juices. Unfortunately, fans are yet again unimpressed with her advertisement that's over three minutes long.
"I hope these people aren't paying you to hock this for them! That was the absolute worst advertisement I have ever seen," one follower commented. And another wrote, "I don't know why anyone would purchase this,especially after that endorsement. Such obvious crap [sic]." And others commented that this was one of the worst endorsements for a product they'd ever seen.
Abraham attempted to shoot back at the critiques with a post of her own, but her followers seemed to make fun of her for this as well. Even so, the star has stated before that the hate never gets her down, so we're sure we'll see plenty more endorsements in the future.
Check out Showbiz Cheat Sheet on Facebook!