Farrah Abraham's Mother Just Corrected an Instagram Follower Who Accused Sophia Abraham of Skipping School
There are plenty of Teen Mom stars in the news lately, like Jenelle Evans and Amber Portwood. But we can't forget about one of the first stars of the show to create major chaos: Farrah Abraham. Farrah first attained fame through MTV's 16 and Pregnant, and while she's no longer part of the Teen Mom series, she still has plenty of social media followers watching her every move.
Farrah frequently posts about her lavish vacations and brand collaborations, but she also posts photos and videos of her 10-year-old daughter, Sophia. Not only that, but Farrah even set up social media accounts for Sophia so her daughter can have an online presence, too. Farrah receives a lot of negative commentary regarding her parenting, however. But this time, it looks like Farrah's mom, Debra Danielsen, is stepping in.
Debra Danielsen and Farrah Abraham have a complicated past
Those who watched Farrah on MTV know she holds a lot of animosity toward her mother, Debra Danielsen. Way back in 2010, Danielsen was arrested on suspicion of domestic violence when Farrah said her mother was physically violent toward her. Farrah was just 18 at the time, too. Danielsen denies that she was ever violent toward her daughter, though according to Farrah, Danielsen grabbed her by the throat and struck her.
This is far from the only altercation the media has heard of regarding Farrah and Danielsen, too. According to Danielsen, Farrah has mentally abused her for years, and Teen Mom fans have also noticed and commented on how poorly Farrah seems to treat her mom.
Danielsen is still discussing her relationship with Farrah, too. In 2018, Danielsen said on Shot Topics that Farrah has borderline personality disorder but knows her daughter's still "kind" and "loving" despite it all.
Farrah insists on homeschooling Sophia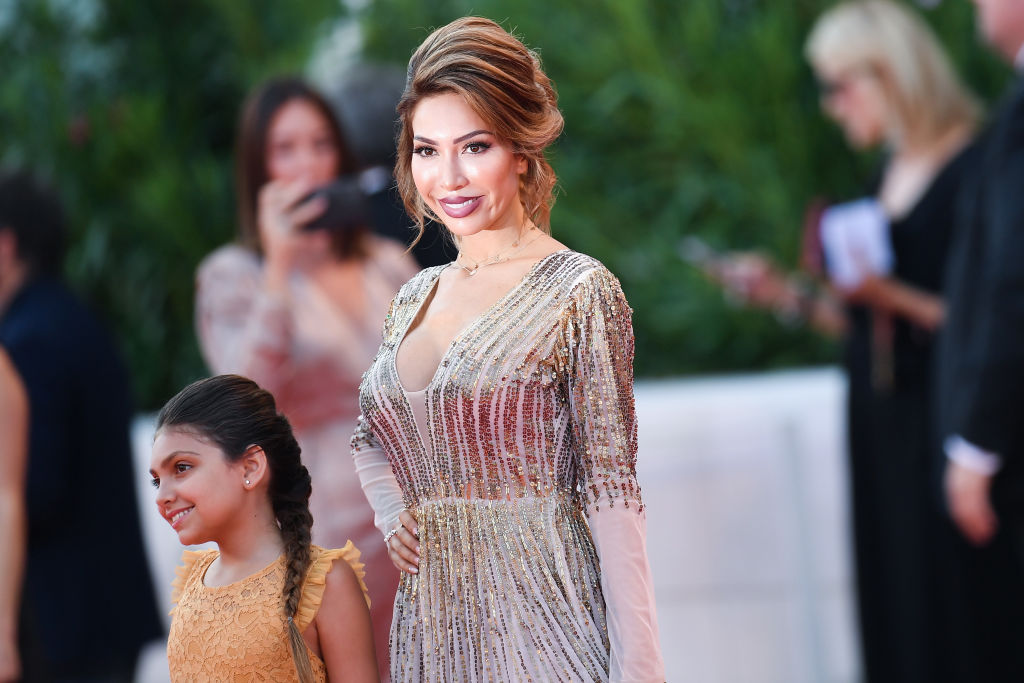 Aside from Farrah's complicated relationship with her mom, she also has a controversial relationship with her daughter. Farrah tends to treat Sophia as more of a friend than a child, as she's often taking Sophia on lavish vacations and adult events. In order for Sophia to keep up with her mother's lifestyle, Farrah homeschools the child, too.
"Sophia started school. She's doing homeschooling, so she gets to come to more events and that's awesome," Farrah told In Touch Weekly in 2018. She then added, "It's focusing more on her studies, traveling the world if she wants to do that while she is going to school."
Farrah has also said that she homeschools Sophia so Sophia doesn't have to deal with jealous peers. "I am truthfully like, 'Oh my God, she is going to experience more jealousy than I ever encountered when she's in high school,'" The Hollywood Gossip reports she said.
Danielsen clapped back at a follower who said Sophia isn't in school
Danielsen and Farrah may have a strained relationship, but we know Danielsen and Sophia are close. Sophia stayed with her grandmother for awhile over the summer, and together, they made desserts, picked cherries, and did normal, kid-friendly activities together. Fans adored how Danielsen let Sophia act like a kid for once.
Danielsen took to Instagram to defend Sophia's homeschooling, too. Farrah posted a photo of Sophia and Danielsen on Sophia's Instagram account with the caption, "Love my grandma ! So happy she got to visit we had the best Halloween." And Danielsen then added her own comment. "I am so proud of Sophia!!! She has been working very diligently on her school work," Danielsen wrote along with heart emojis.
 To that, a follower commented, "Sorry; there is NO way she is meeting the mandated homeschooling hours with the crap that keeps getting published on YouTube and Instagram. Farrah has her 'working' so much there isn't a chance for her to be getting all her studying done." And another wrote, "she should be in school..you should take her and run."
Danielsen then commented back, "Sophia is in school," proving she saw the negative comments. While Danielsen received some support on the post, the majority of it seemed to speak against Farrah's parenting choices.
We know Farrah and Danielsen both want the best for Sophia, but we don't expect much to change as far as parenting tactics are concerned. Fans will just have to buckle up for more of the same.
Check out Showbiz Cheat Sheet on Facebook!