Farrah Abraham's Critics Say She Flashed the Venice Media on Purpose
Farrah Abraham is no stranger to negative attention. The 28-year-old receives loads of Instagram hate on the daily. However, a recent trip to Venice has Abraham back in the tabloids, with the media buzzing about her every move. Whilst attending the Venice Film Festival, the former Teen Mom also gave an accidental show of her own when she experienced a wardrobe malfunction. Though it could've been an honest mistake, critics are accusing Abraham of flashing the paparazzi on purpose.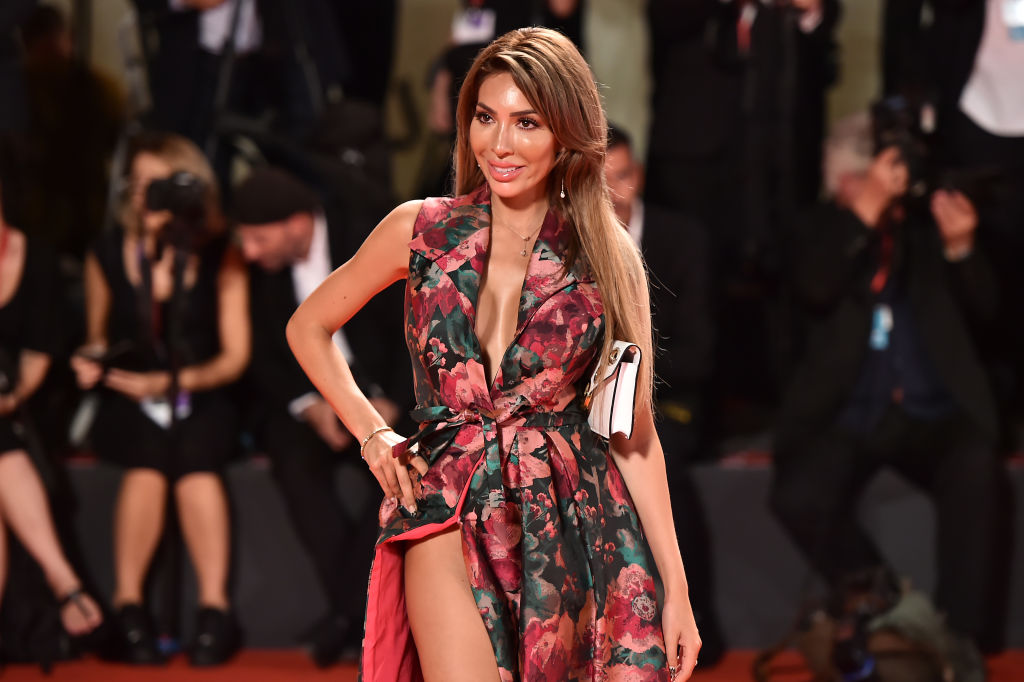 The floral dress
Recently, Abraham traveled to Venice, Italy to attend the film festival and help celebrate a new movie. Whilst there, Abraham attended several red carpet events. For one event she wore a long dress with a pink and green floral pattern. Though long, the dress was pretty revealing and boasted a deep V-neckline as well as a very high slit. As Abraham posed for a picture, her full leg was revealed, all the way up to her thigh. Unfortunately, that was not the only thing showing, because the 28-year-old accidentally flashed a great deal of her bare crotch.
Abraham is back in the news
Following the red carpet event, several media outlets began to report on Abraham's wardrobe malfunction. Though the story began in Venice, it quickly made its way back over to the states. But these reports and articles certainly didn't stop Abraham from posting pictures of herself on the red carpet wearing the infamous floral dress.
IG announcement
Taking to her Instagram page, Abraham posted a picture of herself in the dress before singing praises about the new movie. "You're going to love #adastra! Great movie for father's & Sons, those who enjoy NASA space and the purpose of living life to its fullest. As an actress, writer, producer, director, I enjoyed it! Might be best this festival 100%. Can't wait to release my feature film. Coming from Docu-Reality TV. On Teen Mom I was grateful to see & meet fans in Venice Italy! Honored 100%. Wearing my new jewelry line coming SEPTEMBER 16," the Teen Mom alum wrote about her first Venice Film Festival.
Critics drag Abraham on Insta
Almost immediately, haters began leaving harsh opinions and comments under the post. Plenty of people felt that Abraham's wardrobe malfunction was nothing more than a calculated move to remain in the press. "You have the longest imaginary resume anyone has ever seen. Flashing your own cooter again to get in the tabloids? What's the point you already sold it to see years ago with James deen?," one critic wrote, referencing Abraham's past career choices.
Abraham has had wardrobe malfunctions before
Another Instagram user was quick to point out that this wasn't the first time that Abraham experienced a wardrobe malfunction, thus making it more likely to be a stunt. "So you had to flash your vag just like you did at the Cannes? Pretty sad that's how you choose to keep your name in the tabloids. At each event, you were clearly pulling your dress to flash everyone your vag. Desperate much," another critic wrote.
Critics believe the Venice malfunction was calculated
Critics believe that Abraham has "wardrobe malfunctions" whenever she is desperate for attention. As her social media engagement has been way down recently, they believe that she did this in order to get people talking about her again. "Farrah Abraham 101 for when you're an irreverent wannabe…of course we flash our cooter…oooops I mean "wardrobe malfunction"…you've got to be one of the most desperate people I've ever seen…and all in the presence of poor Sophia…such a role model," on Instagram user wrote.
Another user claimed that they could see Abraham deliberately pulling on her dress at the Venice Film Festival in order to reveal herself. "Sold your vag again, that's not a wardrobe malfunction you can clearly see you pulling the dress to one side just to get in the daily mail," they said adamantly. "I'm sure you meant to have that malfunction with your outfit. Always seeking, ways to get likes and attention," another critic chimed in.
The bottom line
At the end of the day, nobody but Abraham knows if her wardrobe malfunction was calculated or not. But, whether this was truly an accident or simply a strategic move to stay in the news, Abraham is certainly receiving her fair share of attention.