'Fashion Police' Will Be Poorly Dressed Without Joan Rivers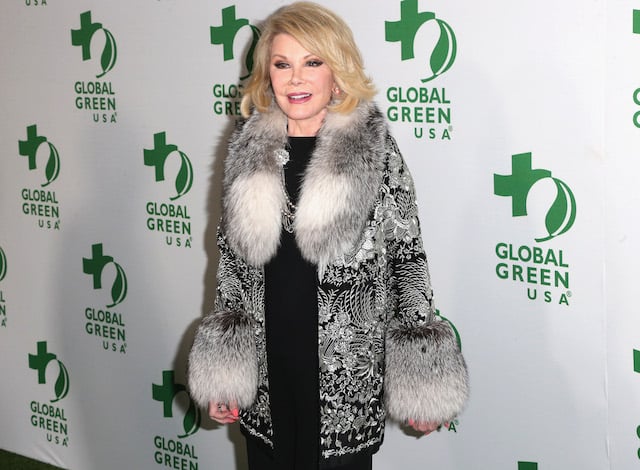 Hollywood is still mourning the death of iconic comedian Joan Rivers, but amid the eulogies, remembrances, and musings about her importance as a pioneering female comedian, E! has announced that it will continue with the fashion criticism and comedy show Fashion Police even after its star and only funny member passed away this month. Rivers died on September 4 from complications related to a routine throat operation. She was 81 years old.
"We are deeply saddened by the loss of Joan Rivers and, for the last two weeks, have turned our attention to honoring her memory on all of our platforms," the network said in a statement seen by Deadline. "We have also thought long and hard about what Joan would have wanted as it pertains to the future of Fashion Police. We decided, with Melissa Rivers' blessing, that Joan would have wanted the franchise to continue. Fashion Police will return in 2015, commencing with Golden Globes coverage on Monday, January 12. No further details will be announced at this time."
If E! wants the show to continue working, then the network is going to have to find someone mean and hilarious to replace Joan, since her co-hosts — Guiliana Rancic, Kelly Osborne, and George Kotsiopoulos — pretty much only exist on the show in order to laugh at Rivers' jokes and occasionally provide an attempted counterpoint when Rivers was a little too nasty to a particular celebrity. Leaving Guiliana, Kelly, and George alone on that show would make for the most boring television imaginable.
E! deserves credit for reviving Joan Rivers' late career by giving her a platform to reinvent herself as a red carpet and fashion commentator for the network. She used that as a way to make brutal fun of celebrities walking the red carpet while every other glitzy event reporter for E! would kiss their famous posteriors. Rivers' quick wit, self-deprecation, and improv skills made E!'s coverage of red carpet events funny for the first (and possibly last) time.
It would be smarter if the network just quit while it was ahead and cancelled the weekly fashion commentary show. Rivers was the entire point of the series. Her sharp wit with her deep knowledge of the fashion industry, informed by a longer career in entertainment than the actresses wearing the dresses she made fun of on the show, was what made the concept of some people sitting around talking about what celebrities wore that week into a funny bit of television. Rivers herself wasn't safe from her own jokes, which made her barbs at others feel less out of line — usually. She did sometimes catch flak from stars for jokes that hit a little too close to home, but the fact that she was willing to take those risks made her even funnier.
On September 19, E! aired a special two-hour Fashion Police tribute to Joan Rivers, hosted by her daughter, Melissa, which featured Joan's best interviews and jokes on the show. The decision by E! to continue with the series came as a bit of a surprise given how important Rivers was to the show, and it will be interesting to see how the network attempts to pull off finding a replacement for her.
Follow Jacqueline on Twitter @Jacqui_WSCS
More from Entertainment Cheat Sheet:
Want more great content like this? Sign up here to receive the best of Cheat Sheet delivered daily. No spam; just tailored content straight to your inbox.