'Fear the Walking Dead': What's Coming in Season 2
Fear The Walking Dead wrapped up its freshman season with an action-packed October finale, and fans are already looking forward to season two. On the heels of the season one finale, showrunner Dave Erickson has already begun dropping hints about how the show will move forward. We know that Fear The Walking Dead will return for its second season on Sunday, April 10. Here's everything else that we've learned so far (warning: spoilers ahead).

As fans know, the season one finale ended with two major twists: Strand launches a plan to escape the infected by getting to his yacht offshore, but Liza won't make the journey with them. After she is bitten by a zombie, Travis is forced to shoot her before she turns. Next season, the characters will be left to deal with the aftermath of the death. Check out everything else we know — so far — about season two of Fear the Walking Dead.
1. There won't be much of a time jump
As Erickson told The Hollywood Reporter, season two will pick up almost immediately after season one left off, with only a slight jump forward. "There may be a time jump but it's not going to be terribly dramatic," he explained. "There's too much emotional weight coming off of the finale and the loss of Liza and Griselda. We didn't want to jump too far because there's an obligation to see the aftermath of that and see how that impacts our characters as they try to wrestle with it."
The beginning of season two will also explore how the tragedy changes the way many of the characters, including Travis, Ophelia, and Madison, approach each other. "They're looking at each other differently as well," Erickson said. "Those are all interesting things to explore and too long of a time jump would make it difficult to explore those properly."
2. It will be faster-paced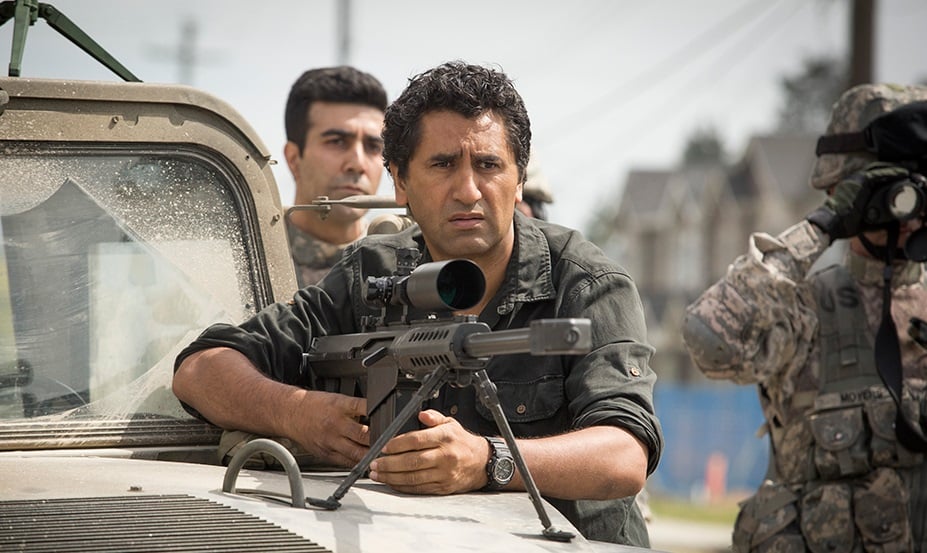 Erickson says that season two of the series will pick up at a more "accelerated" pace. "We've learned a lot: Our characters in their apocalyptic education have learned what walkers are. Even Travis has had to shed some of his humanity for the first time, which was his great struggle," he said, per THR. "We'll have more of a shorthand going into season two. There are still things for them to discover."
3.  Humans may be an even bigger threat than zombies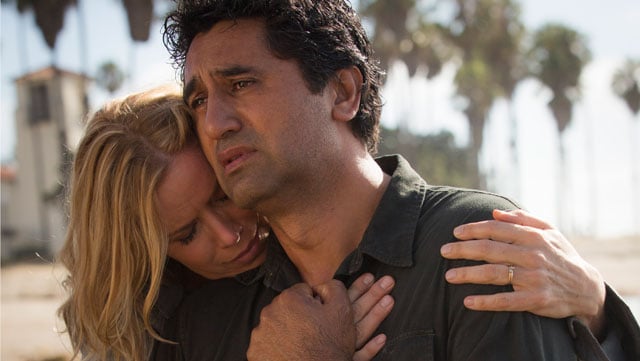 Viewers can expect season two to showcase the moral compromise that often comes with the fight for survival. "The human threat theme that plays beautifully in the comic and the original show is something that we're going to explore as well," Erickson told Entertainment Weekly.
The showrunner revealed that fans will see "a bunch of seabound refugees" over the course of the season who will do whatever it takes to protect themselves. "Much in the same way that we have taken steps to survive and compromised our morals to do so, we're going to have to deal with some people who have very similar objectives, and the default setting for most of these people is not going to be let's all live in harmony and try to build a new community," Erickson described. "It's going to be, how do we protect what's ours? How do we protect our family? So there's going to be a very serious threat from other people, as there is constantly on The Walking Dead."
4. Setting sail won't be easy
"The intention was always to hug the Pacific. We only see the water once over the course of season one and that's in the pilot when Alicia goes to try to find Matt. And then we don't see it until the end of season one," Erikson told EW. That will change moving forward, but it won't be a smooth transition.
"First of all, getting to the yacht is going to be something of a challenge," Erikson said. "And then the question becomes: Once we get to it, which way is it going to go? And we will discover that we were not the only ones with this bright idea. There are a lot of boats up and down the coastline of Southern California. So it will become very interesting when we get to see and discover that we're not the only vessels out there, and there may be others that are covetous of what we have, which will have certain features that will be enviable to people that are trying to escape the zombie hordes."
5. Season two will explore themes of family and self-preservation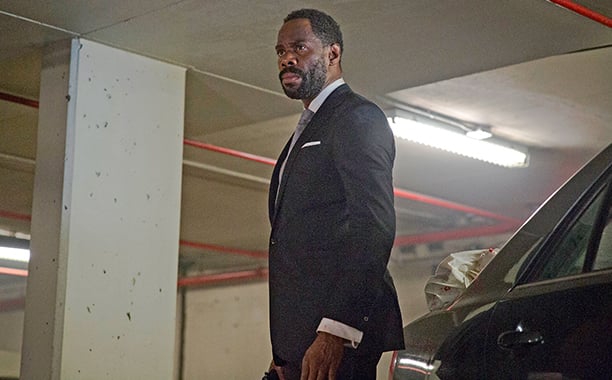 As Erickson revealed to THR, "I'm curious to explore, especially if we make it to this boat and that becomes our base camp, who — when you get to a position when somebody you love dearly is compromising the larger group — brings about this strange duality. If I'm Madison and I want to keep everyone safe and somebody is compromising that, what am I willing to do to fix it? Are we going to get to a place where our blended family will have to flee from the herd?"
There's also the question of how these characters can keep their wits in a state of absolute pandemonium. "When Strand says the best way to survive a mad world is to embrace the madness, I'm curious to see what happens to our characters when they step into such a level of chaos — which is almost war-like," Erickson said. "How do you maintain your sanity? In this world, where the world has gone mad, is it better to not maintain your sanity?"
Erickson says the upcoming season will explore that story through "the filter of a family drama," an element that will become "more visceral and violent" going forward.
5.  A Flight 462 character will join the cast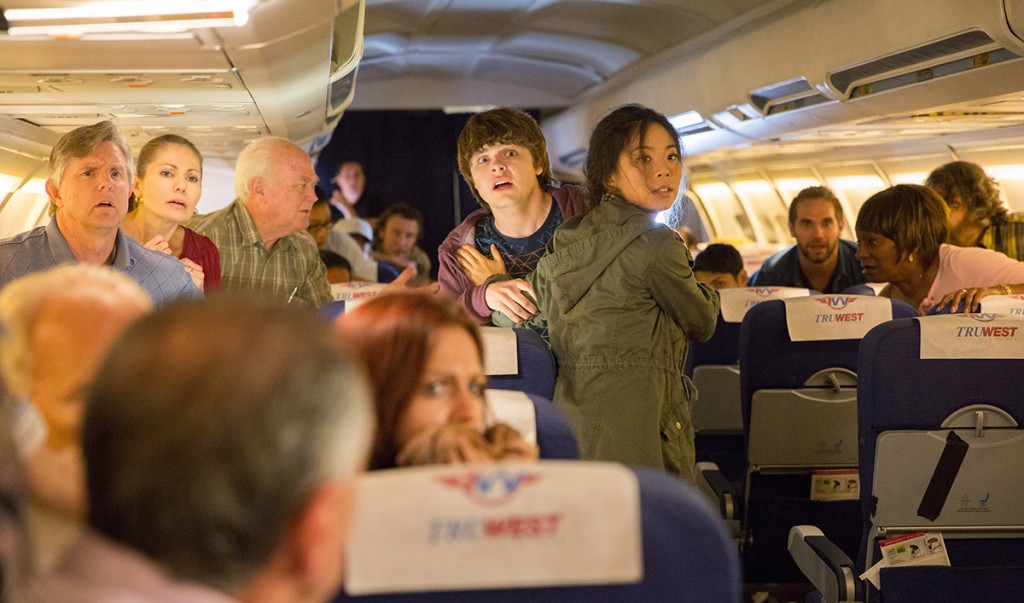 As revealed earlier, Fear the Walking Dead is getting its own airplane-themed spin-off with the web series, Fear the Walking Dead: Flight 462, which premiered on AMC.com. The web show will have a big impact on Fear the Walking Dead's season two, with one of the surviving members of the doomed flight set to join the cast.
"We'll see at least one character from Flight 462 who makes an appearance," Erickson said. "As to how involved that narrative thread becomes, that remains to be seen. We will conflate those two story lines over the course of season two."
Update 3/4/16: AMC has released the first official season two poster, reminding viewers that the waters aren't as safe as they look: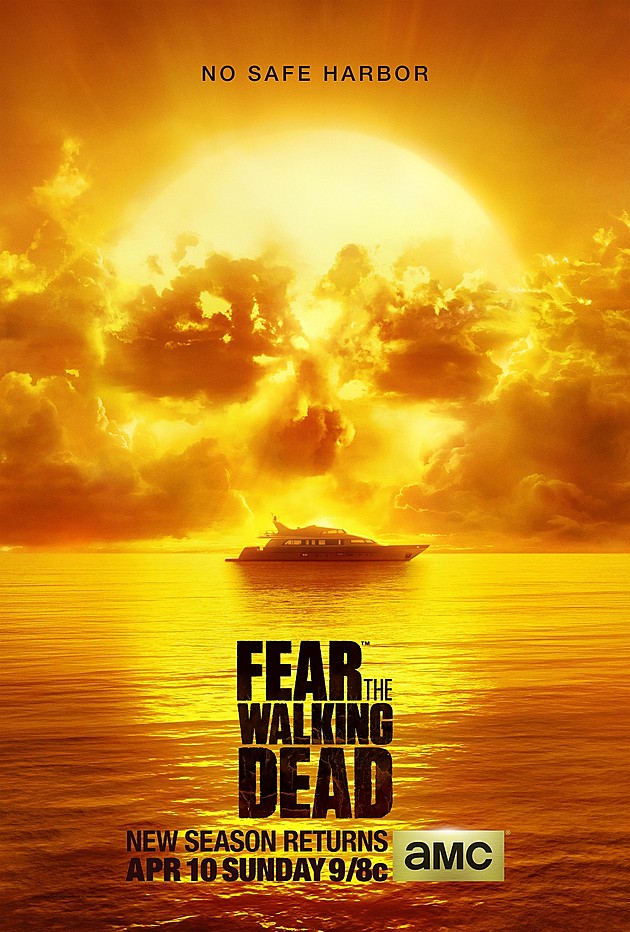 Fear the Walking Dead's second season will air in two parts, starting with the first of seven episodes on Sunday, April 10. The last eight episodes will air later in 2016.
More from Entertainment Cheat Sheet:
Want more great content like this? Sign up here to receive the best of Cheat Sheet delivered daily. No spam; just tailored content straight to your inbox.