'Fifty Shades': Love It or Hate It, Both Sequels Are Coming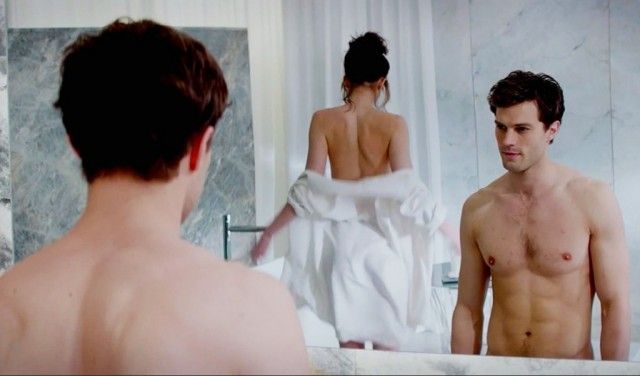 Whether you're a fan of Fifty Shades of Grey or not, you can definitely expect to see plenty more of Christian Grey and Anastasia Steele in the future. With the film adaptation of the original 2012 novel set to hit theaters this month, the buzz surrounding the series has been especially strong in recent days– and it seems the obsession won't be dying down any time soon. The still-unreleased movie is now officially set to get two sequels, based on the follow-up books Fifty Shades Darker and Fifty Shades Freed.
Jamie Dornan, who plays Grey in the film, all but verified the sequels during an appearance on the Today Show on February 6, telling host Matt Lauer the idea of turning the movie into a franchise was definitely on the table. Per MTV, the news was then officially confirmed later that day, when author E.L. James, stars Dornan and Dakota Johnson, and Fifty Shades director Sam Taylor-Johnson hosted an early screening of the film for fans in New York's Zeigfeld Theatre. Universal, the studio behind the highly anticipated flick, has not yet commented.
Fifty Shades Darker, which was also released in 2012, follows Grey and Steele as they reunite following a brief separation and eventually get engaged. The third and final installment in the series, Fifty Shades Freed, chronicles the couple's honeymoon, Steele's unplanned pregnancy, and the birth of their son, Teddy. News of each of their forthcoming big screen adaptations has already sparked a fan frenzy, with hundreds taking to social media to express their excitement.
It's no surprise that Universal would want to extend the movie into a full-fledged franchise, given that it's already spurring record-breaking ticket sales and it hasn't even hit theaters yet. Per Fandango, Fifty Shades has been the fastest-selling R-rated movie in the ticket-selling site's history, with the strongest advanced ticket sales coming from Southern states – particularly Mississippi, Arkansas, West Virginia, Kentucky, and Alabama.
With those strong presale ticket numbers, the film is now projected to gross around $60 million during its opening weekend alone. Considering Fifty Shades has an R-rating and a sexual fantasy-driven plotline, that's a pretty sizable figure. The expected gross is made even more impressive when remembering that the project didn't exactly have an easy path to the big screen. The film saw a switch in its lead actor after original star Charlie Hunnam dropped out, and Taylor-Johnson recently admitted to having many creative differences with James throughout the making of the movie. The film's release date was also pushed back from August 2014 to this Valentine's Day – a change that has clearly worked out in its favor, given the appropriateness of the movie's subject matter for the holiday.
The first Fifty Shades film is already well on its way to becoming a box office hit and after the strong fan reaction that news of the sequels has already sparked, it seems as if the follow-up films are destined for the same fate. One thing's for sure: Love it or hate it, the Fifty Shades mania is far from over.
Fifty Shades of Grey will hit theaters on February 14. No release date for the sequels has been scheduled.
More from Entertainment Cheat Sheet:
Want more great content like this? Sign up here to receive the best of Cheat Sheet delivered daily. No spam; just tailored content straight to your inbox.