'Fixer Upper' Season 5: Every Memorable Moment Chip and Joanna Gaines Are Bringing to the Final Season
You'd think that Chip and Joanna Gaines would want to keep Fixer Upper around forever. After all, the popularity of their HGTV show turned them into the full-blown celebrities they are today. Even though we still haven't completely accepted this end of an era, we know they have plenty of reasons why they decided to say goodbye.
The fifth and final season begins airing on Nov. 21, 2017, and the Fixer Upper crew definitely plans to go out strong. Here are all the surprises and memorable moments you should look forward to, including Joanna's best design yet.
1. We'll see some exciting guest stars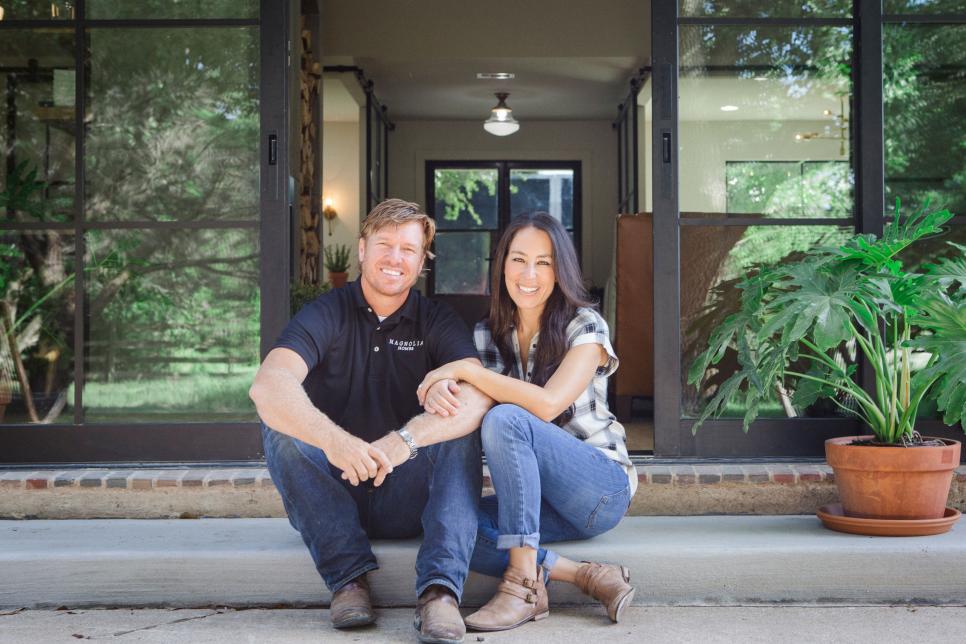 As if we weren't excited enough for the return of Chip and Joanna in Season 5, a few other familiar faces will be gracing our TV screens. According to People, HGTV announced that some stars you should expect to see include former First Lady Laura Bush and football star Tim Tebow.
2. Jimmy Don is returning to the show
The lovable and talented Jimmy Don Holmes is making a return to Season 5! His metal art always seems to perfectly capture Joanna's design visions, so we can't wait to see what he creates next.
Even though each Fixer Upper home comes together beautifully, those that include Jimmy Don's signs have an extra personal touch.
3. Flashbacks to iconic Fixer Upper homes
Chip and Joanna's Instagram accounts have been getting us even more excited for the final season. As Joanna revealed in this post, we'll get to see the house from their pilot episode five years ago.
We're sure we'll get a little teary-eyed when they take a walk down memory lane on some of their past projects. In the words of Joanna, "My how time flies."
4. Their family will be more involved than ever
The Gaines kids, Drake, 12, Ella, 11, Duke, 9, and Emmie, 7, always seem to enjoy getting involved with their parents' Fixer Upper projects. We love getting the chance to see their family bond, which proves just how down-to-earth they really are.
Joanna has even mentioned on the show that she'd love for her kids to follow in her footsteps (if they choose to, of course). When they help Joanna put the finishing touches on a project, they get to spend more time together and learn from the best. As the kids are getting older, they definitely seem to be picking up on their mom's eye for design.
5. Joanna's favorite Fixer Upper project
We'll get to meet even more of the family in Joanna's favorite Fixer Upper project. In adorably coordinated outfits, Joanna revealed that her sister is making a return to Waco, Texas after nine years. Lucky for her sister, she's getting quite the Waco welcome with a home designed by, you guessed it, Chip and Joanna.
In the post, Joanna writes, "Today's house was my all time favorite #fixerupper …we got to reveal this house to my sweet sis and her family of seven (going on 8!)." Considering she and her sister always seem to goof around together, we're suspecting it will be a fun, yet wholesome episode.
6. Joanna's personal touch somehow gets cuter
We know how much Joanna loves to leave a personal message in her completed Fixer Upper homes. Whether it's a sign created by Jimmy Don or a message on a chalkboard, a few kind words are the perfect home accessory.
In this design, she takes her love of word art to a whole new level. We're sure plenty of fans will try to recreate this "Hello Lovely" floor tile idea. It's a simple, yet bold take on Joanna's signature style.
This design will definitely be featured on Fixer Upper. Joanna mentioned in her Instagram post, "Checking in on some projects today and this cutie is almost finished — can't wait to share the afters of this home with you soon!"
7. Something about the number 16
Chip revealed a sneaky message about the number 16 on his Instagram. It's apparently his favorite number and "was always on [his] jersey growing up and it's become a good luck charm of sorts!"
Even though he claims he was oversharing, we don't think he shared enough. We're excited to see how he and Joanna may have incorporated his favorite number into a design, considering he finished the post with the hashtag "#season5iscoming."
8. We'll get our fill of adorable Chip and Joanna moments
What we'll miss most about Fixer Upper is the surplus of cute moments between Chip and Joanna. Their ability to act silly with each other all the time, especially on camera, is impressive after 14 years of marriage.
No matter how much they joke around with each other, they take their relationship seriously. Chip admitted in a Country Living Magazine interview, "Jo and I both made a commitment pretty early on that the two of us are the most important variable. If we can figure out how to be right as a couple, then obviously we have a lot better opportunity to be right for our kids."
When the day comes that we need to fill the Fixer Upper-shaped holes in our hearts, there will luckily be plenty of ways to keep up with our favorite couple. In addition to their new Hearth & Hand with Magnolia line at Target, we're looking forward to seeing what other projects they have planned.
Everything they touch turns to gold, so whatever they have lined up, we'll follow along for the ride.
Check out The Cheat Sheet on Facebook!